Me: "So…the Imperial Palace was kind of a snore fest."
Chris: "Yeah. But I'm glad we did it."
Isaac: (Zzzzzzzzzzzz)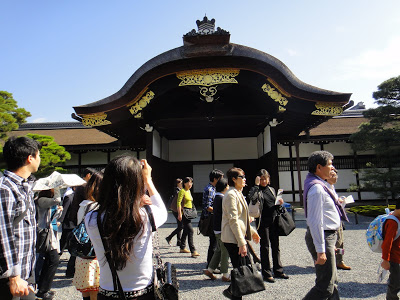 We returned to Kyoto in 2011 with four-week-old Isaac to tour Kyoto's Imperial Palace and Fushimi Inari Shrine. But after we bought our shinkansen tickets and reserved our hotel we of course discovered the English tours were all full for the entire time we were there. Prepared traveler fail. No sweat, we are resourceful; we joined the Japanese tour. That's right, we spent our third Japanniversary becoming authentic Japanese tourists!
It turns out the original palace burned down and the emperor borrowed one of his lord's summer homes or something, and eventually that just became the palace. Then that burned down too, because flames—more than earthquakes—are the bane of Japanese historic buildings, and it was rebuilt into the present structure in 1855. But the palace can't get a break; just 14 years later the Meiji Restoration moved Japan's seat of power to awesome Tokyo, where the party never stops, and tourists began filling out applications for the Kyoto has-been. That could kind of be the history for hundreds of Japanese buildings, temples, politicians, cities, families, etc. So it wasn't the most exciting Japanese site we've seen, but it was the completion of a long standing goal, and a rather lovely warm fall day.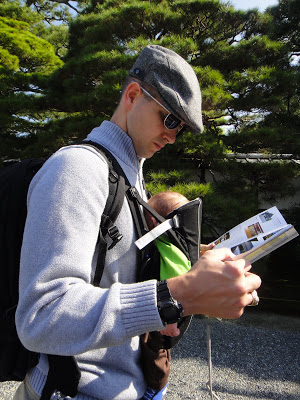 Dance
To greet His Majesty
In Kyoto, His ancestral place,
The Yase-dohji,
The palanquin bearers, dance
Tonight under the young moon.
~Year-end Waka poem by His Majesty the Emperor, 2004, 16th year of Heisei