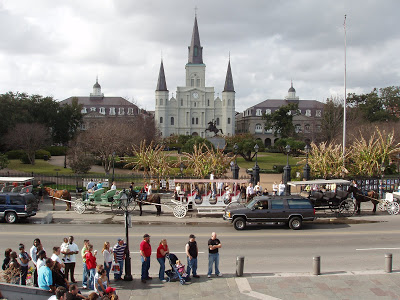 Chris makes excellent coffee. This is weird. He doesn't read the directions. He doesn't even like coffee. But one time in Jacksonville he was making pancakes and made some coffee too and WHOA! The best coffee made in our apartment EVER! He consistently makes great coffee. When I make coffee it varies hugely depending on which brand I'm using, how old it is, etc., but with Chris—BOOM! Great coffee every time. Very odd.
So the other day Chris offered to make coffee before church for me to sip happily on the ride there. On the way home, Chris looked at me sideways. "How did you like your coffee this morning?" "Great!!" I said, beaming. "Thanks for making it! Nice and strong….wait, why?" I asked, suddenly suspicious at his victorious smile.
We went inside and he went right to the cabinet where the coffee lives. He pulled out the ancient yellow can of Cafe Du Monde coffee we bought on our first trip to New Orleans and practically shouted, "THIS is the coffee you had this morning! And you said it was good! Now you have to finish up this can!"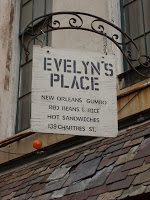 The can has been sitting around for more than two years. It is way past its 'best by' date. In fact, it's older than most of our nieces and nephews. How was it good?!? I stopped drinking it two years ago because I was tired of having to mix it with milk and drinking lukewarm coffee (microwaved milk tastes weird). My coffee and chicory seemed to sour after being open a few weeks but I didn't want to throw away this cultural treasure—plus I liked the can. Well, now the jig was up. I dutifully drank two-year-old, miraculously revived Cafe Du Monde coffee and chicory the rest of the week, earning for my labors an empty can!
"What should we do with this?" I asked Chris. "Want to keep chopsticks in it?" Japanese people keep chopsticks conveniently on the table in a nice little cylinder, like a pencil cup. Chris was aghast. "We can't keep chopsticks in a coffee can from New Orleans!" SOMEone doesn't like to mix his regional souvenirs, I guess, but I thought that was kind of the point. "Come on, it's quirky," I said. "We're all an amalgamation of the places we've been, right?" Chris would have none of it. No problem, I have another use for such a handy can: it's now storing fresh coffee. Tomorrow is Martis Gras, which has had me thinking about New Orleans lately. Laissez les bon temps rouler! Let the good times roll!