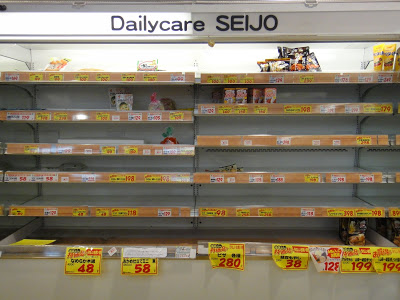 If it were just me, I would unequivocally stay. Three days of 'sheltering in place' and listening to the Japanese kids playing in the sunshine up and down the street was making me feel like a crazy person, so I walked along the river to several konbini (convenience stores) nearby. There are no noodles, no bread, no dairy products. Diapers, toilet paper and sanitary products are completely gone. There's plenty of make-up, shampoo and room-fresheners, but if you need cat food you're out of luck.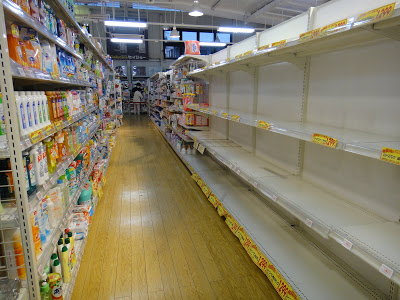 My favorite grocery store told the same story. There was plenty of food…sort of. The store looked normal except for the complete lack of the aforementioned products and rice. Japanese officials reported concerns for the future of dairy products in Japan, since cows go around vacuuming up all the radiation, to loosely paraphrase. I have similar concerns for the future of Japanese produce grown north of here. So I managed to find one of the last containers of yogurt (not my favorite kind) and some sweet, Japanese strawberries. Then that'll be it. When I come back (whenever that will be), it's old commissary produce for me…yuk.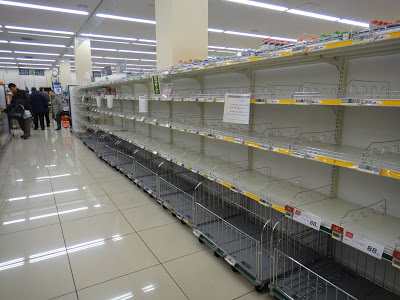 I'd tried to call my doctor yesterday to get some information on the health risks of radiation to fetuses. The clinic staff has been instructed to give us a set answer. Finally, someone gave us an honest opinion. "My professional answer is to tell you there's no risk and everything is fine," she said, "but my personal opinion as a doctor is for you to leave immediately." I was thinking about this as I checked out with my strawberries and yogurt. Ahead of me in line, a man's backpack had the most appropriate Engrish on it: "Let's remember the good times. Good luck, everyone."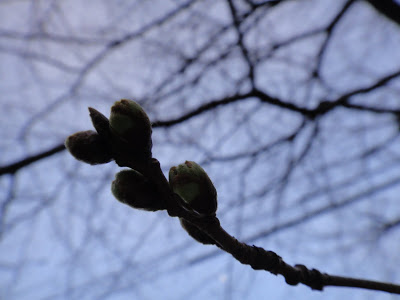 The Australian and French governments have evacuated their citizens from Tokyo. "Losing face" is huge in Asia, and the US government has lost face by evacuating military dependents from other bases in Asia in the past few years. It kind of says, "Well, this is fine for your women and children to deal with, but we're sending ours somewhere safer." I'm sure a wide-spread evacuation deals with a lot of necessary factors: cost, feasibility, risk, message sent to the host nation. But for me, there's just one factor: risk to the Bean. Ultimately, Chris and I decided that for us personally, government concerns about saving face are outweighed by the possible health risks to the Bean.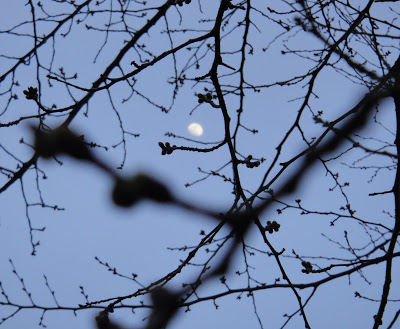 I'm sad to be leaving. Part of me feels like I'm abandoning Japan and forfeiting my job, my students, my life here. Part of me feels like I'm doing the right thing, if only to free up my share of the food supply. And with everything closed indefinitely and rolling power outages sweeping the region, there's not much to do here except follow recommendations to shelter in place. I'm most disappointed to miss our last cherry blossom season. But the house is rumbling again now as I type, and Chris just called with news of his entire squadron's departure for an airbase in northern Japan to better assist in relief efforts. No one knows how long they'll be gone, so I'm now scrambling to get the cats' travel health certificates and add them to my reservation. I don't know when I'll see Chris again. I have a one-way ticket to Houston Saturday. I'm making the right decision for the Bean, the cats, Chris and me, but I am so sad.