Headed to an Evil Empire? Dress the part with these smashing militant pieces–let fashion come out in force!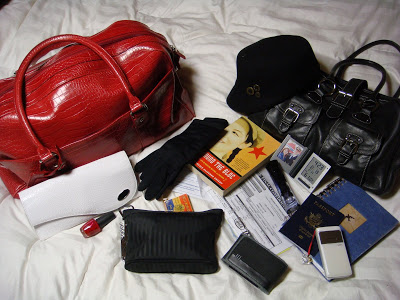 You'll be too cool to re-school if you're taken captive–living without this adorable hat would be torture enough! So whether you're practicing drills in Tienanmen Square or using the Great Wall of China as a catwalk to about-face for the Mongolian Hoards, you can feel good about your retro-military fittings.
The last huge Red Empire on the map deserves special packing considerations. Searching hotel rooms is de rigeur, so leave national secrets–and laptops–at home. This pack's color coordination nods to the season's colors…and tips its hat to the national theme: RED!
Pack it all into the red snakeskin overnight bag:
White snake skin travel clutch: etickets and itinerary
Vodka and Caviar OPI nail color
Passports and visas
Camera, charger and adaptor
Travel journal
Travel alarm clock
Travel toiletry essentials
Small makeup bag: moisturizer, mascara and berry lip stain
Black gloves
Black retro-militant hat
Black scarf
Underpinnings
Red turtleneck
Gray layering vest
Gray turtle neck
Black Limited knit short sleeve turtleneck
Sand V-neck sweater
Black lululemon pants
Black lululemon halter
Red cashmere wrap sweater
Black satchel purse
Red knee-high flat boots
That was my favorite book in college and I interviewed the author during my first month of work at the Caller-Times! She's from Corpus Christi, Texas and studied journalism at the University of Texas in Austin. I emailed her after graduation, she gave me her phone number so I called her and we chatted, then one day months later after I accepted a job in her hometown by coincidence I ended up interviewing her neighbors for a story. Soon after that I called her again and
featured her for a front page story
during Hispanic role model month. I'm going to reread that section on the plane tomorrow!