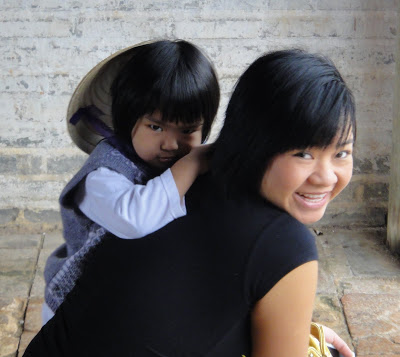 Upon meeting our final tour guide at the Hue airport, it became immediately clear that at no point would we understand each other. He began by introducing our itinerary, saying we would first visit the toms, yes, toms, you know toms? Empara toms. Yes, toms? Then the Citadel, followed by lan. By lan. Lan? Ok lan. Lan. We arrived at Hue's famous Emperor Tombs in complete confusion. Rain dripped off the poetry terrace into the moon-viewing lake; it was all very serene and uncrowded, spoiled only by the incessant jabbering of our loud and incomprehensible guide as he repeated key words between five and 10 times per topic.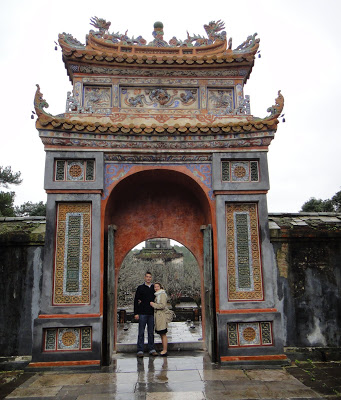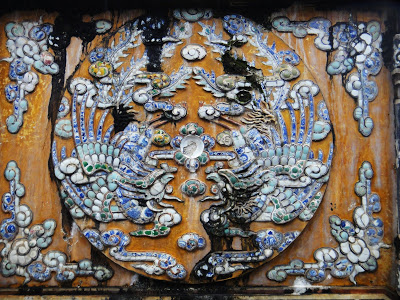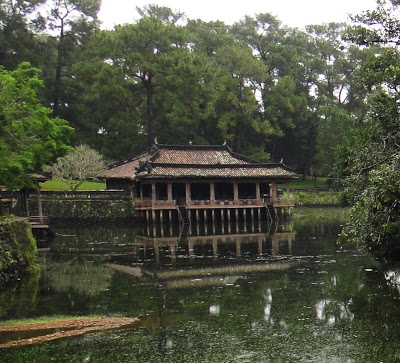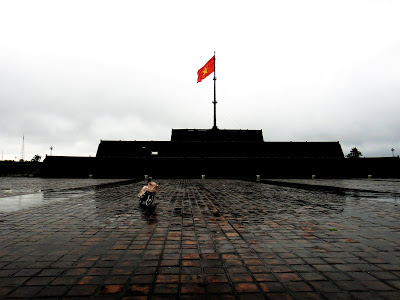 This continued through the Citadel, Imperial City and Purple Forbidden City (those are three concentric structures) until Chris was thoroughly annoyed. I had no problem walking away to investigate something more interesting (or at least quieter) than whatever the guide was talking about, but nice Chris felt obligated to respond to everything the guide said…and Chris doesn't even respond to everything I say! ha ha.
Anyway, finally I said, "Is it ok if we just walk around and look for awhile?" to which he appeared stricken, then said, "I go with you, yes?" As soon as we paused and made the mistake of showing interest in something the jabberwalkie again launched into a long and undecipherable speech about stuff I don't care about.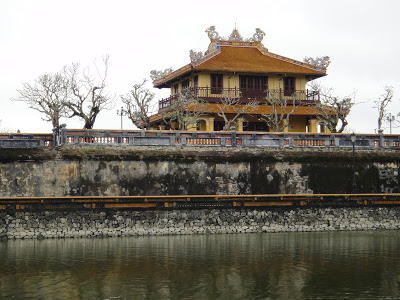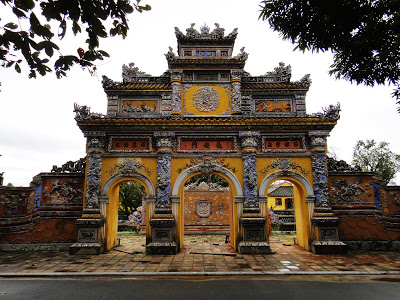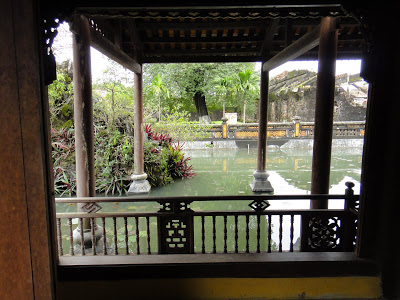 The Purple Forbidden City was cool, but in terrible shape. More yellow—the Vietnamese color of earth—and everywhere, dragons—the symbol of the king. A bell near the Imperial City entrance had constellations cast into the bronze.
I did what I usually do in ancient palaces: I pretended we were French travelers exploring French Indochina and had been invited by the king and queen to view the palace. A moonlit stroll to the moon tower to enjoy the midnight reflection on the lake and some fine Vietnamese wine? Don't mind if we do. The guest palace is lovely, thank you.
Vietnamese Emperor Khai Dinh spent some time in France, returning to Vietnam with a penchant for powder, rouge and men. Meanwhile, he allowed the French to raise taxes on the starving Vietnamese peasants and taxed the poor himself to raise funds for his tomb. His nine-year rule (1916-1925) was very unpopular and helped the man later known as Ho Chi Minh gather support for independence from France.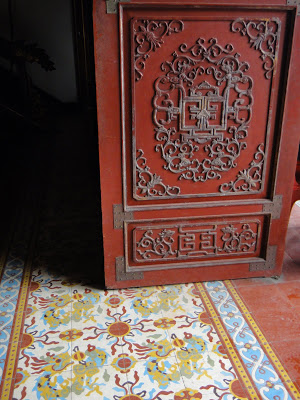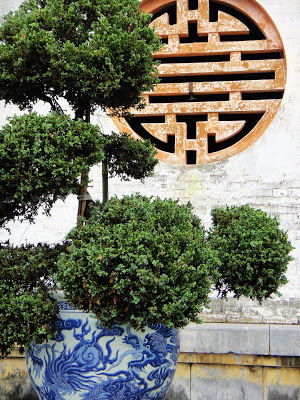 "Hue is in South Vietnam, but very close to the 17th parallel. French influences can be seen around the city because the French established Hue as the capital of French Indochina from 1802-1945. The quiet city sprawls on both sides of the slow Song Huong, or Perfume River" (
Stripes Kanto, "Land of Ascending Dragon Lures with Beauty, More"
by Mari Krueger, February 2011).
People here were not shy. Unlike Saigon, there seemed to be babies everywhere. Our whole trip people kept asking Chris, "Is your wife Vietnamese? Half? No? Where are you from?" I think I must look Vietnamese because everywhere we went Vietnamese babies stared at me with huge baby eyes. "Awwww, don't you want one?" I said to Chris again and again. "Let's see if we can get one at the souvenir market that looks like me." He just rolled his eyes.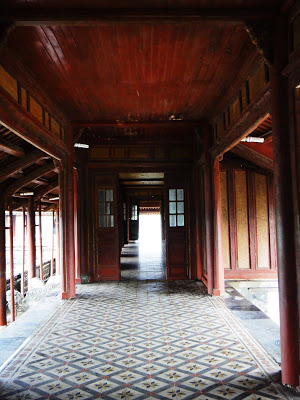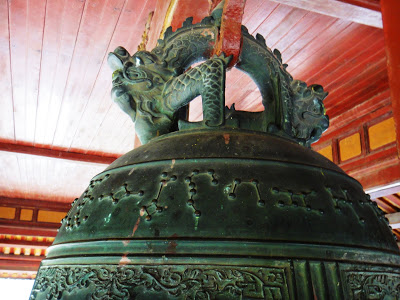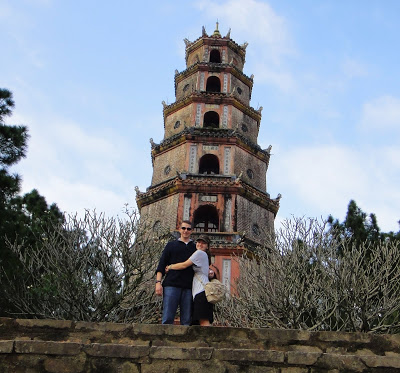 On the northern bank of the Perfume River sits a pagoda that symbolizes ancient Hue. Built in 1601, the seven-storied Thien Mu Pagoda is the tallest pagoda in Vietnam. Many legends and folklore surround the temple, including this story told by our guide: A Buddhist nun came to the end of her life. She told her monastery that one day a wealthy lord would come and build a pagoda to honor here devotion, and he would become very prosperous. Years went by and the story spread far and wide, until one day Nguyen Hoang heard of it. "I'm a lord!" he thought, and immediately traveled to Ha Khe hill along the Perfume River and built the Pagoda of the Heavenly Lady.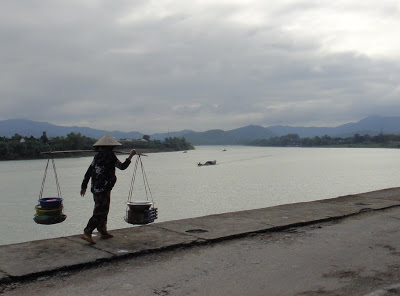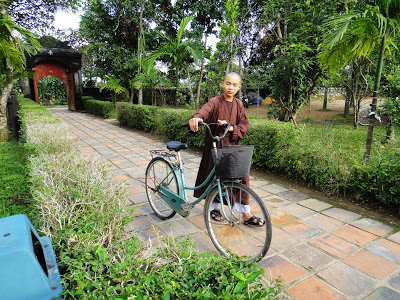 "The temple of the pagoda is now a famous monastery because it houses the car Thich Quang Duc drove from Hue to Saigon, where he doused himself in gasoline, assumed the lotus position, and meditated without moving while he
burnt to death
June 11, 1963 to protest South Vietnam's discrimination against Buddhists" (
Stripes Kanto, "Land of Ascending Dragon Lures with Beauty, More"
by Mari Krueger, February 2011).
"At that time, Vietnam was maybe 50/50 Catholics and Buddhists, but because of his great sacrifice now there are many more Buddhists," said our guide enthusiastically. So…what about Christ's great sacrifice?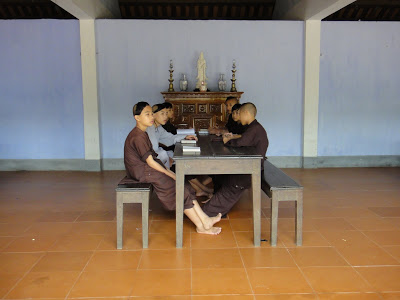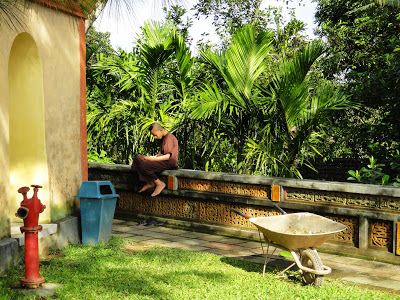 We descended the stairs from the pagoda to the Perfume River and boarded a dragon boat for a cruise up the river past the Citadel and downtown. Fishermen, other tourist boats and tiny boats hauling gravel up river passed us and we passed water buffalo and families farming along the riverbank. Clouds hung low over distant mountains as darkness draped silently over the city.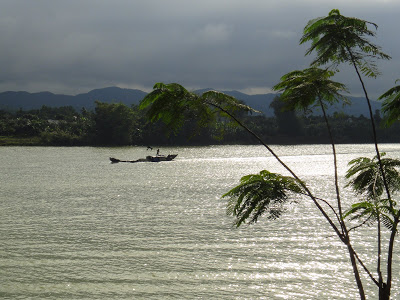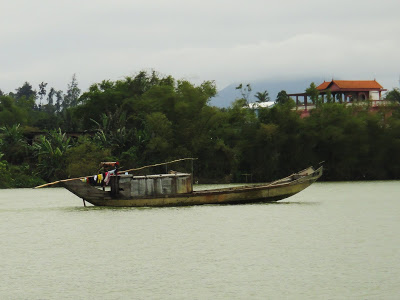 We ditched our guide and joined the throngs of people along the riverbanks and explored the marketplace, weaving our way around friends and couples and groups of old ladies out power-walking. At night, the city came alive…with other tourists. I mean, Hue is cheap, beautiful, friendly and has lots of delicious Australian restaurants conveniently located across the street from the lady who made me a silk dress for $20 in the time it took us to eat dinner and have a rooftop cocktail on top of our hotel. What's not to love?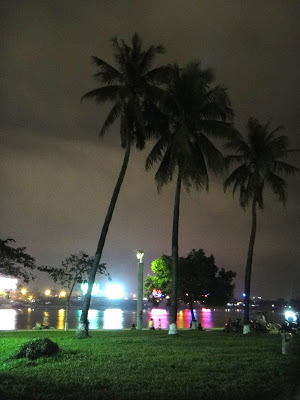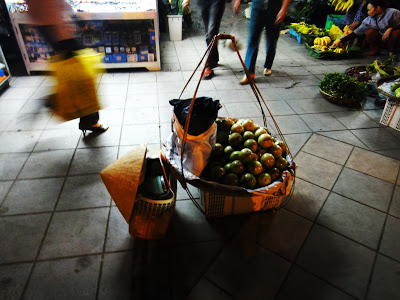 Another thing to love about Vietnam: THE COFFEE!! I like toasty coffee, like Starbucks. So I don't really like Japanese coffee, which always tastes sour and too sweet to me. Australia really knows how to do coffee, but wow—Vietnam takes the (coffee) cake! Our first hotel's breakfast buffet had no cream or sugar—and for the first time ever I enjoyed straight, black coffee. The rest of our trip was one excellent coffee break after another. You can brew it regularly or put it in these nice little tin filters, where it drains onto sweetened condensed milk. I preferred it with milk, but it's delicious any way you take it. Yum! Vietnamese coffee: worth waking up for!