This is one of those posts that has been sitting in the queue for months. Selecting the photos was easy, but even talkaholic Mari can't find words to honor this church that blessed us so much. It's impossible to say how thankful I am to have attended Life Chapel International while we lived in Japan. Our schedule was in constant flux. Our social life seemed to revolve around the squadron, as opposed to the States where we had more time to spend with friends we made at church. But Life Chapel welcomed and befriended us even when we couldn't participate in all the extras we would have liked to.
I waddled into church late in September and Pastor Paul said, "Ah! Mari is here! We thought maybe the baby had come! Please tell someone when you go to the hospital!" And in fact I went into labor early the next Sunday, so I made sure to call Nicole and have her make my excuses. Six days after Isaac (finally) came around, we introduced him to the people who'd prayed him through his delivery. One friend sanitized her hands as soon as the service was over and held out her arms for him. "This is the newest baby I've ever held!" she said. "Before this it was a six-week-old!" Another lady looked at me with huge eyes: "What are you doing here??" she asked, because Japanese women don't take their babies out of the house for a month or two. I shrugged. "Is it ok?" asked Eri, patting her stomach. "Oh, no problem—lots of pain medicine!" I said.
Two weeks later we dedicated Isaac before our brothers and sisters in Christ. They prayed God would protect and bless Isaac as he grows and would call him into a relationship with Christ. Chris thanked everyone for welcoming us into the church body. It was important to me to dedicate Isaac here before we moved, to promise our church we will raise Isaac in admonition of the Lord (Eph 6:4).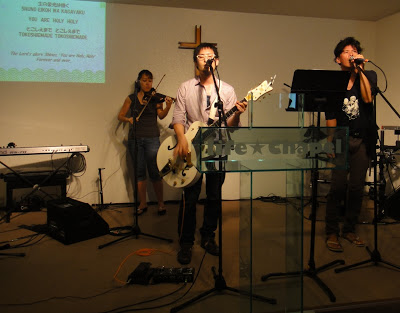 Ryo leading worship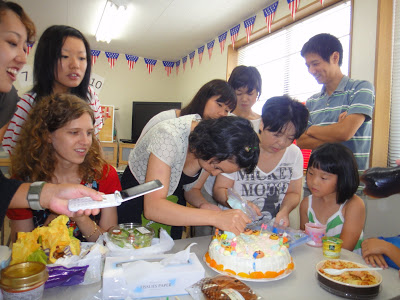 But anyway, before all that, we've gone on hikes with our friends here, had them over for dinner, and gone to their places (that remains the only Japanese home we were invited to in three years in Japan). Our names were included on the September birthday cake Tomoko made. We went to festivals together. We had after-church parties. We celebrated Thanksgiving and Christmas together for real. Martha and Amanda threw a church baby shower for Yoshiko and me where everyone closed their eyes and drew a baby. "Mari's having an octopus!" Yoshiko giggled.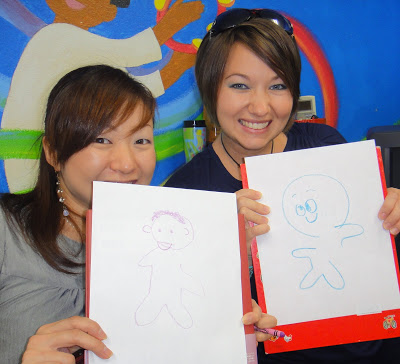 People keep asking what we'll miss most about Japan. The people, of course. The friends we made, American and Japanese, and our church. It's hard enough to find a solid church in the States, and here in Japan we started off without much luck. But then we came here, where Pastor Paul's sermons always taught me something new and piercing.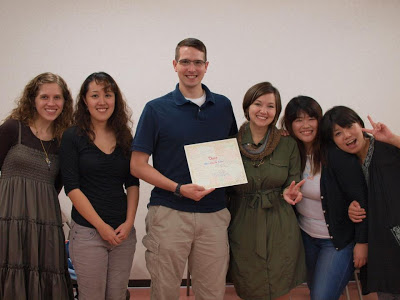 Amanda, Morie, Chris, Mari, Shoko, Konomi
They had a going away party for us our last Sunday. We were completely floored. I'm emotionally retarded when it comes to goodbyes; I prefer not to think about it and pretend everything will continue as normal. Looking at everything—everyone—we were leaving made my stomach twist. But I know I will see them again. Like Pastor Paul says: "Amen, mina-san?"