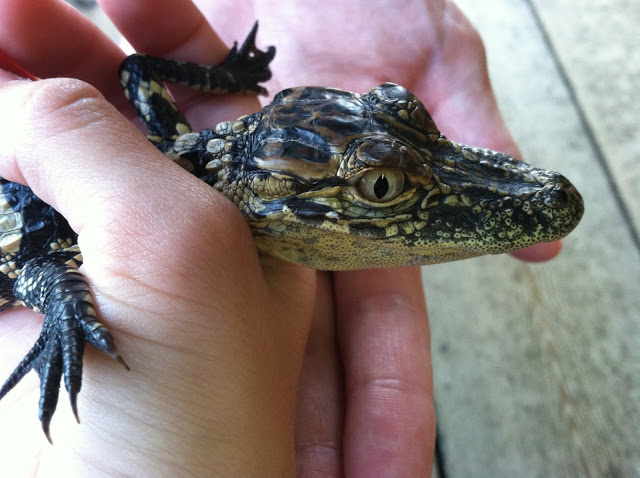 Hey little guy!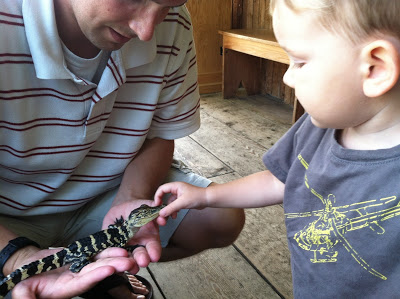 Goal setting is so important. Looking at who you are, where you are in life now, where you want to be in the future, and planning out a hopeful route to get there is something I try to do around my birthday and New Years. It's also neat and tidy to organize tours into this same thinking. We have no idea where we'll be headed a year from now, so it helps me focus on being actively content right now where we are, with what we have, in what we're doing.
I heard many people get to the end of their tours in Japan and say, "There were so many things we just never did get around to." I have yet to hear anyone say that about Pace, Florida, but STILL—we set Florida Goals. HOLD A BABY ALLIGATOR was high on my list. The baby alligator tent wasn't yet set up when we clocked out of the
Gulf Coast Hot Air Balloon Festival
a few months ago. Dang!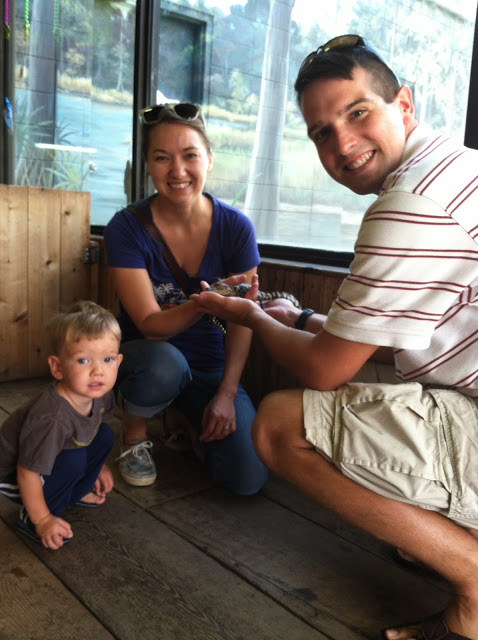 I wore a purple shirt and had a tiger-striped bag…what if someone thought I was an LSU alumna?? MORTIFYING.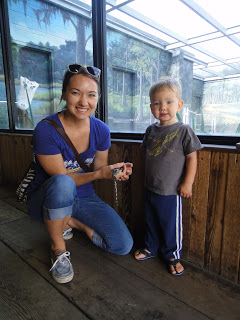 Don't judge my goals!
We saw a sign for baby alligator holding opportunities when we first moved back somewhere between Florida and Texas, but no way were we prolonging the torture that was driving ALL DAY with Captain Fussypants.
But time goes on and we are still cheap, so this summer we found ourselves driving to Texas yet again! Maybe you've seen the pictures of my side of the family at the beach. Captain Goodbaby was all about the road trip this time around. For less than the cost of two airplane tickets, we bought gas for the trip and an ipad, complete with Cars 2, and the Goodbaby was (mostly) content to watch cartoons, play Endless Alphabet, snuggle 'banky' and drink four sippy cups of strawberry milk for the 10-hour drive.
So it was with less trepidation that we commenced our return trip. Without the panicky beeline mentality, we turned it into an adventure!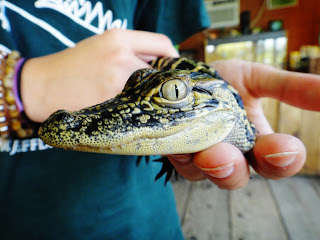 They don't feed them meat so they won't bite (yet).
I have fond memories of driving from New Jersey to Texas as a nine-year-old when my family moved to the South. We went trick-or-treating somewhere in Alabama, we got smiley-face pancakes for dinner (in a restaurant!), we played with Emily the Hamster in the backseat, we stayed in hotels! I wore my cowboy boots every day! The car always smelled like lunch meat! We sat on the signs shaped like Louisiana! We detoured south of I-10 to Avery Island and toured the Tabasco factory! And my parents didn't even have smart phones!
Yet none of that was possible the other times we zoomed through with the Goodbaby. This time, I put my smart phone to work. A couple dozen miles into Louisiana and it was time for a bathroom break. If you can, hold it until exit 64. The Louisiana Oil and Gas park is just north of I-10 off exit 64 in Jennings. The park commemorates the beginning of the oil and gas industry in Louisiana in 1901, but MOST IMPORTANTLY, you can hold a baby alligator for free. A bunch of larger American alligators swim in the Gator Chateau. There are shaded picnic tables, a clean (somewhat rustic) restroom, a walking trail, and a small lake with ducks. Toddler heaven! It was awesome. The nice ladies who work in tourist information booths in Louisiana always give Isaac things.
Last time
it was Louisiana state pins for his diaper bag. This time it was Mardi Gras beads with a big alligator on it. Score!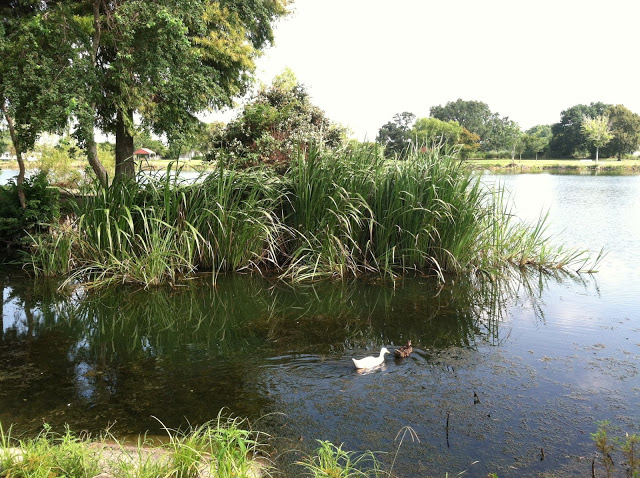 We pulled back onto the highway armed with information about swamp tours and plantations open for viewing. A plantation visit is on the Florida Tour Goal List also. A Orange Kellin's New Orleans jazz CD squeaked an accompaniment to our eastbound journey. Good news, we'd be ready for lunch about the time we hit Baton Rouge. I did a quick search for plantations in the area, and double score! There was one right off the freeway, just east of the Mississippi River.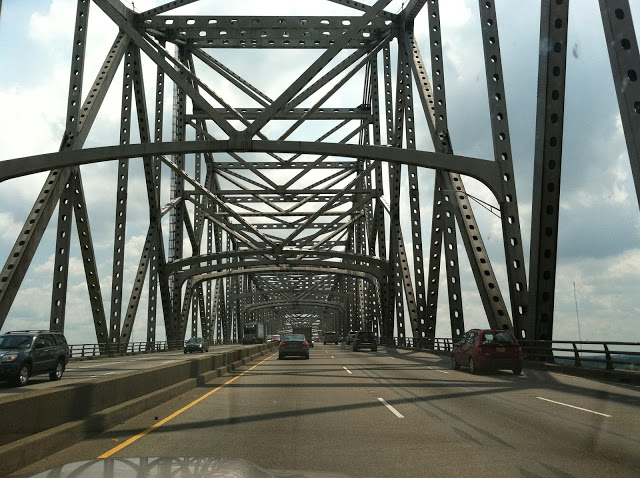 I-10 Mississippi Bridge, eastbound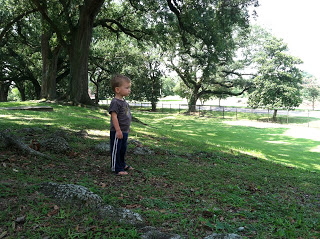 Between timing and temperament, we seemed to have all the stars aligning. We got some mediocre fast food, took an accidental detour through the LSU campus, and got out at Magnolia Mound Plantation. We had a very pleasant picnic in the grass. Isaac ran up and down the hill in front of the home. A cool breeze off the Mississippi and shade from towering live oaks shielded us from the summer heat. It was the perfect way to relax after hours in a car, with—EXCUSE ME, CAN I HELP YOU? asked a lady who seemed quite distressed. We assured her we would pay for the tour or whatever promptly after lunch. She said ok, then turned around and said it was NOT ok; please go pay now! Chris went in to pay $3 each for him and me. Adorable tots seem to be free. "Oh, are you those picnickers?" said the guy manning the interesting museum/gift shop. TOTALLY WORTH IT. Way better than a fast food playground. We would stop there again if the timing was right (but WE WOULD PAY FIRST I PROMISE).
I'd still like to tour some plantations, but at least the bare minimum requirement has been met and can be checked off the goal list!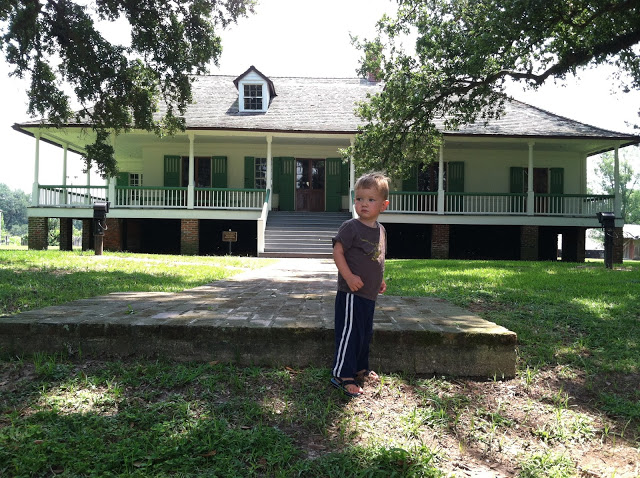 Magnolia Mound Plantation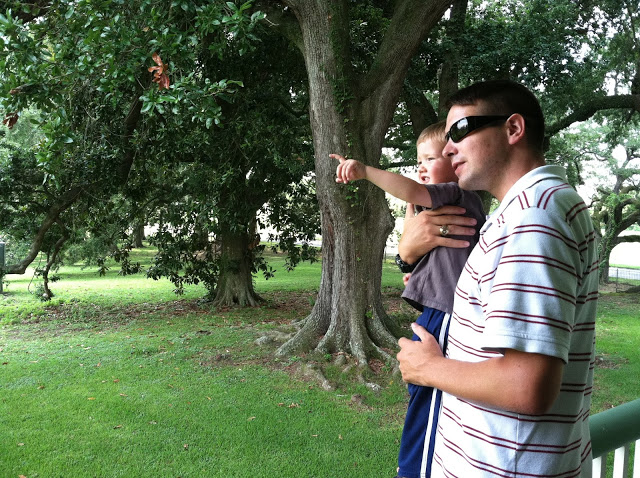 Stuck in a car with two Krueger men, cruising eastbound down Interstate 10.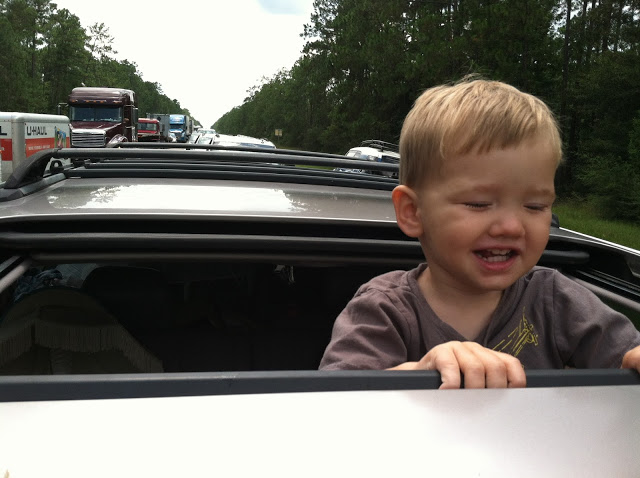 He was back in his car seat before we started moving…or was he?
There were many odd things about this road trip. First, I found my first ever shark tooth on the beach the day before we left. Second, as we drove away from our house, I looked down into the Simpson or Escambia rivers, or one of the bayous or coves between them at the northern tip of Pensacola Bay under those long bridges on Highway 90, and saw an alligator. I always look for alligators and never seem them, but I don't usually look for them at 6:30am, I guess. Cool! Alligator heads are a pretty distinctive shape, and its tail was poking out of the water too. Then somewhere in Louisiana (heading west) I saw a flock of flamingos fly by, all long-necked and pink. I saw one flying in Corpus Christi once and almost drove off a bridge. Now, on the way back, we'd already held a baby alligator and enjoyed lunch at a shady plantation. It could only go downhill from there, right? Right.
We crossed the state line into Mississippi and stopped almost immediately. Just stopped. People got out of their cars and walked around. Isaac got some fresh air and watched THREE FIRE TRUCKS and multiple ambulances scream past. And a bulldozer. After about 45 minutes traffic started creeping forward. We checked local newspapers until we discovered the culprit: the brakes caught fire on a big rig carrying spinach. No one was harmed, but I doubt the truck will survive!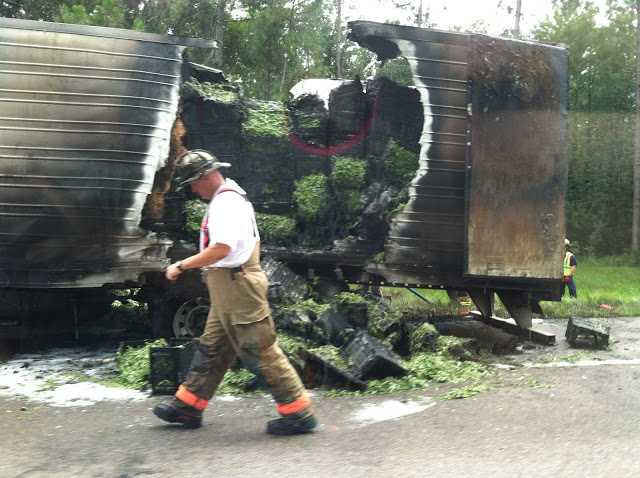 When spinach goes bad…
After that we had no more delays and the baby slept. The Goodbaby and I had been fighting off a little head cold, which chose this moment to bloom into something horrifying. By the time we pulled into the driveway, he and I were crying, he had a 102 degree fever, and we vowed never to leave the house again. We'll see how that goes.