Chris and I had a totally fun day in Hakone. What's funny about Hakone is that everyone around home and in Hakone says, "Oh! Hakone is so close! You can go again!" Well, sure, I guess compared to other places it's close, but Hyperdia says it's two hours on a good day, and on the peak Saturday of leaf-viewing season when we went it took us three hours one way! By the time we arrived at Gora Station we had to stop for some lunch. Then we were free to enjoy the very beautiful Hakone Art Museum. Then it got dark; sunset is about 4:40pm these days.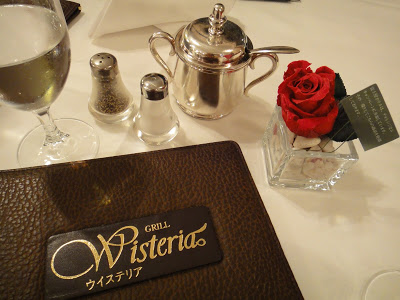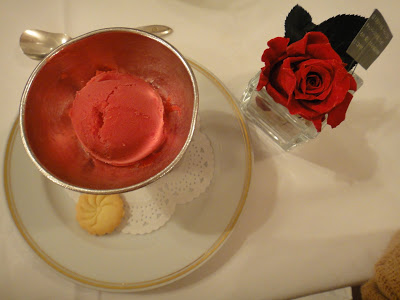 We proceeded down the mountain to Fujiya Hotel (359 Miyanoshita, Hakone-machi, Kanagawa-ken, 250-0, phone: +81-460-82-2211), Japan's first Western-style hotel. They were already full two months ago when I tried to get us reservations, but fortunately the hotel's Wisteria Grill had plenty of room. "It's Western-style; is that ok?" asked the concierge. Apparently Western-style includes Japanese lanterns, rock garden decor, and beef curry sets. Perfect! And delicious!! The set included potato soup, beef curry with rice, a side salad, raspberry sorbet with a cookie, and tea. Plus, Chris ordered us each a glass of champagne. We're celebrating fall!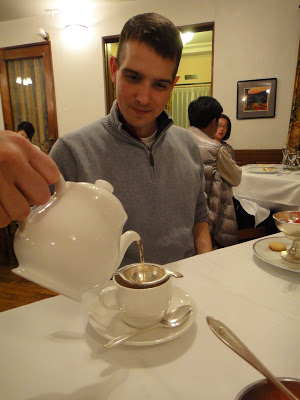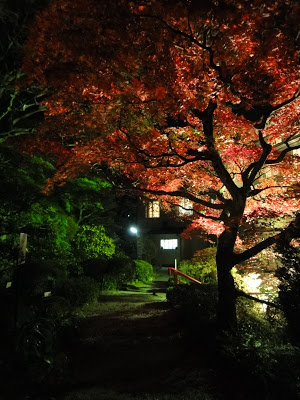 After dinner we took a walk around the hotel and gardens. They were all lit up for autumn and glorious, even in the dark. Exploring with Chris is my favorite thing to do year-round!