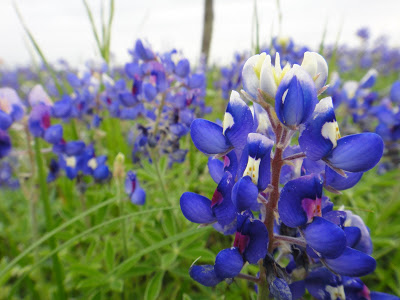 "People from Texas seem to be really proud they're from Texas," a Japanese friend mused to me once. This provided an excellent opportunity for me to launch into an overview of the exciting tale of Texas independence. My parents and I drove along part of Texas' Independence Trail in pursuit of our state flower, the bluebonnet, yesterday in Washington County, about 70 miles west of Houston. This is not only where Texans first declared their independence from Mexico, but also the very county where Chris and I got married almost five years ago!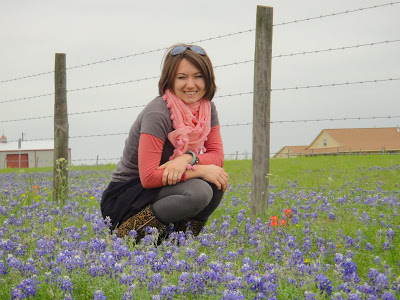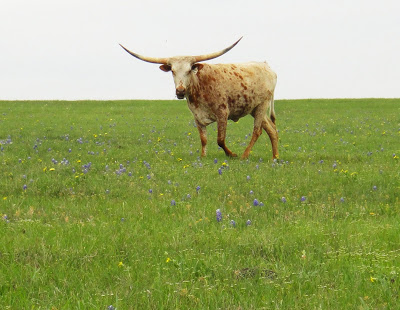 My family has taken seasonal bike rides through these rolling hills—covered in thickets of bluebonnets and dotted with cattle—since we moved to Texas two decades ago. It's more or less along our route to College Station, where my brothers, sister and I all attended Texas A&M University. Standing still in a carpet of dancing wildflowers and listening to the wind, birds chirping and the quiet lowing of cattle is profoundly calming.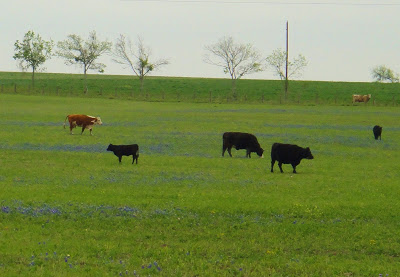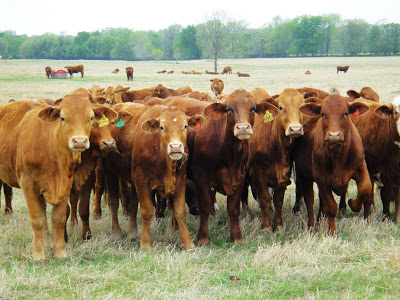 The bluebonnets are toughing it out this dry spring; the usual blue blanket that settles over the countryside is more of a patchwork quilt this year. But they come out anyway—maybe not as lush or vibrant, but their network of roots spreads across the deep cracks in the dry earth. They offer up one or two fuzzy seedpods for future rainstorms, for a distant spring. Despite being half a world apart and not knowing when we will see each other again, I stood in front of the Antique Rose Emporium's red wooden chapel where Chris and I said, "I will," now holding our Bean-pod for the future.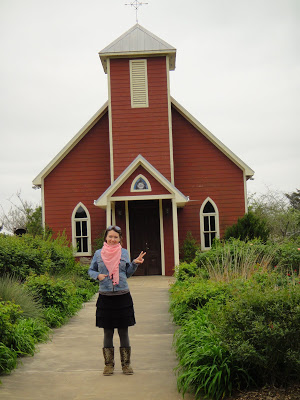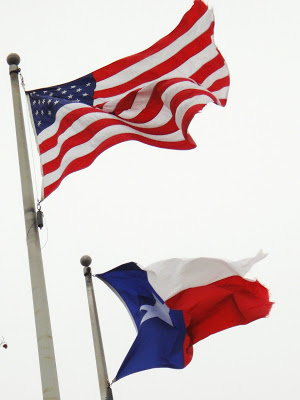 Ok, now for some of that enchanting Texas history. The Republic of Texas signed its declaration of independence here in Washington County in 1835, then spent the next two years defending its claim until Texan forces captured Mexican Presidente Santa Anna in the Battle of San Jacinto near Houston in 1836. State flags in the USA fly lower than the national Stars and Stripes as a sign of respect. But because Texas existed for 10 years as an independent cotton and ranching country, the Texas flag has the honor of flying at the same height as the US flag.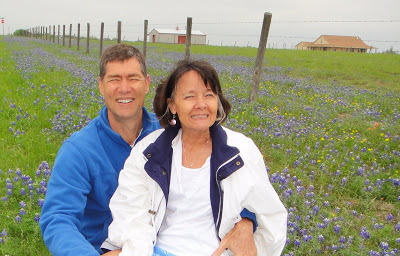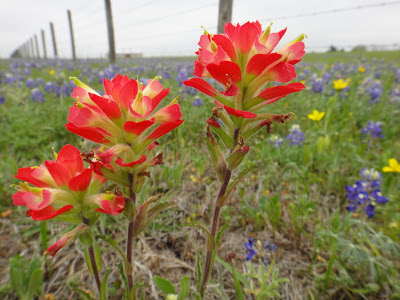 Mexico claimed the Nueces River as its boundary with its northern neighbor; when the US annexed Texas, it claimed land all the way down to the Rio Grande. Obviously, Mexico did not like that one bit. But that's a story for another day. When we say six flags have flown over Texas, we're talking about the governments that have claimed Texas: Spain, France, Mexico, Texas, the United States of America, and the Confederate States of America. Yet Germans make up one of the largest groups of early Texas immigrants. Chris' family, for example, can trace its lineage back five or six generations of Texans to their first ancestor who emigrated from Germany to Texas. Isn't that cool?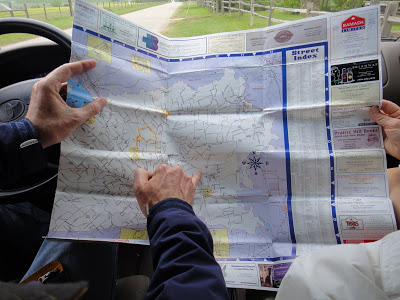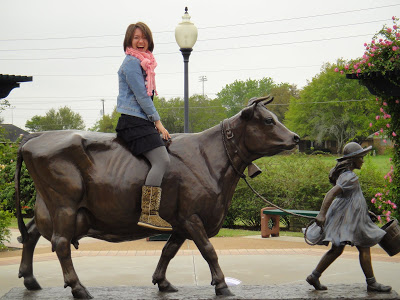 Just down the road from where we got married is the
Blue Bell Creamery
. Blue Bell ice cream is only available in a fourth of the US, but it makes up more than a third of all ice cream sales nationwide. It started making butter from local dairy farmers' extra milk and expanded into its current state of operations, where they "eat all we can and sell the rest." We watched pistachio almond ice cream filling up half-gallon tubs on the assembly line, then watched the wrapping of the ice cream sandwiches. By the end of the tour we were starving, but no problem—a sample is included in every tour! I tried Krazy Kooky (I think)—cake batter-flavored ice cream with sugar cookie lumps mixed in—then Caramel Kettle Crunch: also delicious. They get their milk from more than 50,000 local cows within 250 miles. Come to think of it, that's the distance between my house in Japan and Sendai. 'Local' in Texas has to have a broader definition. Everything's just bigger in Texas!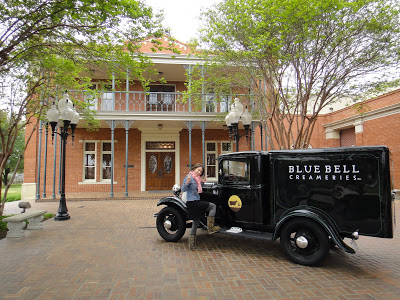 "Texas is a state of mind. Texas is an obsession. Above all, Texas is a nation in every sense of the word." —John Steinbeck, American Novelist and winner of the Nobel Prize for Literature for 1962