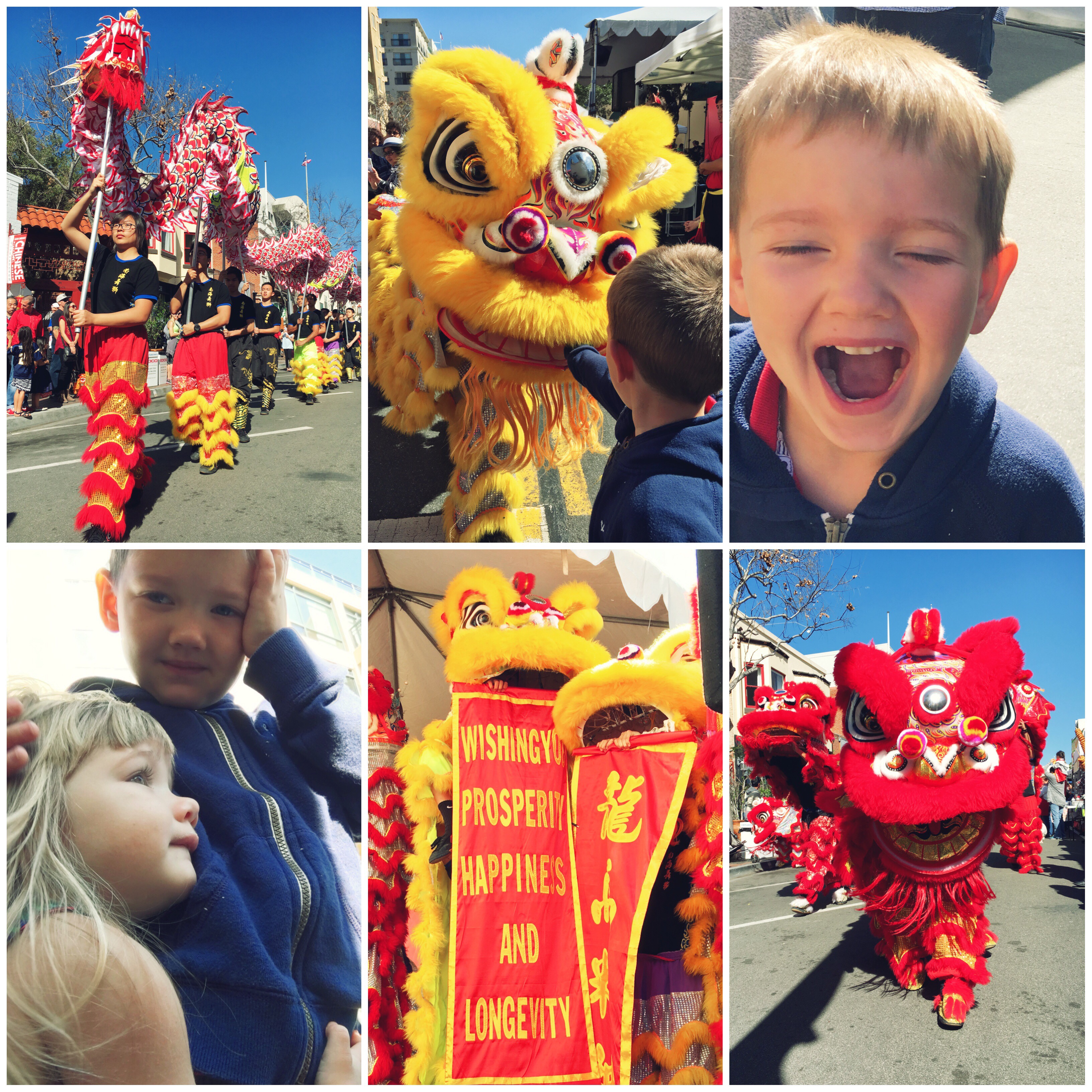 The cymbals crashing over the booming drums sent Eloise scuttling over to Isaac, where she tucked under his arm with her arms around his waist. He patted her hair and covered an ear with his free hand.
"Do you want to move farther away?" I hollered over the clamor.
"No! I want to see the lions!" Isaac yelled back.
"Loud noise scares away bad spirits, so to celebrate the New Year we like to make a commotion!" the lion dance front man had said. The San Diego Lunar New Year Fair in the Gaslamp District this weekend was deafening, so no chance of bad spirits here.
Eloise was entranced, but kind of terrified. Is she a bad spirit? Impossible. The cacophony did scare away her devilish grin though.
The lion dancers overcame life obstacles in the form of a bridge to get to their hearts' desire in the form of flowers. All lion dances have to tell a story; otherwise they're just jumping around up there, the guy explained. Then lions danced out into the crowd. Isaac fed one a dollar for good luck in the year of the rooster. Eloise freaked out when the beast came toward her.
We got some Chinese festival food in front of the Chinese Historical Museum after. Isaac was really excited about his Chinese noodles.
"Did you like it, Eloise? Or was it too scary?"
"Scary. It was scary dragon. Scary lion."
Well. Our morning in Chinatown scared her first complete sentence out of her.
One of the booths gave her a jolly rancher in a lucky Year of the Rooster envelope, and she giggled and roared the whole way home. Good spirit roars, I guess.