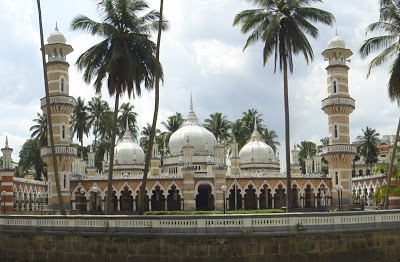 I am intrigued by Abu Dhabi because Garfield always talks about sending Nermal there. I like the sound of Timbuktu because they sing about it in "Oliver!" So the first time I wanted to go to Kuala Lumpur was after listening to this exchange in "A Very Brady Sequel:"
Carol: "You look so different."
Roy: "An elephant stepped on my face in Kuala Lumpur. The doctors did all they could, but I'm afraid you must find me hideous."
Carol: "Hideous? No. But you're taller than I remember. And your voice has changed."
Mike: "Really? Is that true, Roy?"
Roy: "They put me on the rack—that stretched me about half a foot—but hey, it was a small price to pay to save a colony of nuns."
Peter: "Wow!"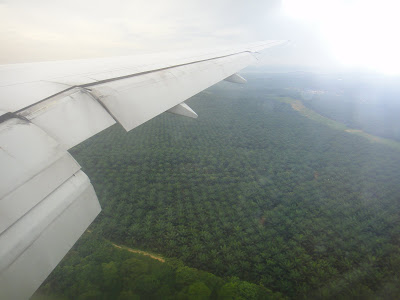 Anyway, that is not what took me there recently. I'd been trying to coordinate a port call with a stopover to visit a university friend of mine who lives there. After a year of attempts, our schedules finally aligned! My plane touched down into endless fields of palms stretching in all directions. The first building I saw outside the airport was a massive blue-domed mosque. So close to Singapore and Thailand, but still a world away.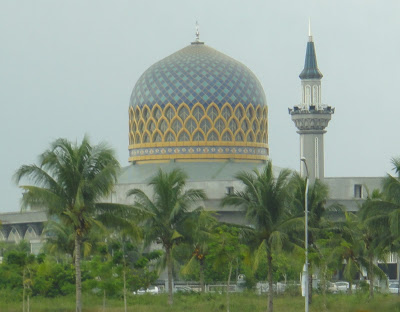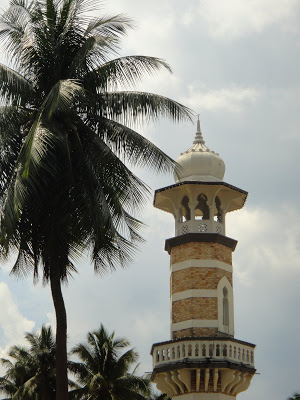 Malaysia has a slight Muslim majority. I've been in places with a vast Muslim majority, and places with a Muslim minority, but never a slight majority. This was very interesting to me and was most readily apparent in clothes—dress is very conservative and most women cover their hair, but especially downtown cropped pants and (gasp!) short sleeves weren't a huge issue. It was far more tolerant than, say, Cairo or Morocco, and that's coming from a tourist who dresses modestly. Religion basically falls along racial lines: about 60% Muslim (mainly Malay), about 20% Buddhist (Chinese), 10% Christian ('other'), 7% Hindu (Indian), with 3% unknown or Taoist or something. Most businesses are run by Chinese; most government jobs and scholarships go to Malays. The government is working on a unification project called One Malaysia.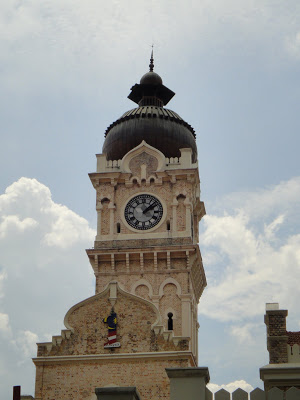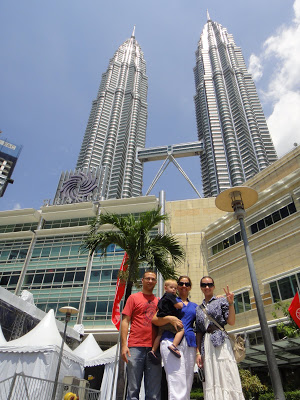 Downtown is a convergence of towers as silver spires and Moorish minarets mingle with waving palm fronds. We had lunch in the base of Kuala Lumpur's famous Petronas Towers before a walk along the Klang and Gombak Rivers, which converge at the Masjid Jamek—the city's oldest mosque. Kuala Lumpur means "muddy confluence" in Malay. Malaysia was British Crown Colony until 1957, so the mosque was actually designed and built by a Brit and rests on a Malay burial ground. The nearby Central Market sells all sorts of dusty antiques, vibrant fabrics and locally-grown coffee. A must-see! When we were there we lucked out and ran into a culture festival featuring Indian dance.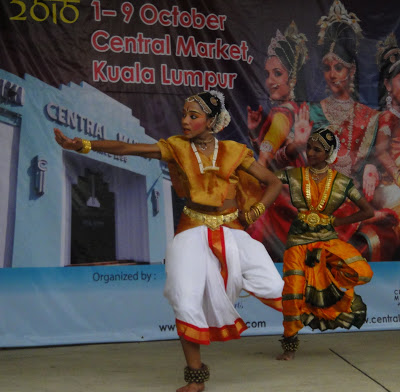 So! Here is some interesting KL history! The Selangor Royal Family opened the Klang Valley to Chinese tin prospectors around 1857. Most of them died. The rest of them set up a thriving trade that grew to the point where it attracted British attention from other parts of British-ruled Malaya. They appointed a chief Chinese Kapitan to act as sheriff. Then the Selangor Civil War erupted. The Selangor princes battled over control and revenue of the tin mines. Meanwhile, two men—Kapitan Yap and Chong Chong (love those names!)—battled for control of the Kapitan title. Kapitan Yap was victorious and populated the region with Malay farmers while rebuilding Kuala Lumpur, which soon became the capital of Selangor. About 40 years after this all got started, in 1896, Kuala Lumpur became the capital of of the Federated Malay States (still under British rule), until 1942, when Japanese forces occupied the city for more than three years. After the Second World War, power reverted to the British, and a decade thereafter Malaysia declared independence. Ta-da!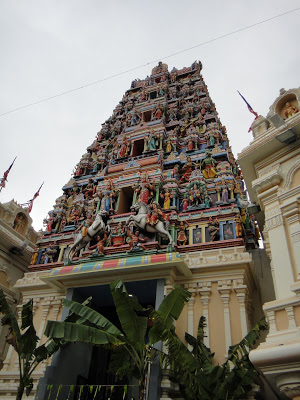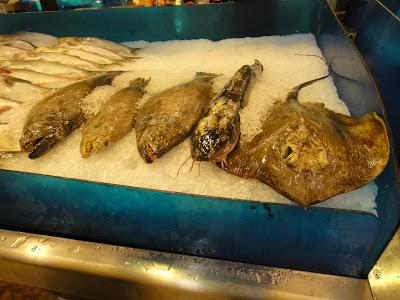 Anyway, after downtown we visited my friend's local grocery store (how do you eat a stingray? Oh well, crab-flavored Pringle, anyone?), then we all went out for real Malaysian food—spicy beef and veggie dishes, rice, tom yum soup, and deeeeeeelicious beef and chicken kebabs with shallots, cucumbers and a spicy peanut sauce. Those were soooooooooooooo good!!!! To drink we had teh tarik, of course—the very sweet milk tea mixed by pouring a three-foot stream of tea from the pitcher to the glass. Yum!! Thanks for a tasty dinner, warm hospitality and delightful view of Malaysia!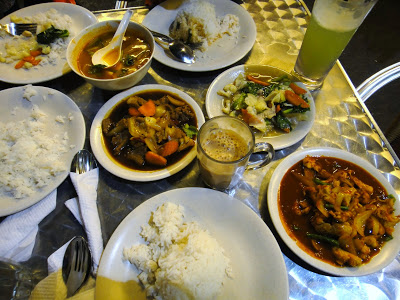 And a last look at Malaysia:
"Stop. Go.
STOP—what you do is WRONG.
SLOW DOWN—Think?
GO—Enjoy it.
TOILET AWARENESS.
Please flush after use.
FLUSH AWARENESS."