Photos of the Bean-Tossing Festival at Tsurugaoka Hachimangu Shrine in Kamakura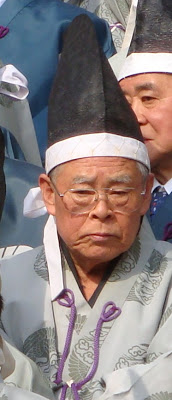 How often do you get to throw beans at your dad? Roasted soybeans will be tossed at fathers and older brothers alike to attract good luck and celebrate the approach of spring with mame maki, or bean-throwing ceremonies, Tuesday, February 3. Tossing beans indiscriminately doesn't count, though—you have to follow the traditions.
The lunar calendar marks February 4 as Risshun, or the first day of spring. The day before Risshun is called Setsubun. While not a national holiday, beans will be thrown none the less.
Mame maki is a way to banish the evil forces associated with the cold, dark days of winter and prepare for the renewal and rebirth of spring. Roasted soybeans are called fuku mame (fortune beans) and symbolically drive away evil while blessing the home with good fortune. To act this out, the oldest man in the family plays the part of a demon while the rest of the family members pelt him with beans from inside the house, shouting, "Oni wa soto, fuku wa uchi!" That means, "Get out demons, come in happiness." It's easy to purchase a soybeans and scary demon mask set—they're sold in grocery stores before the festival.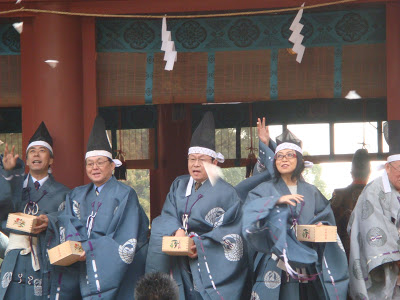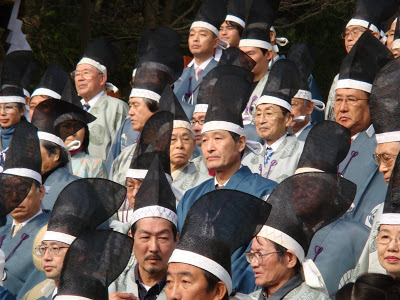 Setsubun is also a good time to spot Japanese celebrities out and about. Many temples—especially the larger ones like Hasedera in Kamakura—will be good places to watch sumo wrestlers, television personalities and other well-known Japanese throw beans. But watch out! Toshi-otoko and Toshi-onna will be throwing beans from the temple stage into the crowd and you won't want to get "beaned." Toshi-otoko and Toshi-onna are men and women whose birth year coincides with the present year. This is the year of the ox, so people born in the years 1937, 1949, 1961, 1973, 1985 and 1997 get special bean-tossing privileges and extra luck. For everyone else, picking up tossed beans (preferably just the number of beans that coincides with your age) brings luck, too.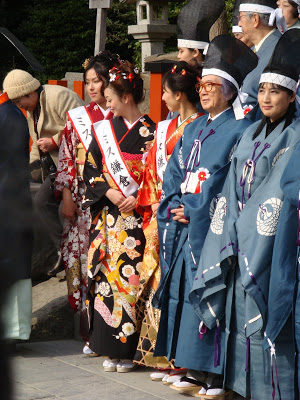 Eating the same number of beans as your age also brings health, luck and happiness. If you're five, you only have to eat five. Parents will be eating a plateful. Kids must have made up that rule!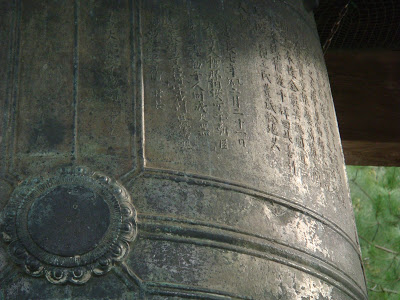 Beans aren't your cup of tea? Take heart. You can still vie for good fortune by eating eho-maki, or fortune rolls. The Shichifukujin, or Seven Gods of Good Fortune, inspired the seven ingredients in this thick roll: simmered shiitake mushrooms, dried gourd, cucumber, egg, eels, pink sweet powder (sakura denbu) and seasoned dried tofu. They represent prosperity, happiness and good health—a powerful combination when rolled into one. But this is one time you won't want to slice your sushi roll, because that risks cutting up your good luck. Instead, silently eat it like a burrito while making wishes. Finish the entire roll before speaking or you'll risk dissipation of your good fortune.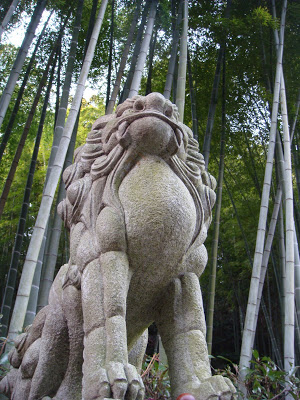 Visit neighborhood shrines and temples near the base to see locals participating in mame maki, or head to these havens of bean-throwing known to attract celebrities. About 150,000 people participate in mame maki at the Asakusa Sensoji Temple (2-3-1 Asakusa Taito-ku, Tokyo, near the Tokyo Subway Asakusa Station) each year. Other popular spots include Ikegami Honmonji (1-1-1 Ikegami Ota-ku Tokyo, near the Tokyu Railway Ikegami Station), Kawasaki Daishi (4-48 Daishimachi Kawasaki-ku Kawasaki-city, Kanagawa, near the Keikyu Line Kawasaki Daishi Station) and Tsurugaoka Hachimangu (2-1-31 Yukinoshita Kamakura-city Kanagawa, near JR Kamakura Station). To catch sumo wrestlers, visit the Tomioka Hachimangu shrine (1-20-3, Tomioka, Koto-ku, Tokyo, near the Monzen-nakacho stop on the Tozai subway line), which accords the wrestlers special honors. THE END of the article I wrote about Mame Maki for the local Stars and Stripes. I got the idea from my English students, who told me at New Year's they wouldn't go to a shrine again until February 3 and explained the festivities to me. I asked them afterwards, and sure enough, one had tossed beans and another had eaten the lucky sushi roll without speaking (turns out drinking tea is still ok, even mid-roll).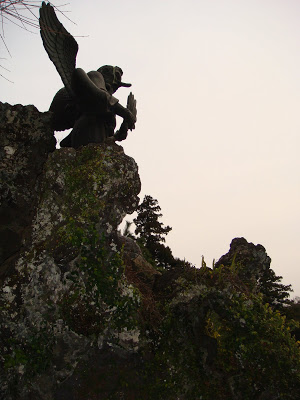 The photos that aren't of the people in costumes are from the Kenchoji Temple, the most important zen temple in Kamakura. The grounds are HUGE, and I found myself on top of a mountain before I'd gotten to the end of the trail. The highest Kenchoji building overlooks the bay and Fuji-San when it's clearer. This place was a trip—partly because I was by myself and totally outside my American bubble, partly because it's a practicing Zen Buddhism compound where certain areas (like the paths into the caves) are restricted to monk training—and it was the most exotic and foreign adventure I've been on in Japan yet. The bell was forged in the 1200s and is signed by its maker. The temples were moved to Kamakura from Tokyo around the 1600s. And the entire massive complex is silent. Fascinating. Except for the Japanese girls who were hiking just ahead of me…we were all wheezing and gasping for air after going straight up the side of the mountain and this detracted from the silence.