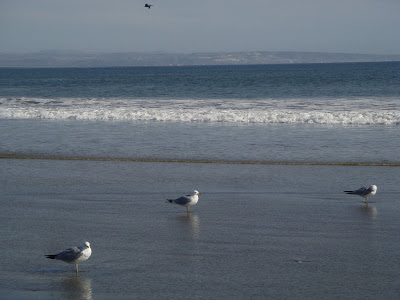 It about broke my heart last year when the last week of March brought swirls of snow. In Florida we were on the beach every year by March. Snow?! Ugh. So defeating. I like winter well enough until the end of January, before the nonstop rain and sleet of February and March sets in. Then it's just uuunnnneeeeennnnnddddiiiiiinnnnggg. So I am very grieved that this monstrous cycle has repeated again; some of my friends in Japan saw snow flurries this week. I shivered and shuddered when I heard. Then I headed to the beach. No longer will I complain about the crazies in Southern California. At least it's not cold.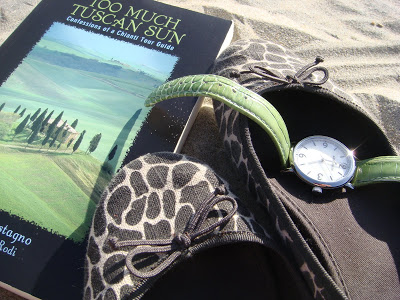 The dark cliffs of Point Loma stood out in stark relief against white sky of a setting sun. Boat silhouettes drifted smoothly far out at sea, dancing between barely visible islands. Pelicans swooped and splashed, diving into the water and fighting off pesky seagulls. The Coronado Hotel's red rooftops looked like a festive sandcastle holding court with the sand and waves. And across the water, Mexico.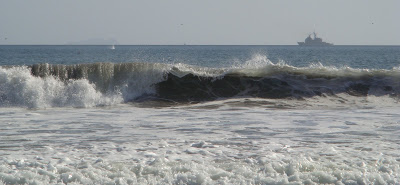 We returned to Breakers Beach on our jog that evening. The tide was in and a full moon cast shadows and shimmered on the spreading waves. The place where I'd parked my feet in the sand a few hours before was nearly covered in water. The sounds of the beach at night were similar—crashing waves, crying gulls—but the smells were different: thick, cold; a sharp, mineral saltiness, like the bottom of the ocean took a deep breath and exhaled; seaweed. And the full moon, dazzling and shimmering, lit the whole sky.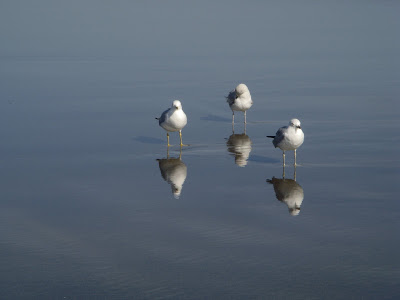 But it is difficult to run in sand, especially when you step on a soft water bottle, which moves and makes a lot of noise (especially if you include your own, "Yaaaaa!") and almost makes you fall down, to the amusement of the people you just passed. Then I found a baby shark! Oh, false alarm. It was a plastic toy shark. But for about five seconds I was really excited.