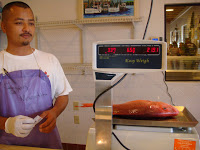 I knew it would be love at first bite when I saw this three-pound snapper. Its frozen body flopped up on the wharf and I said, 'Let's have dinner tonight, you and me.' Actually, I've never cooked snapper before, but it turns out it was easy. I even made up my own recipe for:
Orange-Chipotle Mayport Snapper

Set oven to broil. Coat baking dish with olive oil and put the fresh snapper fillets skin-side down. Drizzle with more olive oil and sprinkle with Orange-Chipotle rub (I bought mine at Apple Market, 1021 Scenic Hwy, Pensacola, FL 32503, 850.433.4381). Can't find it? Just squeeze a couple of orange wedges over the fillets and top with chipotle seasonings or a few pinches of chili powder. Broil for 10 minutes, or until the fish flakes easily with a fork. Easy and quick! The spiciness compliments the mild texture of the fish—even Chris liked this a lot.
Serve with slices of watermelon, crusty bread with butter and my favorite white wine for fish: the Italian Pescevino.
This next tasty-looking meal is part of my I've-been-eating-too-much-fried-food veggie detox. It's a variation on a Rachael Ray soup. I made it into courses: Start with my favorite Sandcastle Salad (recipe is back a few posts), then some packaged rice that Ch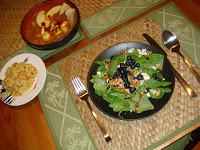 ris insists on having if we're only eating soup and salad for dinner, and finally the best part: Summertime Chipotle Pumpkin Soup! It's 'summertime' because I subbed Landshark beer (brewed here in Jax!) for the recommended dark beer, left out the cilantro, jalapeno and cranberry sauce, added a can of corn and served with Taste of Lime Tostidos. Last fall I made this soup with seasonal Pumpkinhead beer. I used a bottle of that same beer to make Beer Bread (3 cups self-rising flour, 5 T. sugar, 1 bottle of beer; mix and let rise 40 min.; bake 40 min. & top with butter—easy), so that dinner combo is heartier than this summertime one.