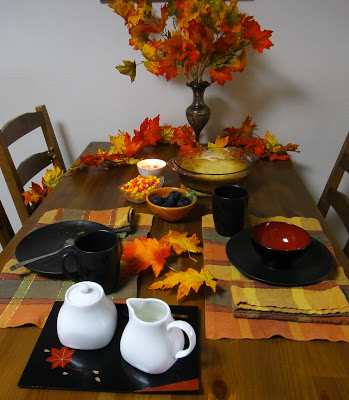 Welcome to Mari's Cafe Americain! We're gearing up for fall with our exciting new line-up of seasonal specialties. Come for brunch and enjoy a tasty appetiser of huge local grapes that taste like jelly. I'll be happy to pour you unlimited cups of strong Starbucks Cafe Verona coffee to accompany the obvious breakfast choice for fall: Upside-Down Pumpkin Pie!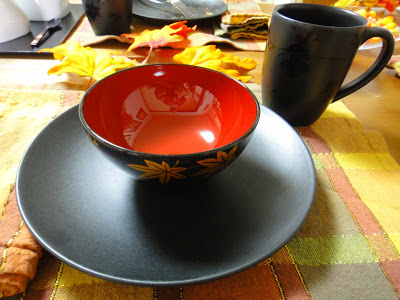 Mari's Upside-Down Pumpkin Pie
Mix two 16-oz cans of pumpkin, one can evaporated milk, 1.25 cups of brown sugar and three eggs in a large mixing bowl. Now's the fun part—spices!! I vary these with each batch, but generally I like a couple teaspoons of mixed regular and Ceylon cinnamon, one teaspoon powdered ginger, half a teaspoon nutmeg, and…whatever else sounds delicious. Sometimes I add galangal for a little more kick; this morning I had lovely results from adding lots of a chai spice mix.
Empty the bowl into one large or several smaller baking pans (once I made one in a tiny ramekin—kawaii! tiny pumpkin!) and top with one box of cake mix. Pour a stick or two of melted butter over that and bake at 350 degrees for one hour. Delicious hot or cold!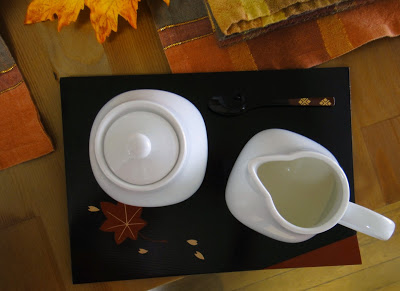 Dinner at Mari's Cafe Americain steps things up a notch. Try our most recent fall favorite: sauteed local mushrooms and champagne!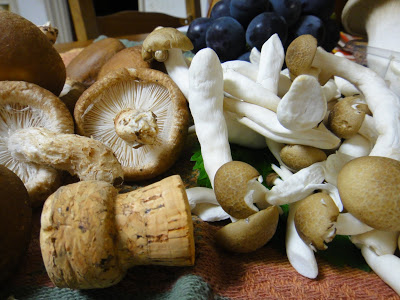 This full-flavored dish of Chef Mari's own creation combines Japanese mushrooms and spices with the American flair you expect from Mari's Cafe Americain. The Japanese word for mushroom,
kinoko
, literally means 'child of tree.' Interestingly but off topic,
mori
means 'forest' in Japan
and
sounds like my name. Japanese mushrooms are a great buy right now; growing conditions have been ideal and produced a larger-than-average crop.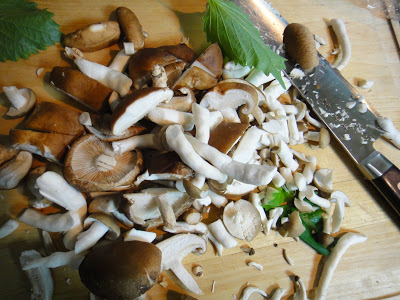 Mari's Mori Mushroom Medley
Roughly chop shitake, bunashimeji (brown beech mushrooms), enoki and eryngii (king trumpet mushrooms) with one shiso leaf and several stalks of asparagus while browning minced garlic in olive oil over medium heat. Add the mushrooms assortment, splash with half a glass of champagne; stir occasionally. When your kitchen smells like a walk in the forest, remove from heat, drizzle with soy sauce and serve alone or over rice. Salt and pepper to taste. We recommend: Concho Y Toro "Sunrise" brut (Chile).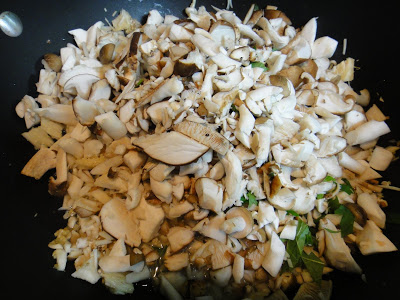 For dessert, please relax and finish your champagne with an assortment of our gourmet hazelnut chocolates.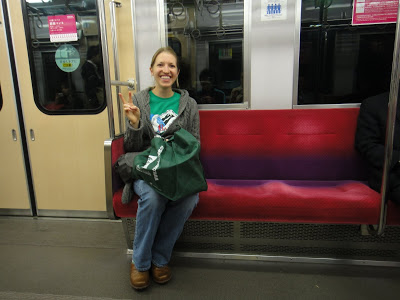 Getting to Mari's Cafe Americain is easy! Simply hop on a plane, train or scooter—or turn your air craft carrier around (you know who you are!!)—and you'll be here in no time!