This year, I have no idea what the heck is going on. Where am I? What am I doing here? How long will I be around? These are pointless questions because the answers do not stay the same. Most recent example: Chris was told on his second day of work that he should expect to go back to the States for six weeks of training on the West Coast starting the first week of January. Will our stuff have even arrived from Jacksonville by then?? No telling.
The key to not going crazy while living out of a suitcase is to redefine the feel of home. I feel not at home when I use hotel shampoo that doesn't have any conditioner in it. My hair with no conditioner resembles a melting ski jump. That makes me feel out of place, which should be avoided as much as possible while away from a home environment.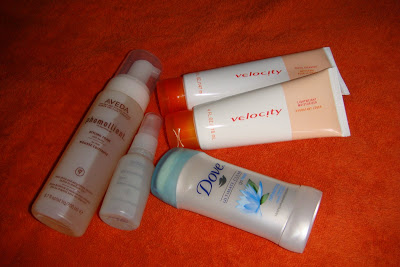 So here we have Mari's Travel Picks. These products combat dry airplane skin without leaving skin oily on the ground. Everyone needs a little proactive help against static-y and ski jump hair, and this is the best-working deodorant I've ever found. For a weekend jaunt I would stick to travel-sized products, but when living out of a suitcase for months in a variety of humidities and temperatures, these full-size versions are a necessity:
Aveda Phomollient Styling Foam with honey — this makes hair be nice.
Aveda all sensitive toner
Velocity Facial Cleanser — not overdrying. not underdrying. My all-time fave.
Velocity Lightweight Moisturizer
Dove Ultimate Clear Refreshing deodorant — lasts longest AND reduces in-grown hairs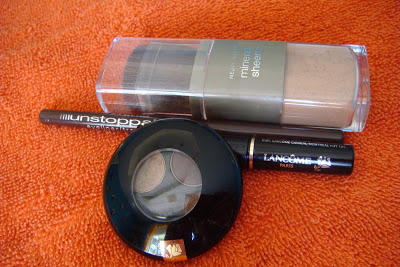 Just a few make-up stand-bys keep your look fresh and seasonal.
Maybelline Unstoppable eyeliner in cinnabar
Lancolm travel-size mascara
Lancolm Burnt Sand eyeshadow compact
Neutragena Mineral Sheers powder wand — so easy! love it!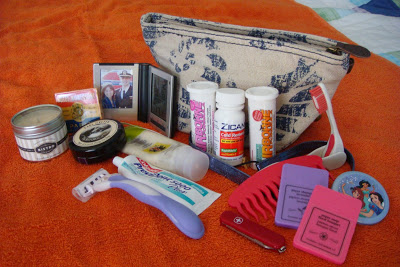 But what about all that other stuff? These products go a long way toward making any hotel feel like home and keeping you healthy on the road…in the air…on a train. The worst place to be sick is far from home, so stock up on vitamins. Lots of them.
Crate & Barrel travel alarm clock and picture frame — folds up tiny and beeps loudly without being alarm-ing (ha ha)
Bistro Jasmine and Bamboo candle — bought it in Savannah and it's followed me ever since
Republic of Tea travel tin of Earl Gray
Traveling tape measure — I use this all the time for foreign clothes and shoe sizes, cat carrier requirements, weight gain/loss because who travels with a scale?
Fluoride-fortified toothpaste — not having cavities is more important than blinding white teeth, and I don't see a dentist around here
Bath and Body Works Vanilla Antibacterial hand lotion — soothing. also good when washing hands all the time because of travel during flu season
Quattro travel disposable razor
Pink folding travel toothbrush — these are $2 at walmart and stand up to dry on their own so the head never touches some nasty hostel sink
Matching Pink wavy-toothed comb
Swiss Army pocket knife — no limit to its uses!
Princess "you are beautiful" compact
Navy metallic leather headband — for face washing and that final touch
Hand soap sheets (15 per package for $1 at Pier One)
Shampoo sheets (6 per package for $1 at Pier One)
Zicam zinc tablets with vitamin C
Airbourne vitamin fizzy
Zippy Zoo chewable vitamins–because you don't always have a glass of water handy
Nail file and polish (I have 'Vodka and Caviar' and 'Brand New Skates' on me right now)
Seahorse zip pouch to keep it all contained
.
These soap and shampoo sheets are really amazing. Add water = foamy cleanliness. Perfect for your carry-on because they don't even have to go in your quart-sized baggie. I skeptically tried the shampoo and it actually worked! I have short but very thick hair and was impressed at the cleaning power of one tiny sheet. A novel idea.
.
Having everything I need and no extra junk getting in the way goes a long way toward feeling at home on the road. Now all I need is a cure for jet lag.