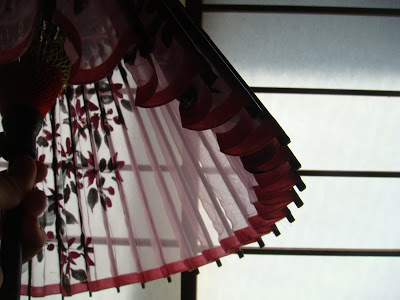 When I first shopped shrine sales and open markets in Japan I was without focus; I wandered toward whatever caught my eye. Now that I'm a little more familiar with the regular offerings and know where my favorite vendors set up shop I enjoy the markets a lot more. I am free to wander in search of the elusive pieces I seek without having to worry about the day slipping away in mindless distraction. Last weekend was a perfect example.
My travel-savvy great aunt and uncle's house was always fun to explore on a treasure hunt. They had an elephant-riding chair they found in Thailand, a hurricane vase filled with empty matchboxes collected the world over, and next to their fireplace a glass Japanese fishing float–complete with net–they found on a beach somewhere along the South American coast. I'd forgotten about this until my friend Madori mentioned one of those floats might be the perfect way to tie together Asian and Floridian/beachy decor. And suddenly I was on a quest!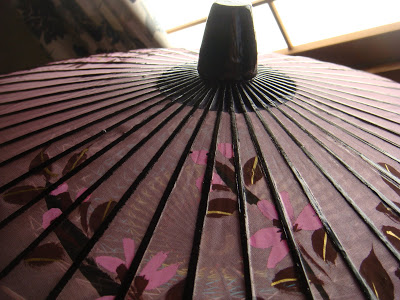 Last month I brought home a bowlful of softball-sized floats and every morning I find myself captivated by the way they catch the soft morning light diffused through the shoji. So a huge glass net-covered float became my goal for the August Yamato Promenade Antique Market.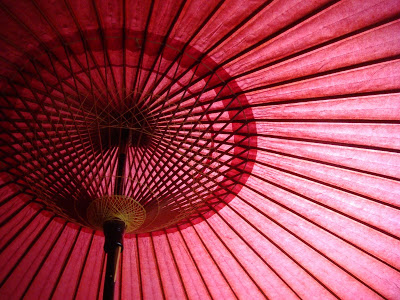 My friend Mary gets credit for finding the float! The price was right…but I still bargained them down a little. And the float was mine! Headed back toward the car with my friend Chrissy, we stopped to examine some vintage picnic baskets. They were ridiculously expensive. But look here, I hadn't noticed these beautiful parasols….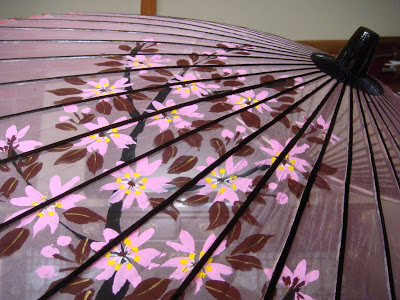 A flawless red paper parasol first caught my eye. It's difficult to find these for reasonable prices without lots of tiny holes near the top. The last one I found in perfect condition was in Machida last August and I bought it for my mom. Since then I've looked for a matching one for myself. And here it was! Right next to it lay a delicate pink silk parasol with sturdy, black lacquer spokes. Hand-painted cherry blossoms decorate the top, and the handle unscrews for easy transport. The soft pink light filtering through the silk enchanted me and I made the woman an offer on the pair. At some point in the future, wouldn't that be an adorable light-diffuser over a lamp in a baby girl's nursery or hanging over a crib? I have so many cute ideas for this!!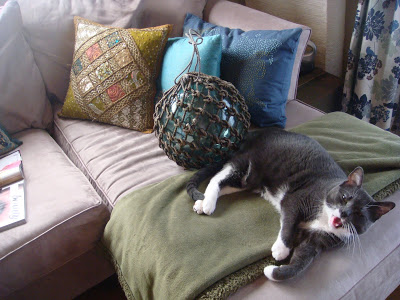 PS — The kittens both LOVE the float. Pounce purred and rubbed his kitten chin on it the way he purrs all over our feet when we get home from the beach, and Mouse made it his nap buddy. Sleepy kitten! Also, the float will not live on the couch. I put it there to see how it looked next to my new Singapore pillows and the cats took it over. I'm not sure where it will go here, but maybe when we have a fireplace it can sit next to it, just like its inspiration.