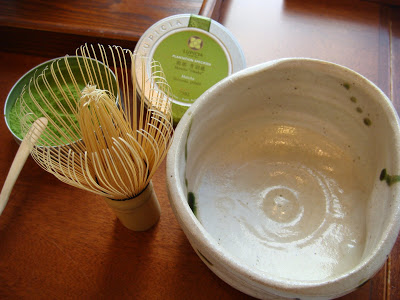 The delightful Lupicia Fresh Tea store offers tea classes. Today's lesson: How to prepare basic matcha–Japanese green tea made from dissolved ground tea leaves–in a relaxed style. Begin with a clean tea bowl, bamboo tea whisk, bamboo tea scoop and your favorite matcha. My preference: Kyoto-grown Matcha Ujitawara. Before you start, warm your bowl and whisk with water; this softens the whisk and keeps it from breaking. Please note: only the final photo represents a finished cup of tea.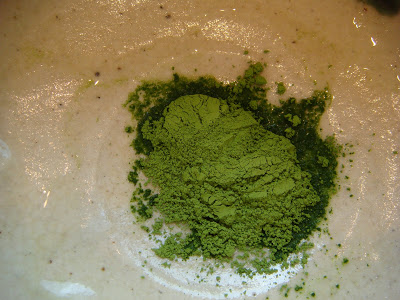 For o-koi (strong matcha), the espresso of teas, use three bamboo scoops (2g) and 15 mL of water (let it boil, then cool slightly to a drinkable temperature. This is supposed to be finished in three sips, so very hot water doesn't bode well for friendship). Hold the whisk upright and gently scrape the edges and bottom of the bowl until the tea is dissolved.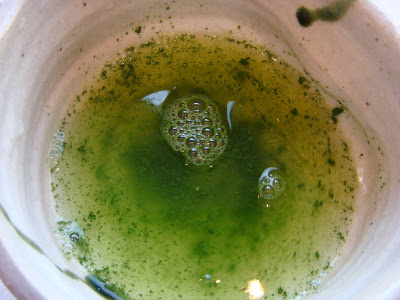 O-usu, or weak matcha, is good for any time of day. Use only one and a half bamboo scoops of matcha and add 50 mL of hot water. Hold the whisk upright and whip the tea to a froth with quick top-to-bottom strokes. Please do not beat the tea as if you're beating an egg. When the tea has a nice foam on top, circle the bowl with your whisk one time and remove it by pulling it straight up from the middle (for pretty foam).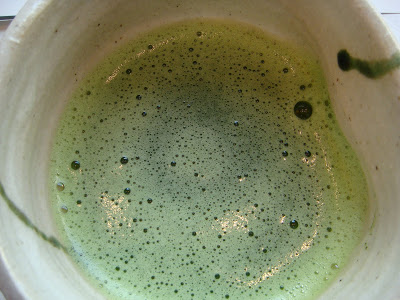 Wasn't that relaxing? Here, have some tea to recover.