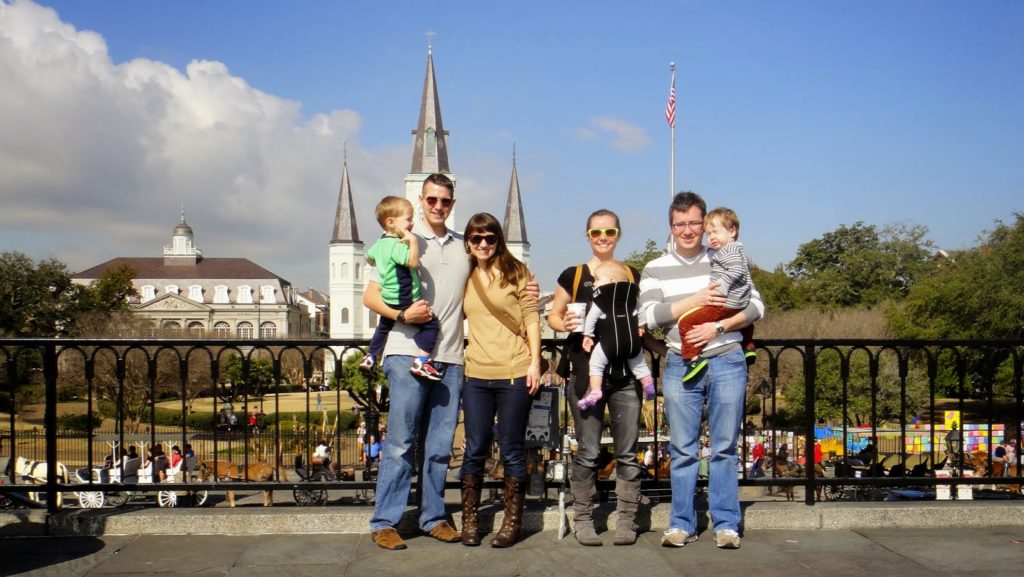 The Kruegers and O'Shays — New Orleans, Louisiana, February 2014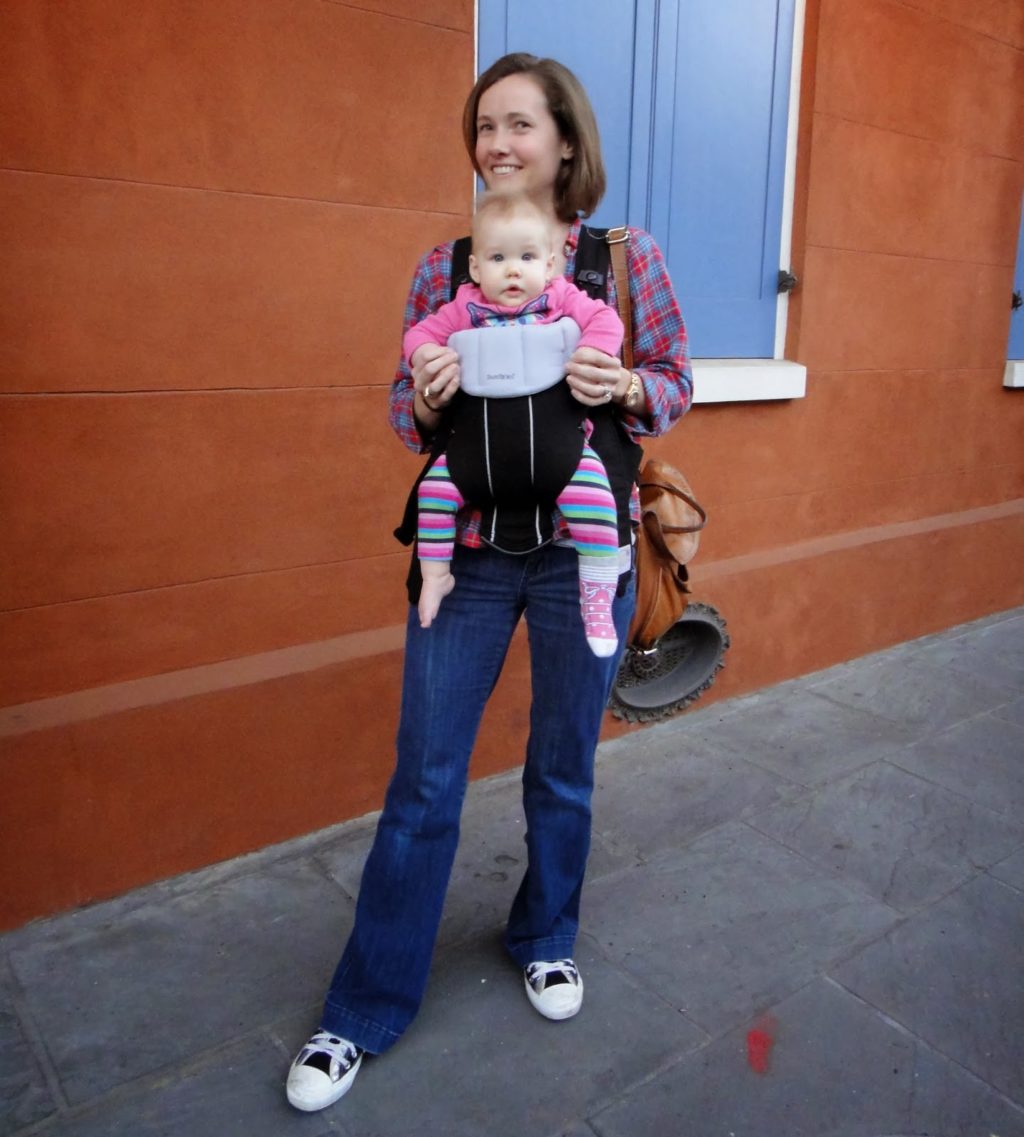 Jane says, "Where am I, and what happened to my sock?"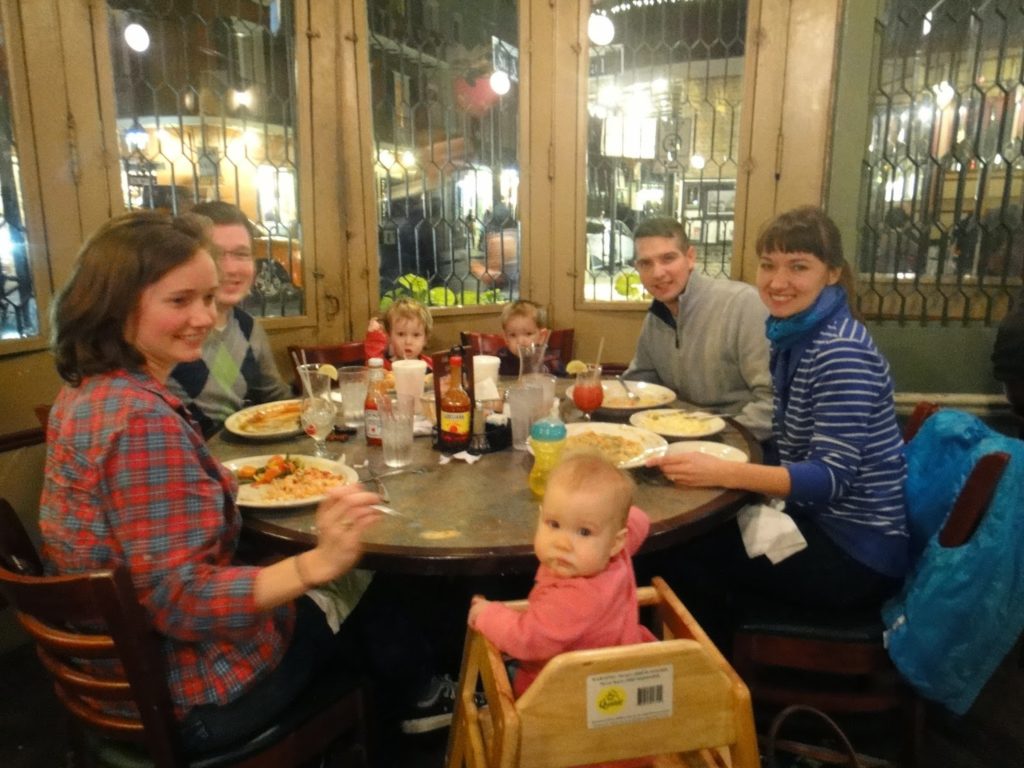 Best seat in the house! Horse-drawn carriages, colorfully dressed pedestrians, even a firetruck raced by.
When we got the surprise news we were moving to Pensacola three years ago, we immediately made a list of reasons to be excited. This list included things like, "THE BEACH!" and "driving distance to Texas." Meeting up with family in New Orleans was in the top five, but that was before Captain Goodbaby was born and made known his loathing of hotels and being in transit. Previous attempts at vacations resulted in sickness, misery, and lack of sleep. But hey, maybe this time it would be different! We are ever hopeful.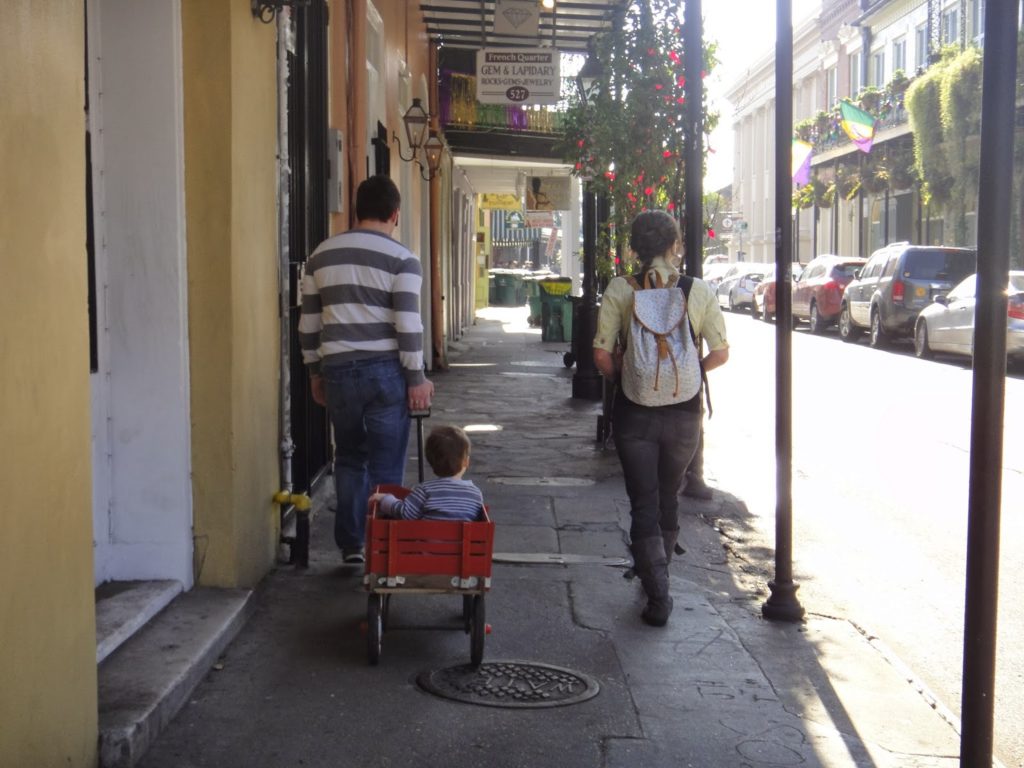 A sunny Sunday morning in the French Quarter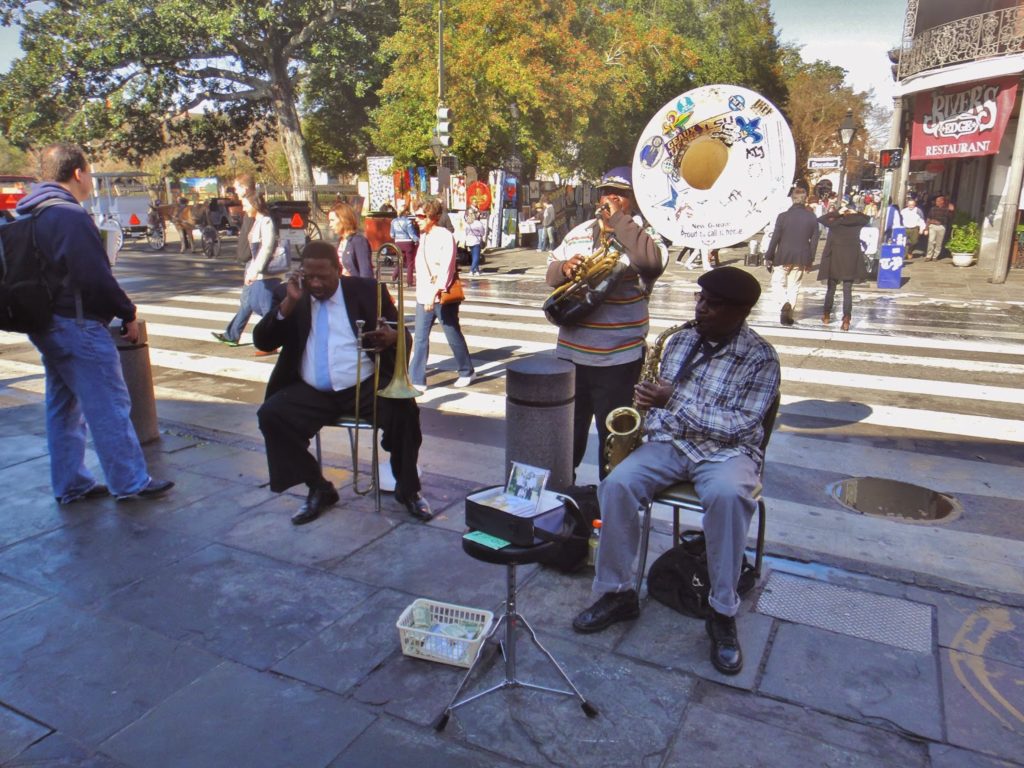 Trombone player outside Cafe du Monde was taking a call
It went as well as it could have! Our days in New Orleans were sunny and mild despite cold, rainy weather on either side of the weekend. Our goals for the brief trip were modest: get cafe au lait and beignets at Cafe du Monde, run around Jackson Square, and watch the identical cousins play together.
"Oh how cute. Are they twins?" asked a lady selling crafts made of salvaged New Orleans wooden panels Sunday morning in the shadow of St. Louis Cathedral.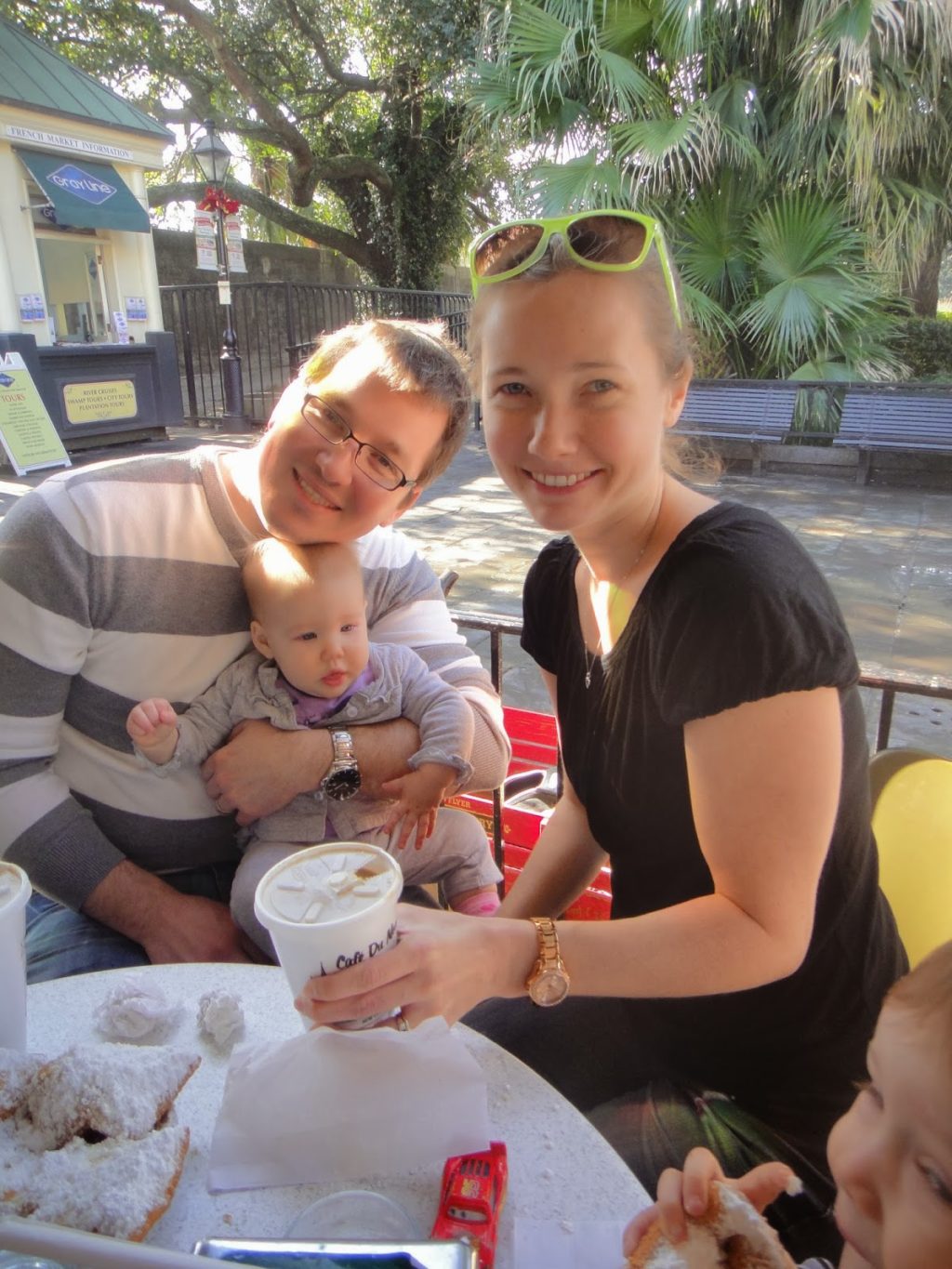 YUM!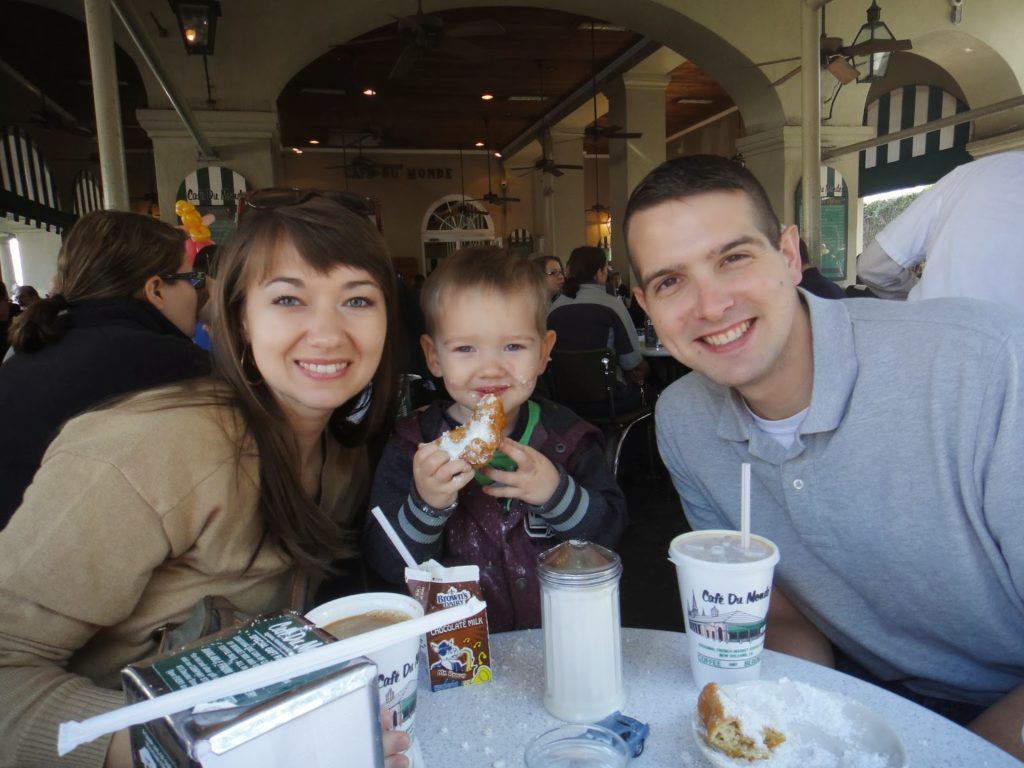 Cafe du Monde success! Perfect for a bustling Sunday morning jazz brunch
From up here, we watched a streetcar glide by along the Mississippi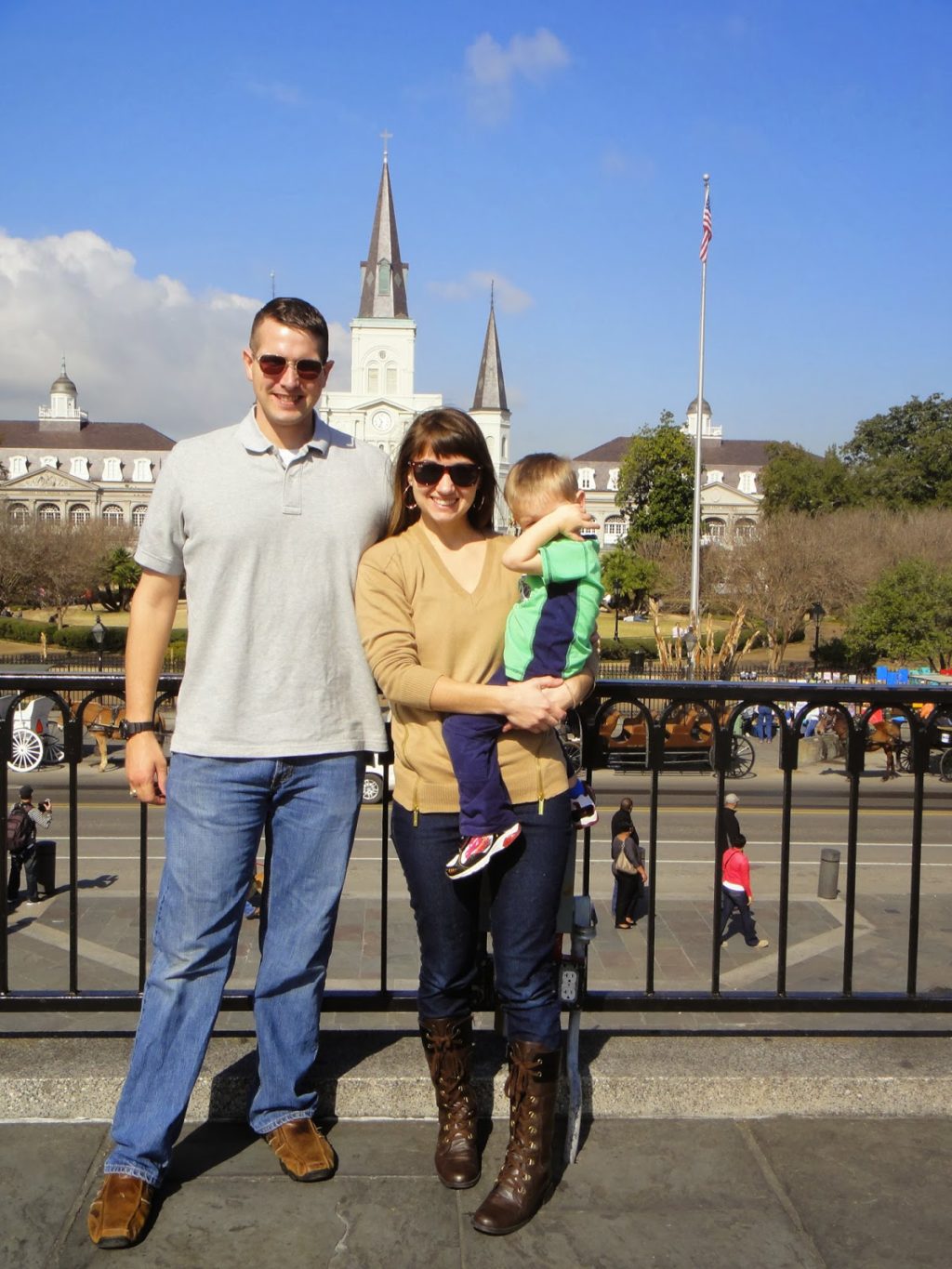 Monday morning we watched a garbage truck startle the whole line of horses and carriages.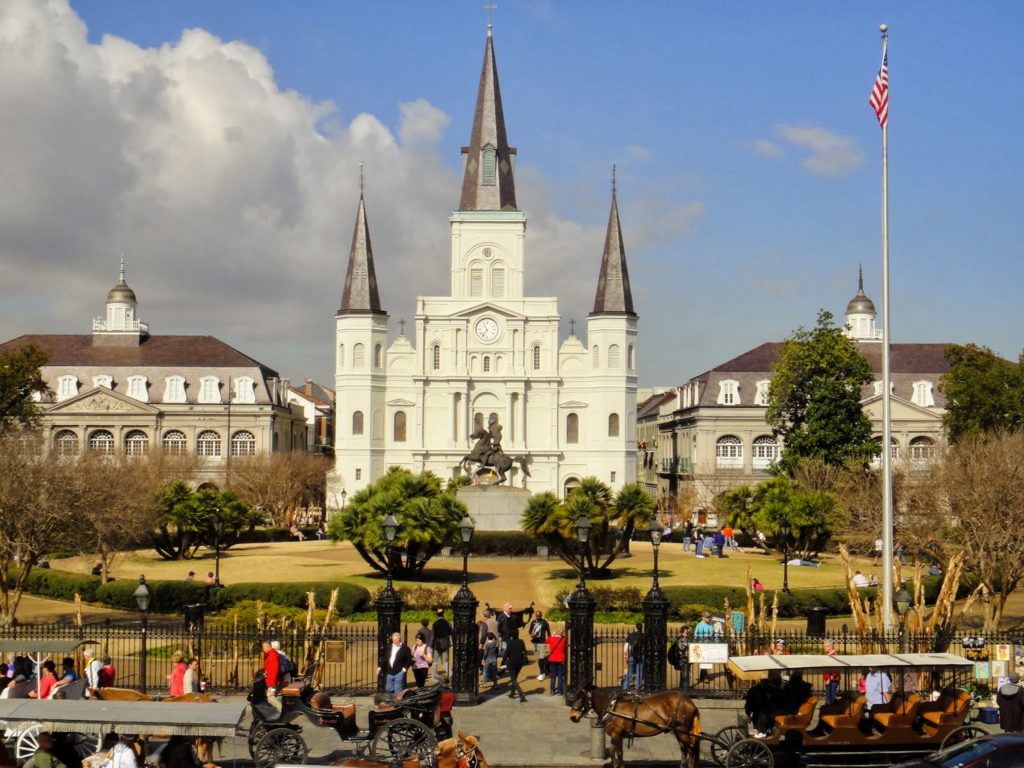 St. Louis Cathedral and Jackson Square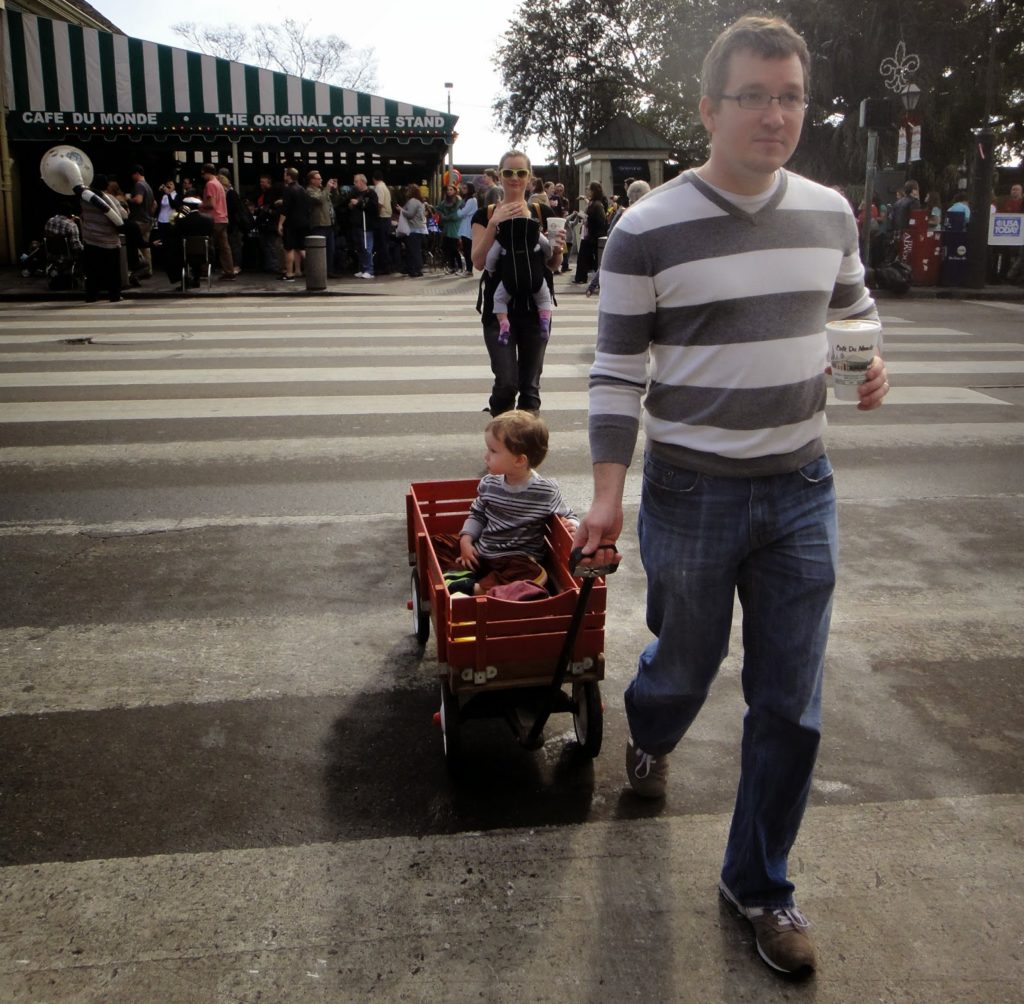 Ezekiel and Jane know how to ride in style!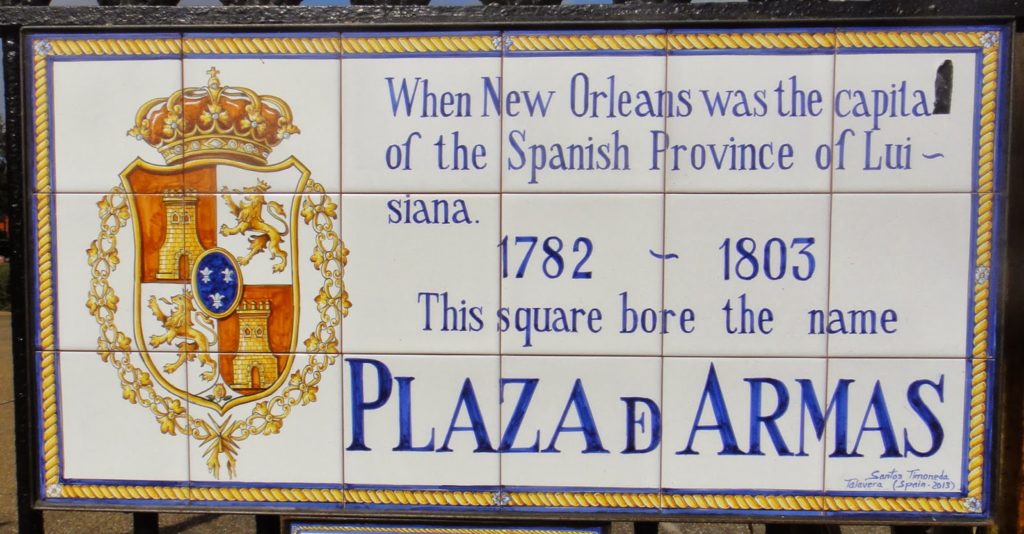 Jackson Square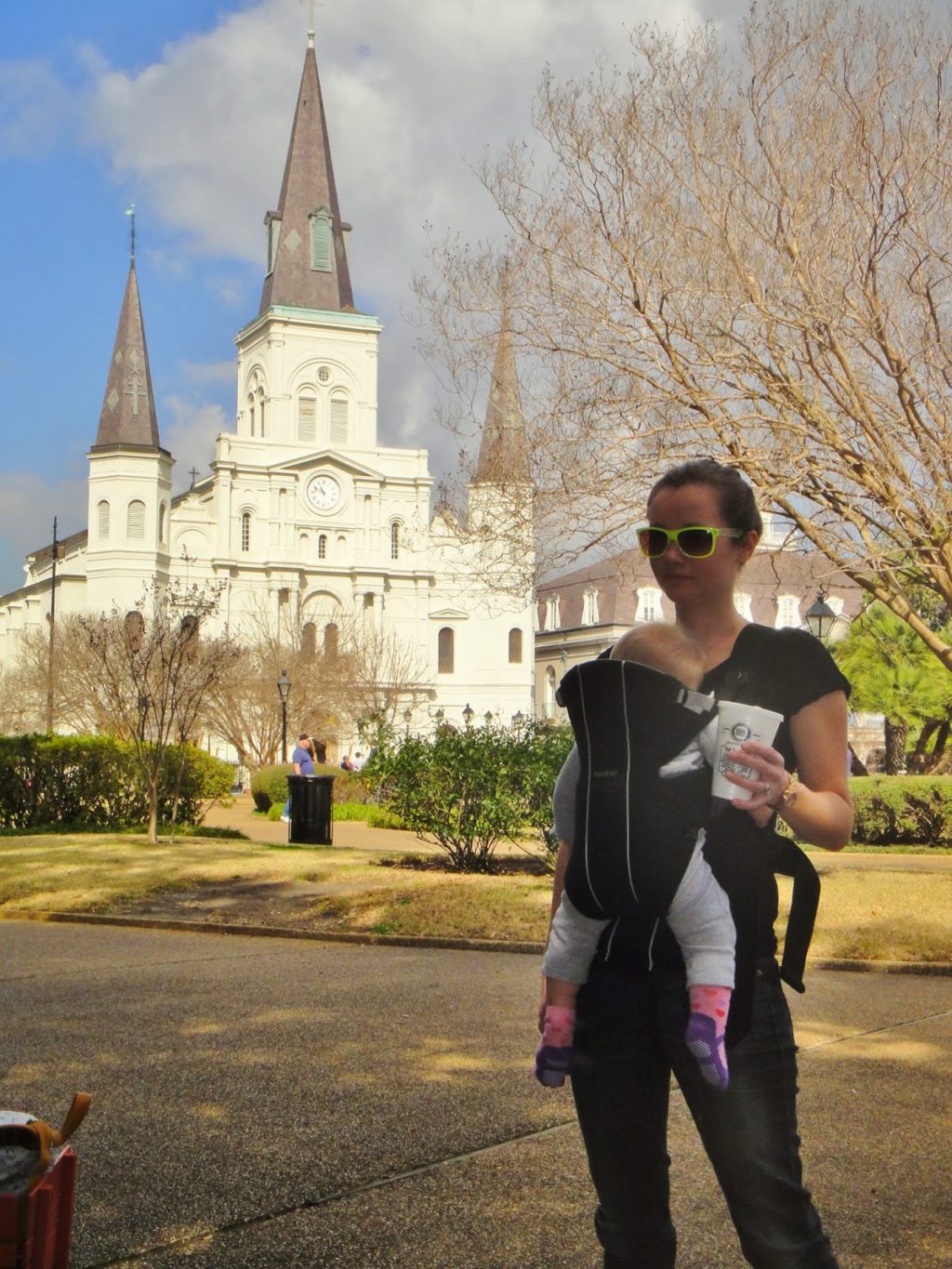 "A nice place for a nap!" says Jane.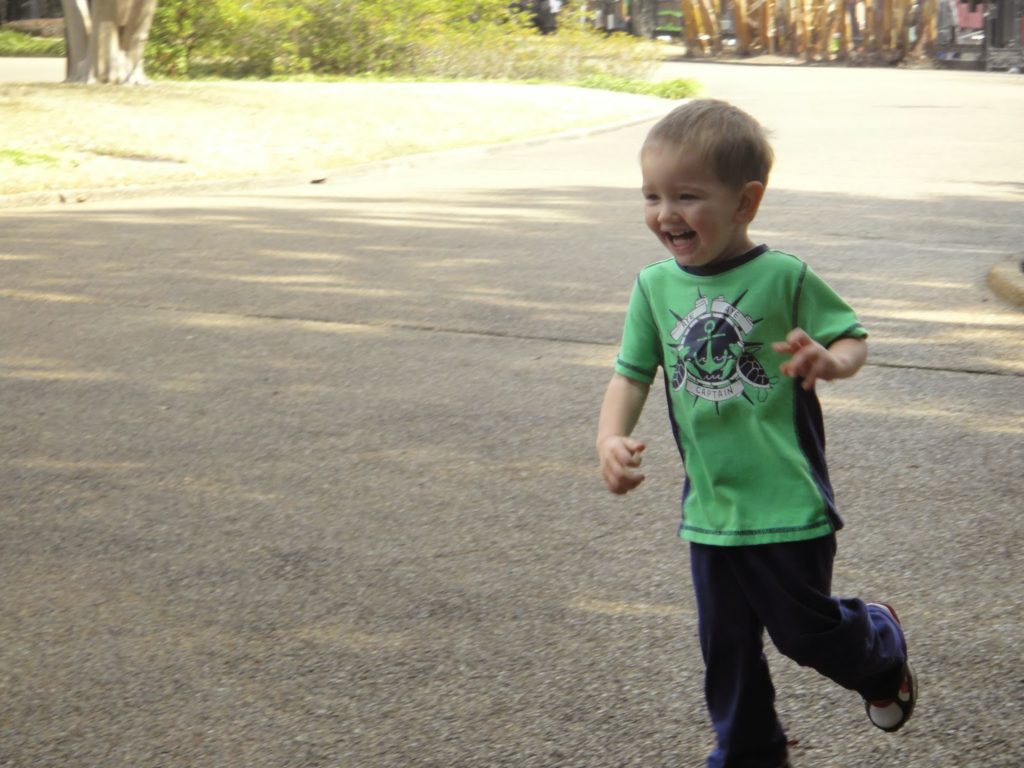 Chasing his best bud around Jackson Square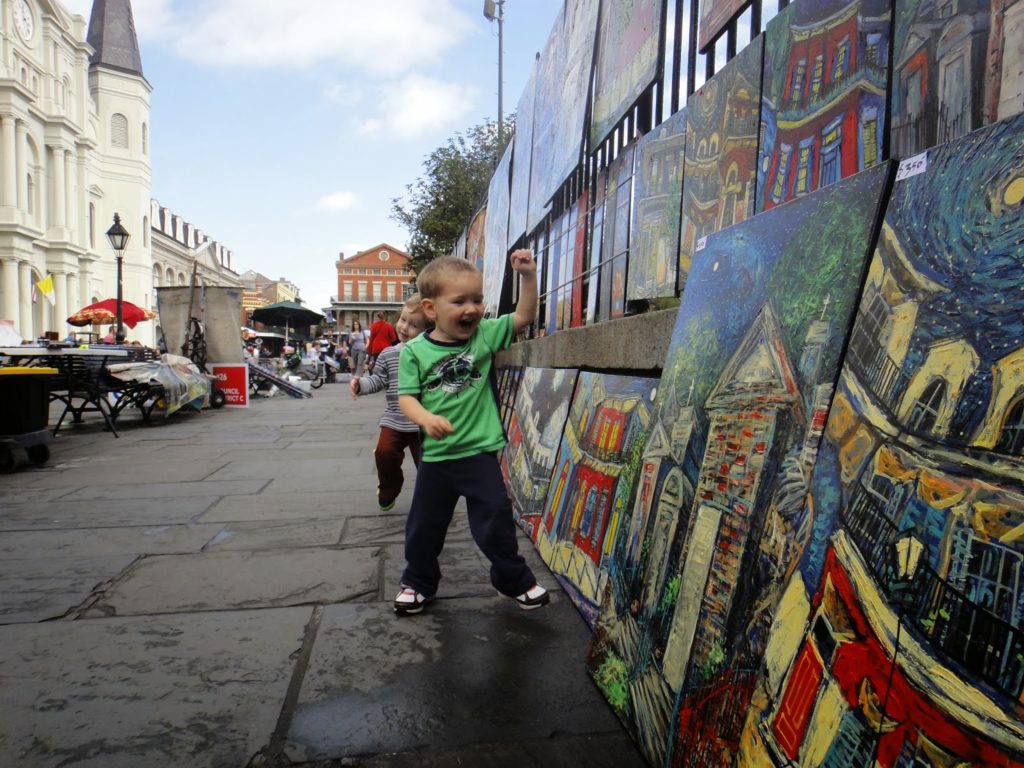 Dancing to the music in New Orleans. Art in all forms inspires these little guys.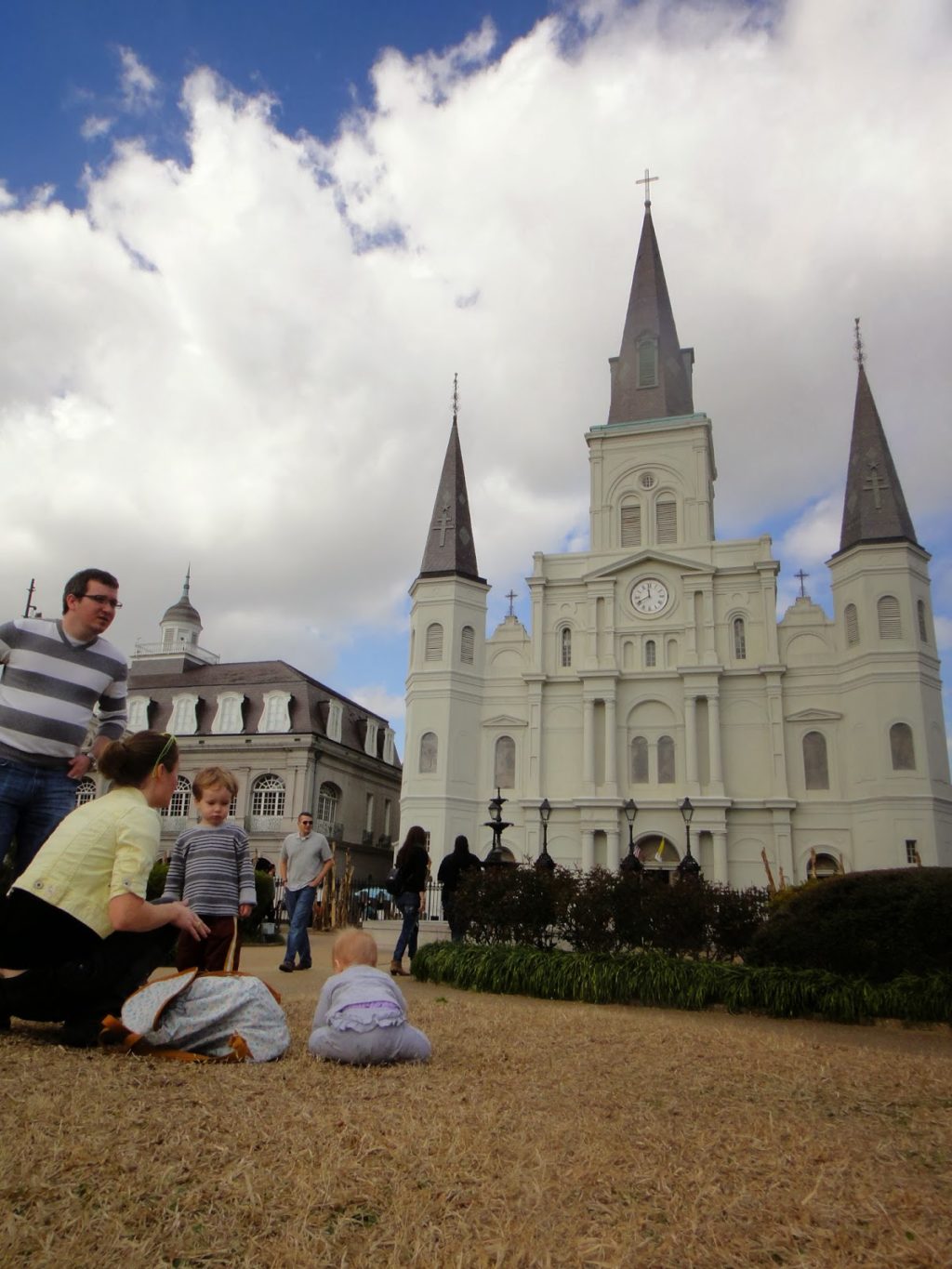 Jane samples the grass in Jackson Square. It's delicious.
We stayed at the New Orleans Guest House (1118 Ursulines Ave., New Orleans). It's across Rampart St. from the French Quarter, and we walked to the heart of the French Quarter each morning and afternoon. The tots usually did great walking there, then at some point coming back had to be carried. I'd found the B&B when we lived in FL previously. This trip, same time of year, the price had tripled (new owners). The courtyard smelled like cat. Breakfast was included, but the previously free parking now costs $20/night. But it was more interesting than staying in a Motel 6 or something, and conveniently located. The main problem with the hotel was that…you know…we were sharing a room with a toddler. It went as well as it could have! But no one got a ton of sleep!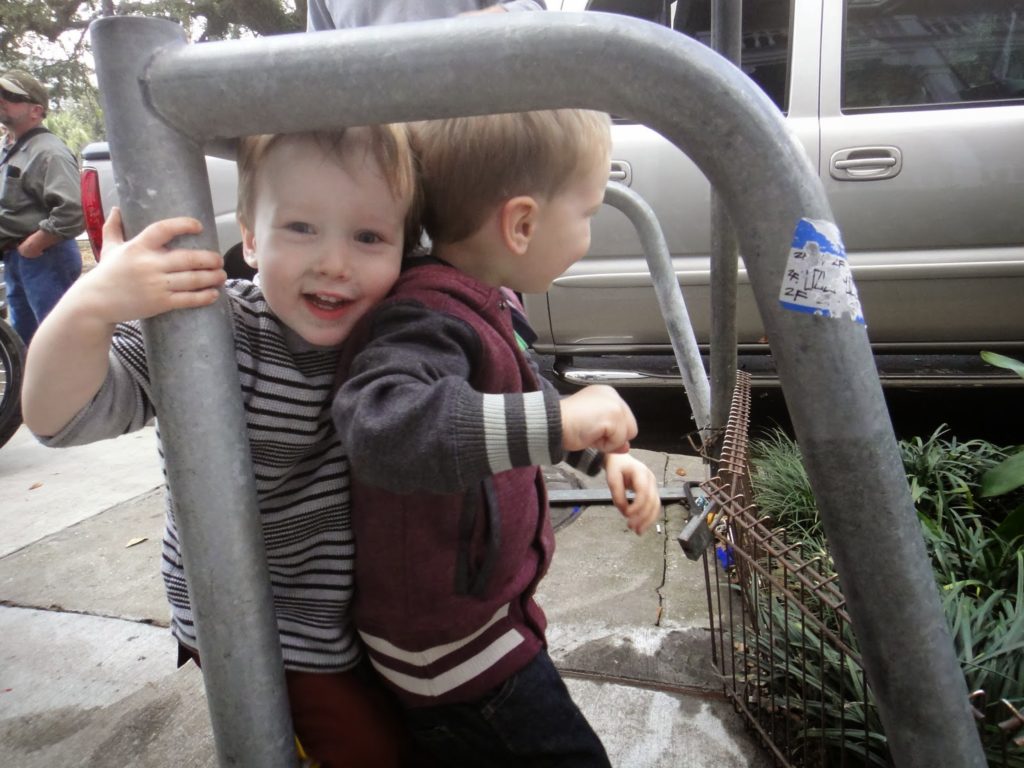 Who needs sleep?! Waiting for dinner at Port of Call. Great food! Terribly rude service!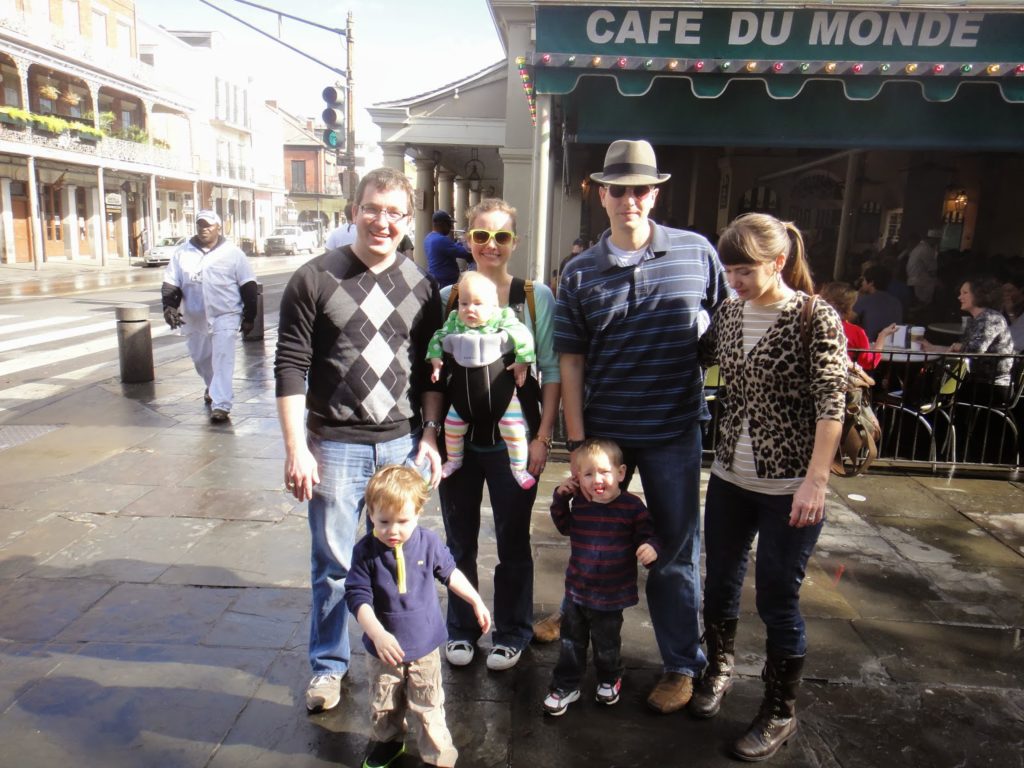 Final beignet stop before heading home. Bye! We love y'all!
So all the goals for our trip were more than met, even secret goals, like listening to some New Orleans jazz. I didn't know how that would be possible, so I didn't even vocalize that wish. It came true anyway. The city's darker side lurked around the edges, as always, but we glided through the weekend on the sunny side of New Orleans. It was good to see y'all! We miss you!