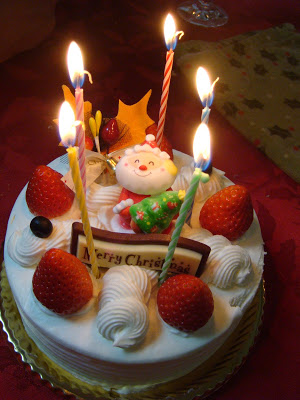 Merry Christmas! Christmas morning is probably in full swing across the States as we are headed to bed here in Japan. Chris and I skyped and chatted with our families this morning, opened presents and stockings, played Super Mario Brothers on our new Wii and cooked Christmas dinner together.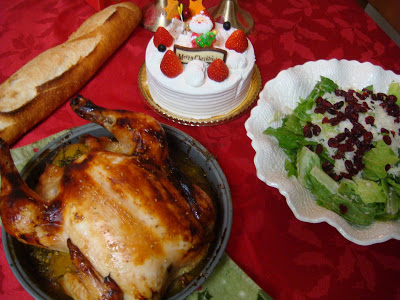 Chris said it was the best meal we've ever made! The citrus chicken was perfect, the mashed potatoes were abundantly graced with butter, the cranberry sauce was tart and sweet. While the chicken was roasting we walked down to our favorite bakery and got some fresh French bread and a Christmas cake. Apparently that's the big thing in Japan—every Christmas party has one. We waaaaaay overpaid for ours even though it was the least expensive one we've seen…3,000 yen for this (admittedly very tasty) strawberry shortcake! But how many times do you celebrate Christmas Japanese-style, right? 🙂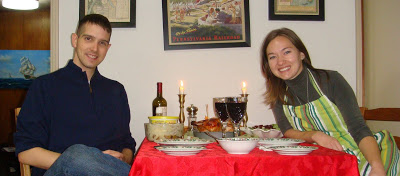 Ok, not completely Japanese-style. Our church's Christmas service and party was Sunday afternoon, so on Christmas Eve Chris and I went to Omotesando and had dinner at a cafe near Tokyo Union Church before their traditional 9pm Candlelight Service. It was cool to hear scripture ring out in Japanese, British, African and American accents as Christians from around the world gathered in this one church in Tokyo to celebrate the birth of Christ and the light and peace he brings to the world. It's like getting a glimpse of Revelation 5:9—"And they sang a new song with these words: 'You are worthy to take the scroll and break its seals and open it. For you were slaughtered, and your blood has ransomed people for God from every tribe and language and people and nation.' "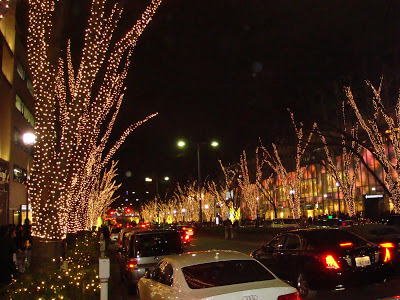 Afterwards we went straight to the subway and took the train home, and as we exited our final turnstile we saw something we'd never seen before: the ticket master emptied the ticket collectors and started turning the machines off! Yikes—missing the train would have meant an expensive cab ride. Awww, our own Christmas miracle!