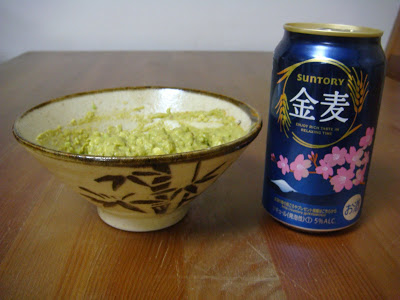 If you give a Mari chips and salsa, she will want a bowl of guacamole. If you give her guacamole, she will want a margarita. If a Mari has a margarita, she will want to move back to Florida and go to the beach. But we can avoid all that nonsense with this easy recipe!
Asian Guacamole
Mash up one ripe avocado and season with garlic powder, sweet red curry and turmeric (a natural anti-inflammatory) . Serve in a rice bowl alongside a seasonal cherry blossom malt be-ru. If you're feeling adventurous, try it with wasabi-nori flavored chips! YUM!
If this doesn't seem like a well-balanced meal to you, don't forget dessert: cherry blossom kit kats. Why all the flavored kit kats? Not sure, but they're everywhere. Sakura kit kats are up there with my favorite Royal Milk Tea kit kats.