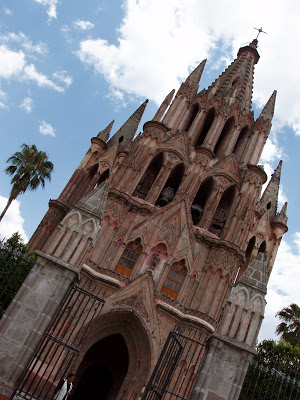 San Miguel de Allende, Mexico, 2005
My little sister getting married isn't the only surreal thing about being back in Texas. May always seems to be spent in Texas preparing to go somewhere. Last year Chris and I flew in for Hannie's graduation and Han and I prepared for our tour of Europe and North Africa. In 2006 I'd just moved home from reporting in South Texas to plan our wedding (in TX) and honeymoon (in Ireland). Chris and I graduated from Texas A&M University and left the next day for a week in central Mexico on an engineering field trip in 2005. So we're finally arriving at the point of this post—Mexico in May.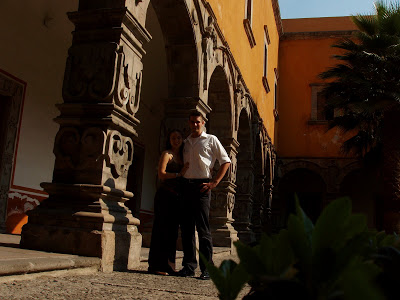 Han and Justin checked their honeymoon resort in Mexico's website last week as swine flu featured predominantly in the
Houston Chronicle's headlines
. "No need to change plans!" shouted the resort's webpage. They decided to proceed as planned despite a rash of swine flu cases cropping up in Harris and Fort Bend counties (that would be this one and the next county over) and widespread school closures. Friday afternoon Justin got a call saying the resort was closing for the month of May. That's eight days before their wedding! And the resort is inconveniently closed on the weekend, so six days before the wedding they have plane tickets to the center of EpidemicLand and reservations in a resort that won't take them. So yes, Mexico is on my mind.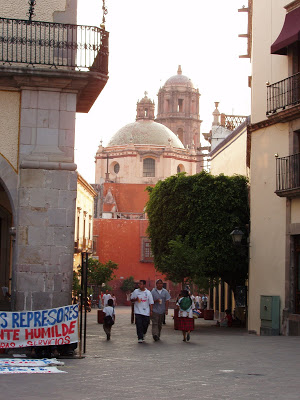 Queretaro, Mexico, 2005
But the Mexico I'm thinking of is the one Chris and I visited that summer four years ago, when we flew into Leon and drove to Salamanca. Everyone stayed with host families of students who attended TAMU's sister university, University of Salamanca. We spent a day in Queretaro, another in San Miguel de Allende, and spent a night or two in Guanajuato. Chris got sick and opted out of the most boring tour (and we toured an elevator factory, a tanning factory, etc., so there were some doozies) and while I was in coveralls and work boots riding a bus to yet another factory I look out the window and see Chris under a palm tree sipping Mango Boing with a straw. Not the highlight of the trip, but memorable anyway….
View Larger Map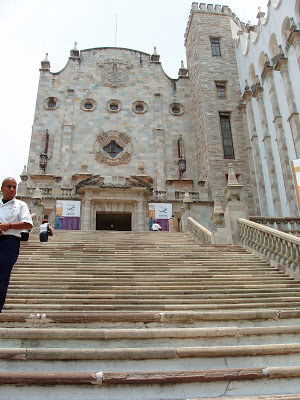 University of Guanajuato, Mexico, 2005
Left to fend for ourselves in a square in Queretaro around sunset, Chris and I followed the tolling of a bell to a huge cathedral mid-Mass. A line of nuns marched by and we followed them to another cathedral nearby. We walked down an ally and both of us stopped mid-sentence and backed up of one accord to peer into an ally/restaurant we'd just passed. We didn't even talk about it; we just went in and sat down. We split a cake and something to drink as a fountain trickled behind us and the evening cooled. Then we went and sat by a fountain in another of the plazas that checker-board the city and watched pigeons and families. "Whoa, this must be what Spain is like!" I thought. Wrong. It's much warmer, friendlier, tastier, less crowded, not obnoxious, European-free, and another bonus: you can actually understand the Spanish spoken here!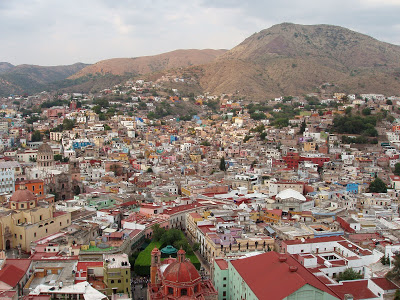 I accidentally sneezed pistachio ice cream on Chris in San Miguel de Allende. That's all I have to say about that place. But Guanajuato was really neat, too—up above the city next to a huge statue of a guy lifting an arm you can see mummies, or for more romantic touring, wander around and find Calle del Beso (Kissing Street) where a young, in love couple leaned over their balconies to smooch after her dad forbade her to marry the guy. I think it all ended tragically. There's a huge theater, a university whose steps rival the Spanish steps in Rome (not that I've been there) and a history of revolution—this city was the battleground of the turning point of the Mexican Revolution from Spain. I think. It's been awhile. Anywho, this trio of cities is one of Mari's Worldwide Top Travel Picks for things like vacation, retirement, a nice place to 'winter,' etc., just as soon as this pesky swine flu is over.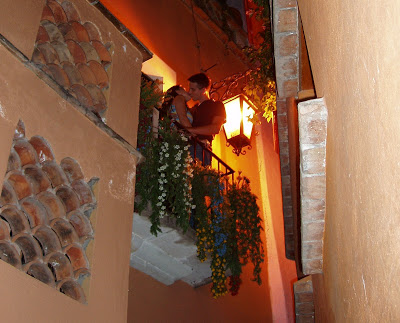 Chris and Mari, Calle del Beso, Guanajuato, Mexico, 2005