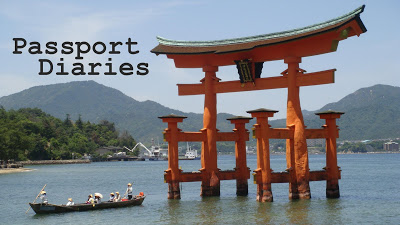 If I had the opportunity to head west of Kyoto once again I would completely skip the depressing peace park (don't hate—I've put in my time) and go straight to the coast. From Hiroshima Station it's just 400 yen for 30 minutes down the coast by train, then 170 yen (less than $2US) to board the ferry and cross the glassy waters of the Inland Sea for Miyajima. It's these very waters where locals claim to see the ryuto—mysterious fires appearing over the water by night around the lunar new year.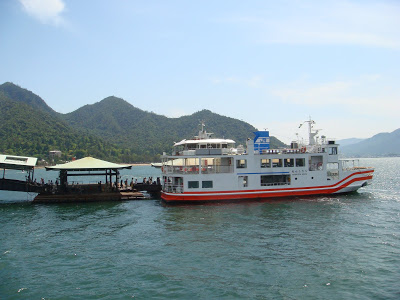 The sea breeze accompanying us on our voyage smelled warmly of the sea but mercifully held no trace of fish. I am fished out. It was all sunshine, sea air, incense and temple bells on Miyajima, with semi-domesticated deer placidly wandering around. They smelled trace amounts of peanut butter around Amber's purse and soon hoards of deer were following us, abandoning the adorable Japanese children who'd been petting them for future vacation albums.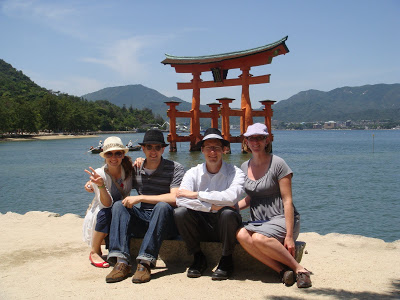 We came to Miyajima (literally 'shrine island') to visit Itsukushima Shrine and see the famous floating torii gate. At high tide the gate seems to float; at low tide you can walk out and touch it! When I worked this—one of Japan's top three scenic places—into our schedule, I wasn't sure what else Miyajima had to offer. Tons!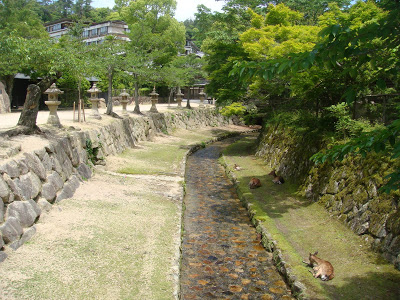 In fact, it's a perfect condensed microcosm of all the Japaniness that I love about Japan: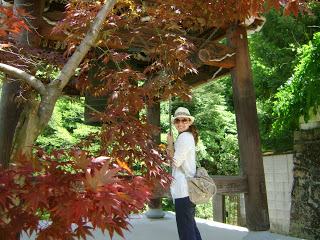 tiny alleyways, pagodas, ancient temples, lush green mountains unadulterated with hotels every five feet, everything smelling like incense and ocean and weird grilled food. I had some fried oysters even though I don't like oysters because they're the island's specialty. Sure enough, it tasted the way the ocean smells when you can't stop sniffing the breeze, like ocean without the fishiness, just a squeeze of lemon and a crunchy fried coating on a stick.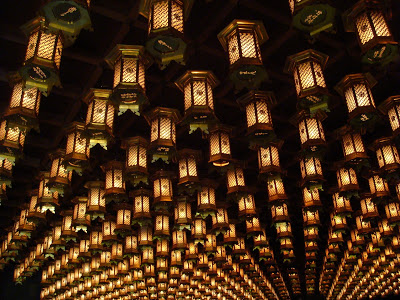 Amber also got oysters; Chris and Luke got red meat and corn on sticks. This deer was like, "Hey Luke, gimme your corn," and wouldn't go away. Finally I stood up and used my backside as an anti-deer shield. I even sat on it once. I tried saying, "Shoo shoo shoo shoo shoo!" which the junior high girls on the bench next to ours thought was hilarious. !??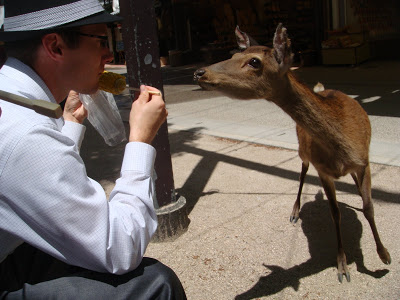 We started our visit with a walk along the coast to Itsukushima, where we got our first book calligraphies of the day. We got another calligraphy en route to the two-story Tahoto Pagoda, which was accessible via a winding stony staircase overgrown with grass. A withered tree whose hollowed out trunk held many coins guarded the steep side of the staircase.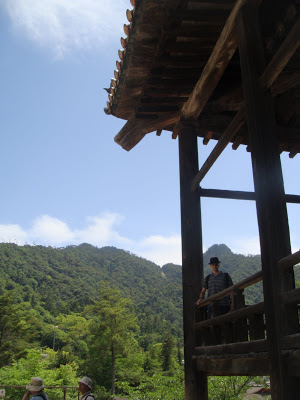 On and up to Daisho-in Temple—perched on the hillside next to a pretty waterfall. Luke looked out over the rooftops with a pagoda peeking up and the sea spreading out behind it all and commented, "This is how I expected Japan to look!" That's exactly how I felt about Miyajima in general!
Another pagoda, sunny views of the village, a room of rent-a-buddhas for lost children, a pretty pond surrounding a mini shrine, a huge iron bell and complimentary regional green tea made this temple worth seeing!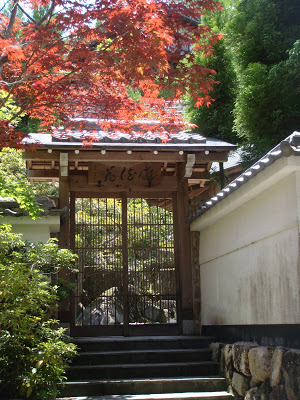 From there we climbed down to the five story pagoda (built in 1407) and Senjokaku Shrine, where we got our fourth and final calligraphy for the day. It was time to head back to the dock to catch the ferry, board the train, collect our luggage in Hiroshima, take the Shinkansen back to Shin-Yokohama, then take the subway and another train to get back to the parking lot to collect our car and go home so Luke and Amber could pack for their return flight. So we did.