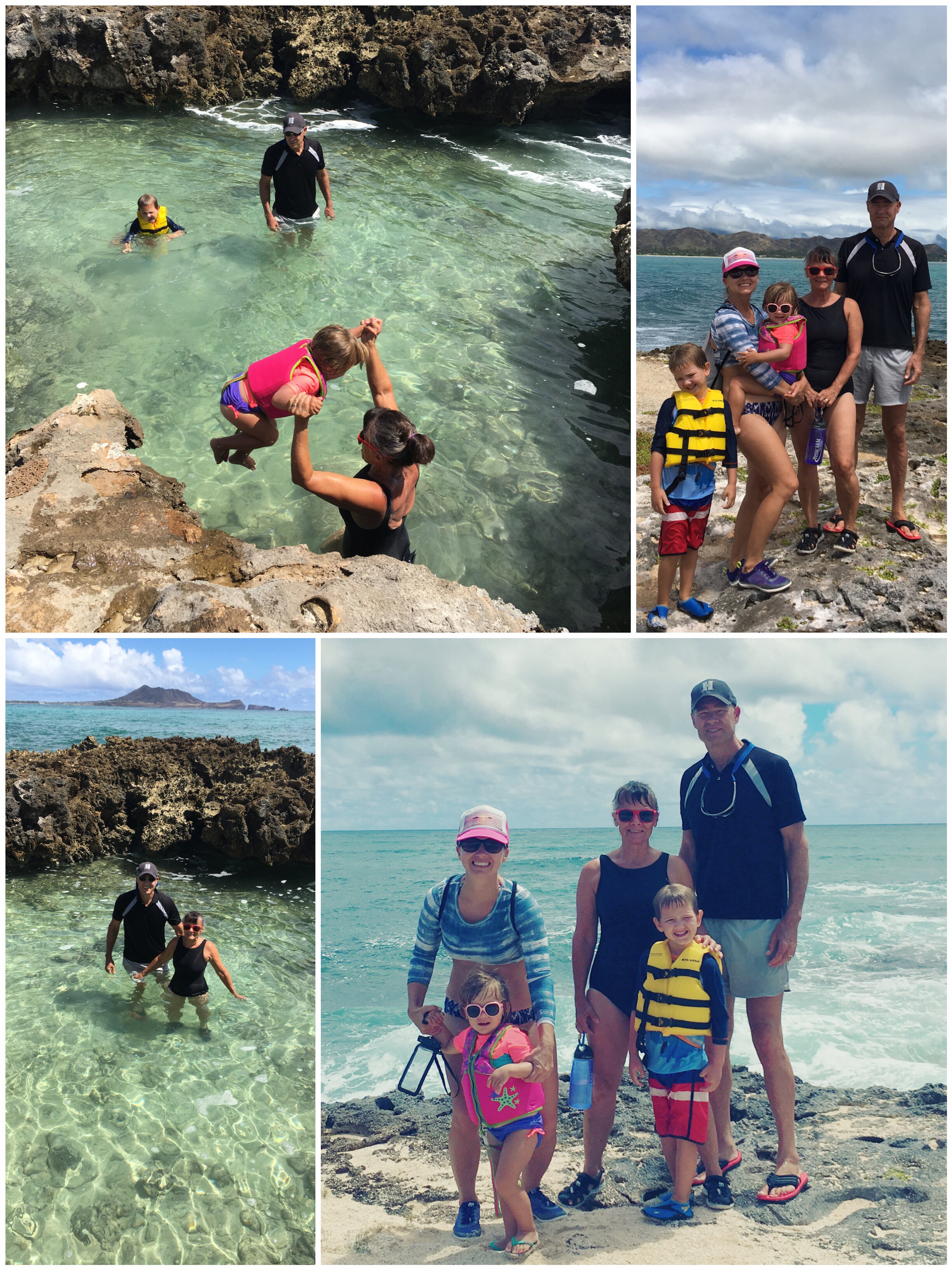 I love Kailua so much.
My parents, the kids and I paddleboarded out to Flat Island for my mom's birthday early in their visit. It was pretty windy, and my mom and I were both trying to paddle on Isaac's 29-in kid board—rawther difficult! We all got out there—"I NEEDA GO SWIMMING! We are at Flat Island? I go swimming now?" Eloise plopped into the water. My kids are such water babies.
I fished her slippers (flip-flops) out of my string backpack for our walk around the rock. It's a bird sanctuary, but you can circumnavigate it and admire the pools, blowholes, seashells, and surfers. So much birthday fun! The kids were hot at the end and leapt back into the water on the leeward side of the tiny island. The current starts to drag them back toward Kailua Beach, so it's fun to let them bob in their life jackets while launching the paddle boards, then scoop them up by a life jacket strap as you cruise by.
Isaac attempted to paddle himself back while my mom, Eloise and I floundered on one board together, but soon he was asking for help so I swam over to him and balanced/pushed from the back while he practiced paddling. It was fun, but a long way back to the Kailua boat ramp! But we made it! Pant, pant.
"Eloise, where are your shoes…?"
"My shoes is on Flat Island," she said matter-of-factly, then started to wail. "My Moana shoes! They are on Flat Island!" The way she distinctly enunciates 'Flat Island' made it even sadder. Her Moana shoes were fairly new Havianas she picked out at Splash! on Hekili St. a couple months ago, and they are her favorites. I couldn't even consider paddling back over there because we were scheduled to meet Chris on base for a helicopter simulation flight, specially arranged for my folks' visit and impossible to reschedule. So off we went, the beloved Moana slippers abandoned to sea and tide.
That was Tuesday. We spent a couple days at Bellows, watched fireworks downtown, and Sunday found us back at the beach after church. It was SUPER windy, but we brought the paddle boards anyway.
"Do you think you can make it to Flat Island in this?" my dad asked. What an opportunity to shine! So of course I paddled out to Flat Island, paddling relentlessly on one side, battling the wind and rough waves that crashed on the sandbar leeward of the island.
And there they were on the rocks, a little sun-bleached but good as ever! Some kind soul rescued them from the waterline and put them neatly up high above the high tide line.
The wind pushed me swiftly back to shore, my treasure in tow. Eloise rewarded me with her best delighted giggle, making me feel like a superhero, then perched on the front of my board and sang Moana songs into the whipping wind until my arms turned to noodles and I had to beach.
THANK YOU, whoever rescued the shoes! You made my two-year-old VERY happy!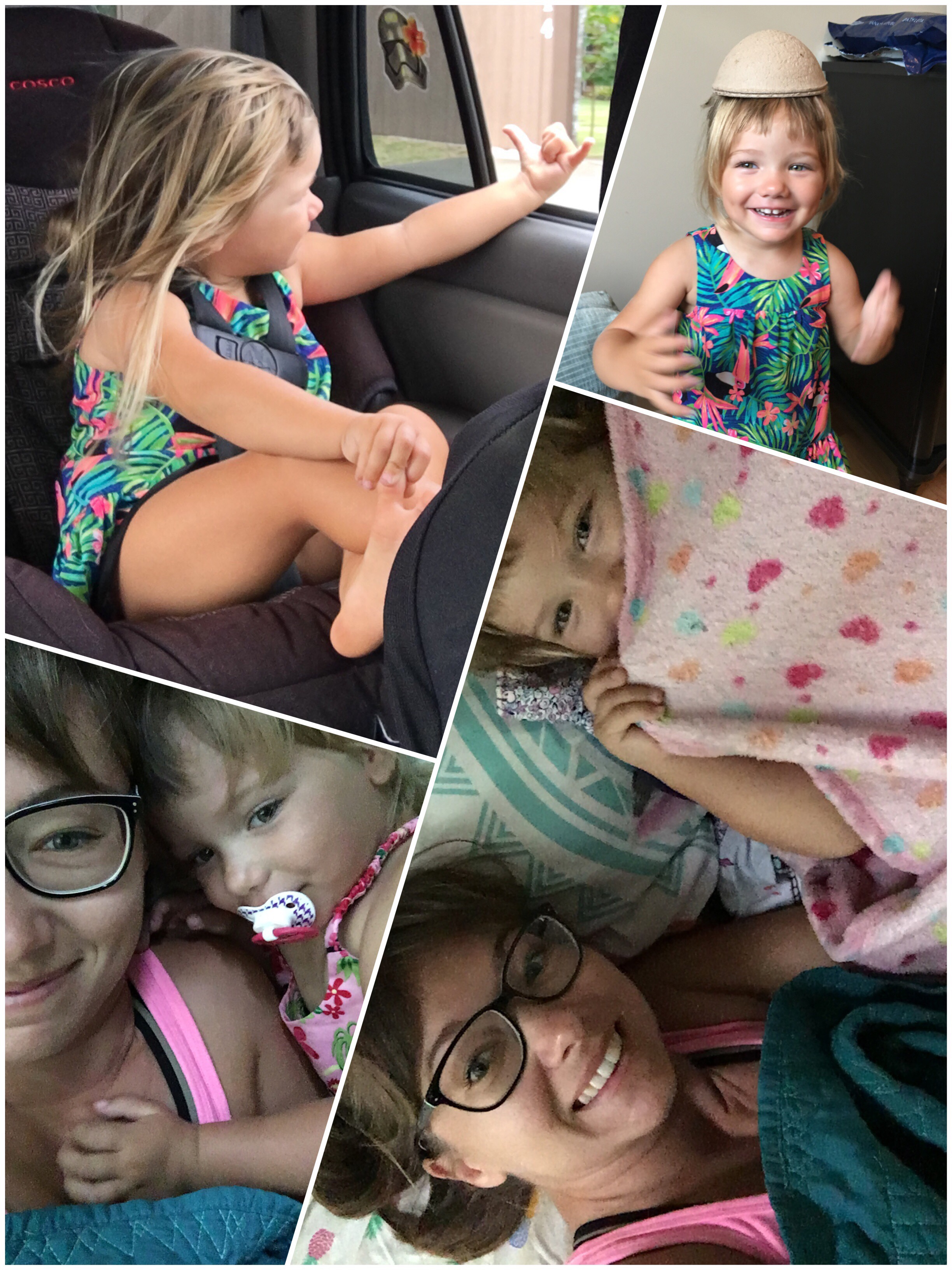 (Eloise thanks Kailua with an aloha-filled Shaka hanging out of the window)