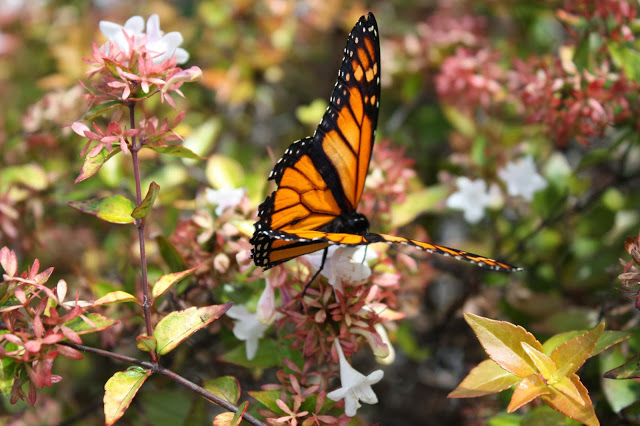 Be free!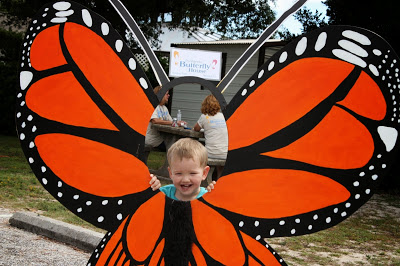 A two-year-old, transformed!
It was the day after Isaac's birthday, and he was acting…you know…TWO. He picked up rocks out of the birdbath, threw mulch into a fountain, and generally yelled, "NO!" a lot. A LOT. But I figured anyone attending Monarch Madness at the Panhandle Butterfly House in Navarre, Florida, on a Friday morning probably had kids at one time, or at least knew some kids, and we were outside, so I was trying to be all zen about the tantrums. This was our Mama-Baby Birthday Daytrip, after all.
So I'd already interviewed a kind lady for the article I was writing for the Press-Gazette, and taken some nice pictures of butterflies, and we'd run across a bridge over a stream about six times. Tropical Storm Karen had failed to deliver a cancelation of the day's events, and our hour-long drive to Navarre had been awesome. Everything was going well.
Baby Handsome tried to run toward traffic, and I scooped him up, saying, "Let's go tag a butterfly! Do you want to hold a butterfly?"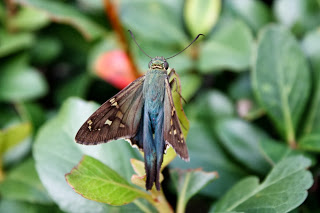 WIGGLE! STRUGGLE! SHOUT! SCREAM!!
Whatever, we're outside. It's not echoing. I approached the taggers and spoke calmly over Isaac's stiff, wriggling body, "I was wondering if we could tag a butterfly!"
Two people manning the booth exchanged a glance. The man spoke first. "Have you seen the gardens yet?" The woman chimed in, nodding fretfully, "Why don't you take him for a little walk, and if he calms down, maybe you can tag a butterfly later."
I smiled peacefully, turned away. I transported Isaac through an arch lush with morning glories, whispering in his ear, "That tantrum was very embarrassing to Mama." I set him down. We got in line to tour the butterfly house. He ran off, and the nice elderly couple behind us offered to keep our spot while I recaptured him. Mid-flight, I ran into my friend Dora and her kiddos. THANK GOODNESS. Isaac's man-buddy David was the perfect distraction inside the butterfly house and enclosed outdoor butterfly area. The two of them pointed at fish in the fountain and did boy stuff. Back outside, Isaac and I together tagged and released a Monarch to flutter across the Gulf of Mexico or down through Texas to Mexico. Good luck, little butterfly! I hope you don't get eaten by lizards, drowned in a storm, or splattered onto a windshield!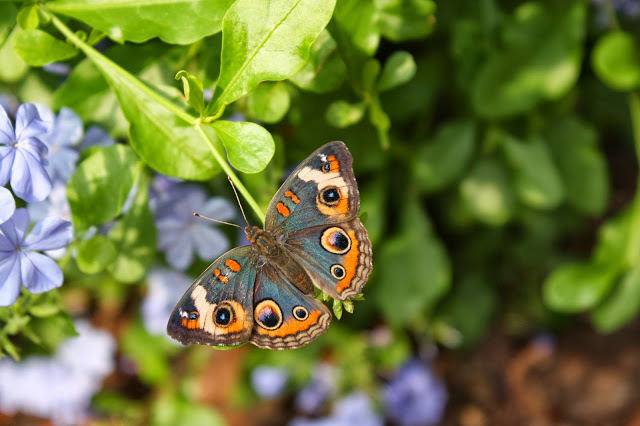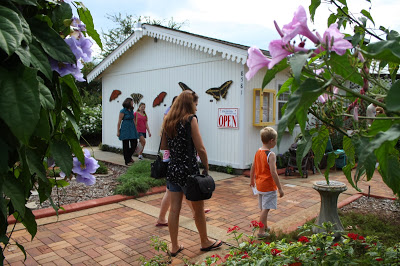 Panhandle Butterfly House
When I was a reporter in Corpus Christi I pulled over one day on my way to work. Swarms of something were everywhere. What the heck was it?! BUTTERFLIES!!! I'd never seen anything like it. Hoards and clouds of them, all flocking together, migrating to Mexico. There were as thick as lovebugs near a generator. WOW! At work I exclaimed in surprise and delight, and everyone else was like, "Uh, yeah, it happens every year!"
Well this year, one of those little guys will be mine and Isaac's! We hope!