Bananas?! Let me eat cake!
It was supposed to be Sunday Afternoon Cake. That sounds relaxed and rich. Instead this cake was one snafu after another, like a Monday morning. Or like our last few days around here, where the tiny sous chef wails and yanks his ears in month three of "oh he must be teething."
Today's cake was adapted from a recipe in "The Cake Mix Doctor," so I thought it couldn't go wrong. I didn't deviate much from the Bride's Cake with White Chocolate Frosting recipe. Until I got to the frosting. Don't use white chocolate chips! I did. Is frosting ever supposed to be crunchy? I wondered. I called my mom. My dad answered and even over the phone he immediately diagnosed my problem. Whoops…I used granulated instead of confectioners sugar. Why don't they just call it powdered sugar?! And the layers baked up light and fluffy, but way too domed on top. The strawberry preserves slopped everywhere and the icing won't cover the gap, so my cake has a waist. I tried to make it all look better by enclosing it within the cake dome; it's too tall. Now the top looks extra messy and the cake dome needs washing.
Moments after it came together…sort of, Kristin, Madeline and Ashlyn dropped in and Chris got home. Cake for all! The test kitchen rated the flavor good, even though the frosting texture is weird. The cake density is lighter than I'm looking for. Conclusion: regardless of my mistakes and the fact that Isaac could have decorated it better, Monday Morning Cake = not THE wedding cake. Maybe next time!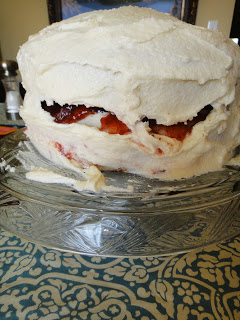 Monday Morning Cake
Preheat oven to 350. Mix one box of white cake mix, three eggs, one stick of butter, one cup of half and half, and two teaspoons vanilla extract. Pour the batter into two prepared nine-inch cake pans and bake 28 minutes. Frost with Monday Morning Cake Frosting: melt half a bag of white chocolate chips and half a stick of butter, then mix with one package of cream cheese. Add in a teaspoon of vanilla extract and, if you want a disaster, 2.5 cups granulated sugar. Otherwise use powdered sugar. Put a thin layer of Monday Morning Cake Frosting on the bottom cake layer, spread with globs of strawberry preserve, balance the next cake layer on top, and frost the whole thing as best you can. The original recipe doesn't use half and half, and uses seedless raspberry jam in the middle. And, of course, it uses the correct type of sugar.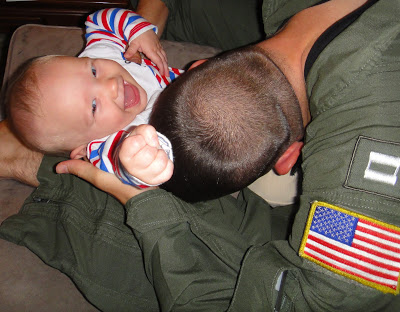 Sweeter than cake…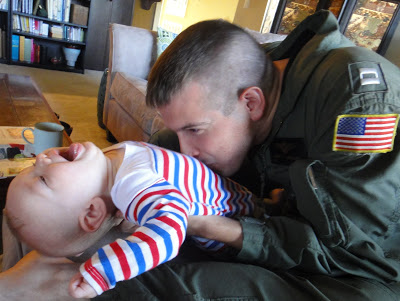 it's BELLY MEAT!