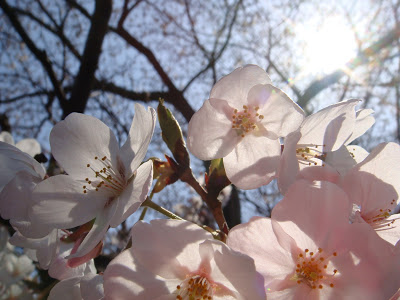 This post is dedicated to my MUM! who takes all the whiny, emotionally needy phone calls in stride. 🙂
So anywho, you can see the trees have pinked up with buds. It's amazing what one day of sunshine will do! It's still REALLY cold, but today when I was out of the wind and in the sun I was actually nice and warm…in my trench coat, dress, turtleneck, leggings, two pairs of socks and snugly boots. No scarf! Progress!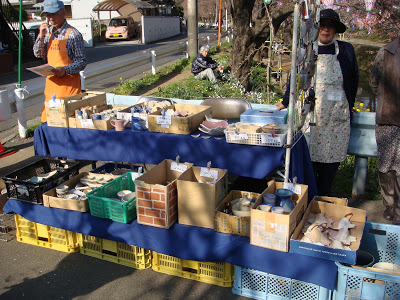 "Gee, there are a lot more people out than usual," I thought to myself as I stepped around the picnicking masses. Mochi balls on sticks in spring colors, bento boxes, chicken kabobs…where is all this coming from? A pedestrian bridge was transformed into Hanami Central. A hanami is a cherry blossom-viewing party, and the area around the bridge felt like one huge one. A nice man welcomed me to buy a roasted sweet potato. A lady turned chicken kabobs on a grill. This past week I mentioned to a few people I was trying to find some Japanese earthenware. Then, in the middle of the roasted corn and the hot and cold tea stalls, there they were—two elderly ladies selling handmade earthenware dishes, vases and flowerpots. Here's what I bought (displayed on my new obi table runner at home): A large sakura dish, a small sakura dish, two matched teacups in light pink, one teacup in blue and sand, a blue and sand bud vase that looks like a rock.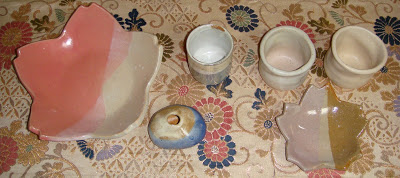 From there I usually loop up to the 100 yen store, the 7/11 where I pay my bills, or head home. Today I continued along the river and found a group of people feeding the ducks, koi, pigeons and turtles. All the critters were going for the same food, so sometimes these little ducks would peck at the koi three times their size, and sometimes the koi would boil the water trying to get the crumbs and the ducks would ride the turbulence, pitching and rolling all over the place. The turtle just floated—legs extended, head up—in one place.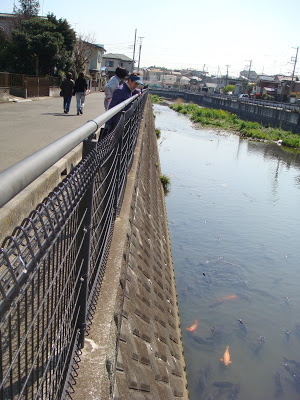 So I'm standing there on the corner looking at my printed out map trying to find a shrine and botanical garden I didn't know existed right near my house. This map is of my own neighborhood and I don't recognize anything on this side of the train tracks.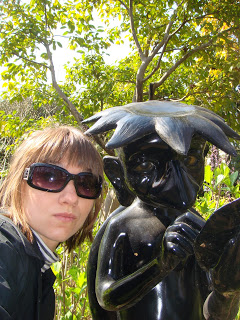 A nice man saw the map and pointed back toward my house. "Sakura!" he said, meaning the well-known cherry blossom area of the stream. I gestured to the characters on the map. "Ah! Jousenji!" he said, directing me to turn here then take a right before again cheerfully encouraging me to see the cherry blossoms and heading off on his way. Just a few minutes later I saw a sign that matched my characters and even found the entrance. What in the world!? This area is right by my house and I've never seen it, heard about it, nothing!! The garden was lovely and…frog themed. It's a shrine to lost children—deceased or miscarried—so there were live babies being blessed and lots of little stone statues wearing sweaters and bibs with toys at their feet. One statue was covered in stuffed animals with a packed lunch—a juice box and baggie of cookies—beside it. Tiny clay frogs lounged everywhere fishing, nursing baby frogs, gazing at each other, etc. In general there was a lot of bizarre statuary here. But some really beautiful flowers, and even the Japanese maples are coming back!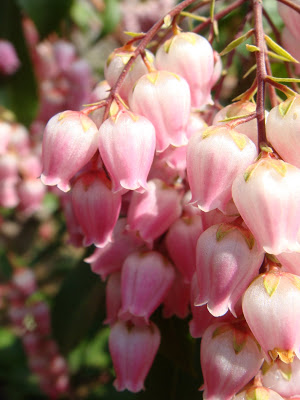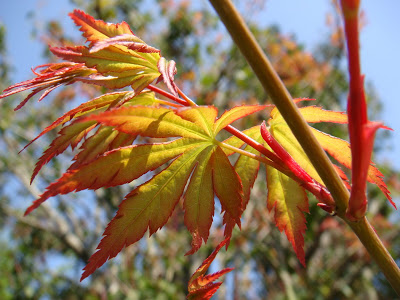 Surprise! Right there on the corner where I turned off to get to Jousenji was a nursery where I bought eight fresh-picked clumps of spinach for 100 yen (about $1)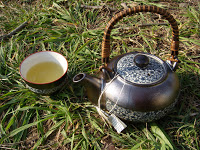 and a little cherry tree sprout for about $8. I wandered back toward home. The blossom-viewers were heading home, the stalls were packing up, the sun started to set. I got home around 4 p.m.—tea time!! I poured hot water on some tea bags and walked back to the river. By the time I got there, the tea was ready. I sipped it in the grass, listening to a book about a tea ceremony teacher in Kyoto during the Meiji restoration and feeling the last warmth of the sun.