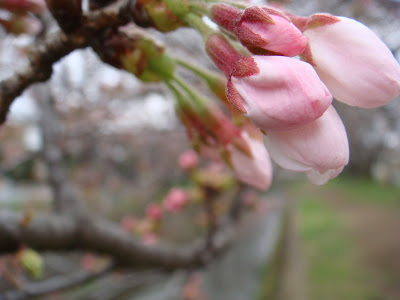 I'm running surveillance on the cherry blossoms by the stream near my house daily. Maybe I'm crazy, but when it's warm it seems like the branches visibly swell and droop with the added weight of sakura buds.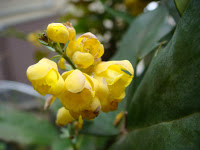 Today did nothing for this phenomenon—it was cold and cloudy and the lows dipped into the 30s. The poor test runners shivered alone on the branches. This impatience—for flowers, for warm weather, for Chris to return home—is contrary to cherry blossom season, though, I think. I quick search revealed all the bloom symbolizes: mortality, the transient and ephemeral nature of life (also known as the Buddhist concept "mono no aware"), love, affection, good fortune, spring, the intensity and brevity of life. The concept is appreciation, not impatience. Sigh.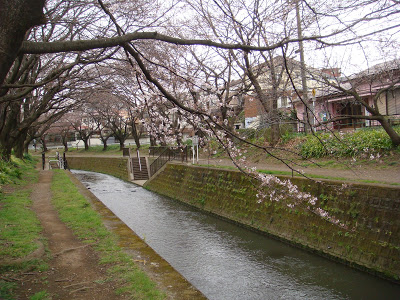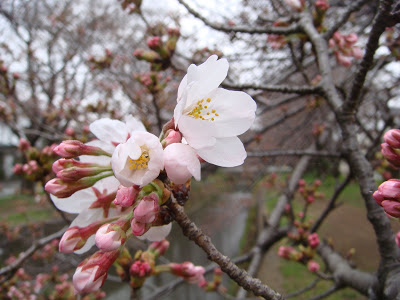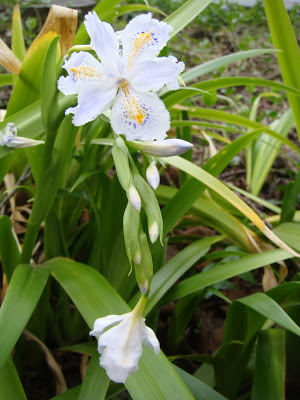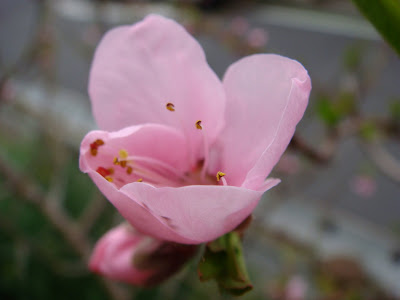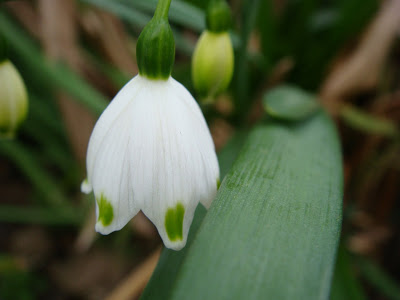 Lessons in mortality on a cold day call for soup. I wanted some veggie soup to slim down because ever since Sasebo I have been starving all the time. My room was two miles from the train station and one day I ended up walking 10 miles. And now I'm no longer walking so far but eating like a horse, and no I'm not pregnant…I checked.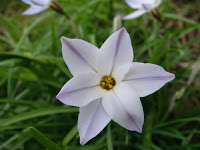 French Women Don't Get Fat calls for magical leek soup in the spring if you need to slim down, but I don't much care for it. I do however like pumpkin, plus it has lots of fiber and I always have a few cans on hand in case I need to make a pan of Pumpkin Heaven…yum…. So I combined three recipes and came up with a sort of tasty diet soup to eat while Chris is gone. It's not so photogenic, but here's what I did: Food process 1 onion, a bunch of garlic, the rest of the baby carrots and three Japanese eggplants and dump them into a pot with a bit of butter. Cook until it starts to burn, then panic and pour in some water because you don't have any chicken broth. Replace half the chicken broth with water+garlic powder and the other half with Guinness. Add nutmeg, ginger, cinnamon, salt, pepper. Cover and simmer. Stir in as much cream as you use in your coffee and top with Mari's Orange-Cranberry Sauce. It ended up a little less cooked than maybe preferable, but the cranberry sauce goes a long way.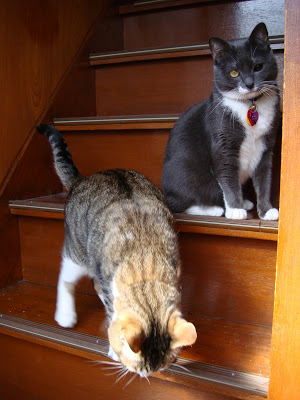 The cats could tell when Chris packed to deploy. They spot suitcases in action, which they hate, and start acting weird and being super-snuggly. I guess we all figured if we were on our cutest, most adorable behavior maybe Chris wouldn't leave, even though that's why we're here. He left anyway. Just in time to miss cherry blossom season, but such is the fleeting and ephemeral nature of life.