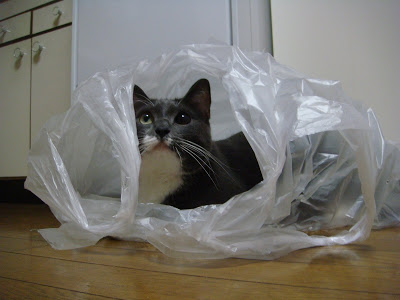 On occasions when I have Mouse trouble, I set a simple but effective Mousetrap. I get out an empty plastic bag, fluff it open and toss it onto the floor nearby. Mouse will get out of whoever's purse he's trying to sneak into, stop licking my elbow, or switch off his laser eye beams—whichever the case may be.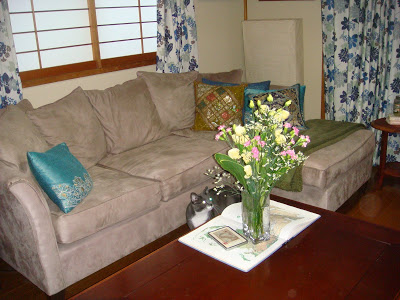 The problem—and solution—today arose from flowers. I was in Shonandai for Happy English Class today. The lesson was about asking people's ages, so at the end I told them this weekend is my birthday. Last year other students said past elementary school birthdays aren't celebrated very much, so I was surprised and a little embarrassed when my very sweet student exclaimed, "Chotto matte! Please wait right here!! Just a moment please!" And ran off. Twenty-five minutes later I was wondering, "Did I misunderstand her? Should I go ahead and leave?" Just then she rushed back with the hugest bouquet I've seen in Japan. "Happy birthday!" she said, beaming. I thanked her profusely, then she turned and walked to the train station looking very satisfied. I looped the bag around the Scoop's steering column and could smell them the whole way home!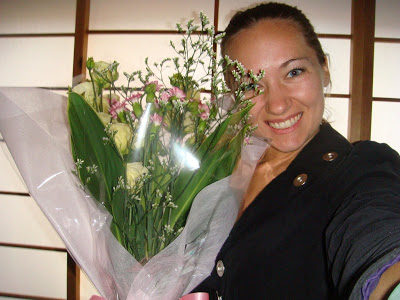 The kittens are veeeeeeery interested in plants. That means they like to chomp them. So when Mouse set his kitty sights on the birthday bouquet, I sprang into action and dropped the flower bag haphazardly onto the floor. Within seconds Mousey crawled right in—Mousetraps work every time!