That's only half true. We spent the last three years buying crap with an eye toward decorating this home. Rest assured, it's AWESOME! At first, with junk ankle-deep on every walkable surface, I worried that perhaps our house would look like someone hit us over the head with Asia. Did we exceed Asian saturation? No. I think we pull it together by having good American bones in out house, traditional basics, and a lot of crap from port calls, not just the booty from our monthly raids on the Yamato Antique Market. Ah, but I am getting ahead of myself. No home photos yet, unfortunately; we are still arranging the finishing details, but please know we have set a deadline for completion (and blog-sumption).
Ok, so to follow up our last post, the Bayers departed, the city sewage guys arrived and pulled blue PVC piping out of the sewer line, then backwashed the system and bubbled water out of our toilets, but ultimately fixed the problem. The construction site behind ours finished whatever loud thing they were doing prior to 7am every morning. The washer and dryer showed up, along with a bunch of junk from storage which we'd put there saying, "Hmm, I don't feel ready to get rid of this yet, but maybe I can toss it when we get it back in three years." Quite.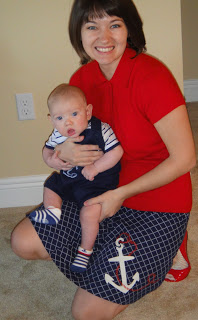 Hannah, Justin and Ezekiel arrived bearing the kitties and the vintage settee I bought for $75 at a yard sale last summer. We took them to Peg Leg Pete's on Pensacola Beach, where we split oysters on the half shell (so not gross anymore), steamed crabs, fried Gulf shrimp, etc. Han and Justin helped organize the massive dump of office, nightstand and kitchen junk drawer mess overtaking the corner and set up the bookshelves. Slowly but surely, more and more empty boxes appear in the dumpsters on the empty lot next door and less and less stuff lives on the floor in our house. The kitchen counters are clear. There's stuff on the walls. The living room has reached its final furniture arrangement. The fireplace has been broken in. We bought daffodils and hyacinths for the garden. Chris hung the swing on the back porch. The coo-coo clock ticks in the kitchen where you can actually see it. The clothes I don't know what to do with are on the floor instead of stacked in boxes (Now that we're back in Florida I'm faced with a clothing issue: I'm already mostly wearing stuff I wore in the summer in Japan. It was 40 degrees yesterday and people were still wearing sandals. Should I just put all layering pieces and winter clothes in deep storage until such a time as I need them again??).
The difficult part of moving is making decisions about every single piece of crap Chris and I own. Does it stay? Where does it go? The difficult part is having car trouble. The difficult part is my computer crashing three times in a day.
The NOT difficult part of moving is waking up in the morning and having counter space. Being able to do three loads of laundry in ONE DAY instead of taking an entire day to dry one wrinkly load and the iron never getting hot enough to get the wrinkles out. Having only a reasonable amount of dust build up between weekly dustings. Carpet. A dining room. Calling my parents from the same time zone. Isaac gets tired so I put him down for a nap in his crib instead of a motel room. Pounce curled up next to me on the couch—er, settee. A dishwasher. Did I mention counter space? I love counter space.
The hard part of moving is feeling my stomach knot with homesickness anytime I think about Japan. The best part of moving is reliving all the highlights as I decide where to put the carved teak elephants from Thailand or the antique glass bubble Japanese fishing float, and spread the blanket from Singapore on the guest bed and the tablecloth from Malaysia on the kitchen table. That sounds kind of materialistic, but it's like painting: I like to make our house beautiful and imbue it with meaning. To show where we've been, and where we're going. I would love to take you on a tour, so stay tuned. In the meantime, please tell me: what's your favorite souvenir or thing in your home and why?