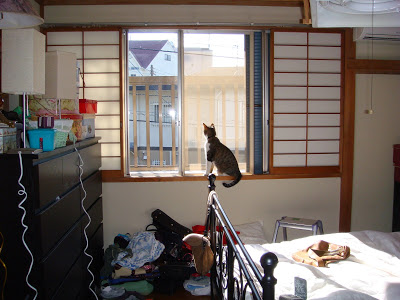 Pounce spies on the neighbors. At least our bed is set up.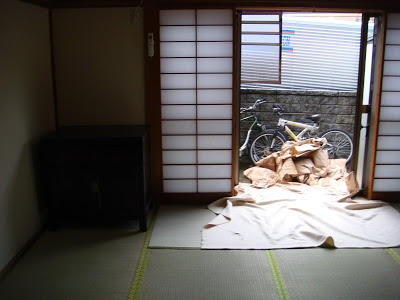 This is our downstairs tatami room. Out through the soji screens is my bike and the parking slot.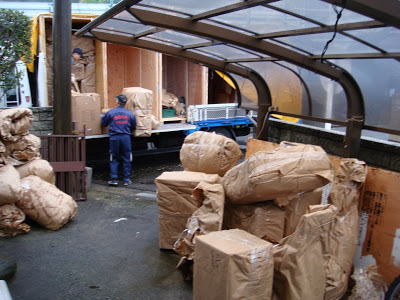 Here's the parking slot full of our belongings on this cold, rainy day. Moving Day!
We have a house! But we're without internet. What people say about Japanese houses being cold is, in fact, very true. When I go outside I'm always surprised: "What?! It's 40 degrees in my house! How is it 50s and sunny out here?!" Our street is sublime. Every time I drive/walk/bike down it I see something new. Someday I will photograph and post them. In the meantime, picture this: ginkgo trees freshly turned yellow line both sides of the street from the market area down to where we live. A quick walk from our house up the hill leads to the grocery store, the bakery, the lady who cleans her birds' cages on the sidewalk. There's an elementary school, so small kids in matching uniforms are racing up and down the hill and on bikes. People pour into and out of the train station: Sakuragaoka Eki. At night it's all lit up with Christmas trees, and during the day people shop buy flowers and bento boxes along the shops.
.
Chris and I have been swamped taking the kitties to the vet, trying to set up internet, figuring out what the gas bill guy was talking about in Japanese about a bank, a post office and a 7-11, etc., but when all the moving stuff is complete, I think this will be a very VERY nice place to call home for three years.
.
Update: the internet people just called and can meet with me no earlier than Friday morning, so all hopes for internet this week are gone. 🙁