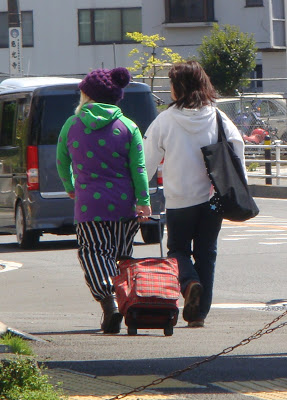 WHAT could she have been thinking!??! Purple pom-pom hat, striped MC Hammer pants, green and purple polka-dot sweatshirt (should be outlawed on its own), bleached platinum hair, plaid suitcase?! My weekend was like this outfit in that you're not quite sure what season it's for, whether it's ironic or in earnest, whether it's cheerful, whether it's making a point….the point is it's all over the place. We started off the weekend on base while Chris had duty, cleaning up both cats' vomit all over the freakin house after Pounce ate the very poisonous ranunculous I bought for the kitchen when Chris got home, sitting in traffic for more than five hours on Saturday (which made us late for the ball Saturday night). But that was OK—I tried to remember that being late to a ball put us in good company. Sunday we went to church and lunch, then did housework. It was sunny—yay!—but SO cold! It's the end of April and I was wearing knee socks under long pants, a turtleneck and a sweatshirt and I was still cold standing in the sunshine (and more fashionable than MC Polka girl)!! While Chris happily hacked at the bonsai tree I cleaned up MORE cat barf and investigated that funny smell in the sink. I pulled out the drain basket. Gross. Clean clean.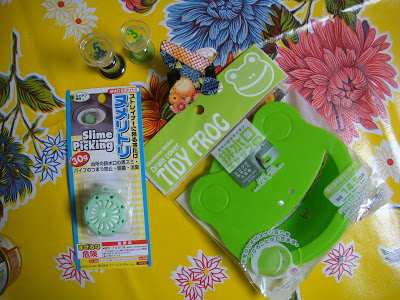 But it still smelled funny, so I tugged at the drain cylinder beneath. Tug tug. The cylinder made a juicy slurp noise and pulled free—completely infested with slimy sludge that was black and smelled like death. GROSS!! I scrubbed, cleaned and ultimately drain-Oed the whole thing. YUK. So this is how people live without disposals!? Gross! Today I ventured to a nearby 100 Yen Shop for some help. This is where I experiment with products that make me squint and think, "Oooooh, THAT'S how they deal with that problem…." Sure enough, I found half an aisle devoted to sink-cleaning. I had already installed the little mesh nets that go over both the basket and the cylinder to help catch food. Today a pink pig and green frog caught my eye: "Changes sink to cute," it said. Excellent, I need one Tidy Frog.
I flipped it over to read the back, where it touted the fact that it worked well with standard anti-slime balls. ANTI-SLIME BALLS?! THAT is what I REALLY need!!!! I got them both ($2!). "Slime Picking," says the chlorine or whatever ball. Ok wait—so if most of this aisle is devoted to anti-sink-sliming, that suggests many, many people deal with the slime problem. Which begs the question: If millions of people combat sink slime, why don't they build sinks with disposals?!?! Is this another part of the whole Japanese concept of 'the nature of life is inconvenient, and putting up with inconvenience for the sake of inconvenience makes you a generally better person'!?!?!? Fix it!! FIX IT!!!! Some things just do not translate.