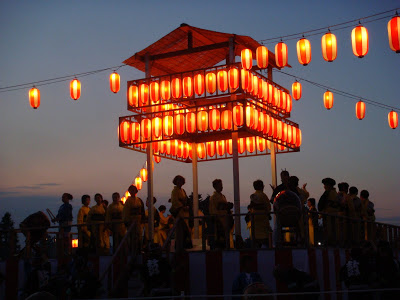 This is an article I wrote to preview Saturday's festival for the Kanto Stripes—see it now in this week's paper: "If you'd told me a year ago I'd be dancing a traditional Japanese Awa Odori dance with the renowned JMSDF Awa Odori dancers, I wouldn't have believed it. And that really means something, because exactly a year ago I watched a 6-foot Florida alligator eat a bird in the retention pond below my apartment (true story). But there we were, shuffling down the streets around Yamato Station with our arms high over our shoulders, trying not to bump the woven hats folded over our heads and tied under our chins, remembering to kick, dip, point, step, swivel, rotate our shoulders, face straight ahead, hold our hands like flowers, all the while smiling, smiling! The Yamato Awa Odori Festival July 25 – 26 previewed several dances that will be showcased at this year's NAF Atsugi Bon Odori festival coming up on August 15.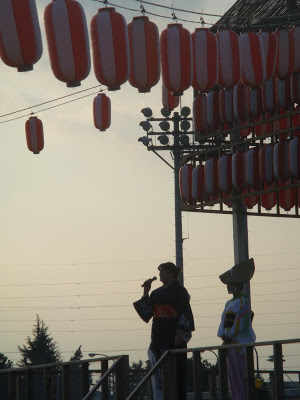 We've been practicing both Bon Odori and Awa Odori dances all summer for performances at the Yamato Furusato Matsuri Festival August 9 near Yamato Station, the NAF Atsugi Bon Odori Festival, and the Yokohama International Bon Odori Festival September 20. Bon Odori and Awa Odori are separate but coinciding festivals. Bon Odori (August 13-16) welcomes home and entertains returning ancestral spirits during the O-bon Festival with traditional dances, or odori. Awa Odori is August 12 to 15. If you're wondering what Awa Odori is, take your first clue from the fact that it's also called "fools dance." Awa Odori history dates to the 1586 opening of Tokushima Castle in Awa Province, which was celebrated with enough sake to cause the unsteady gait recreated every year in its honor. The lyrics to a popular Awa Odori song say, "It's a fool who dances and a fool who watches; if both are fools, you might as well dance!"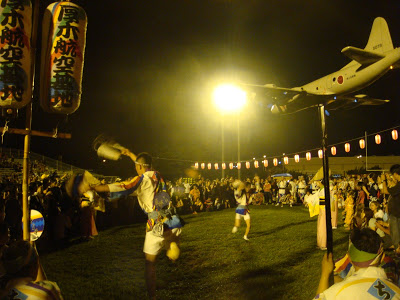 Dancers often have a live accompaniment of many traditional Japanese instruments: the kane bell, which sets the rhythm; taiko drums to add depth and excitement; and the shamisen lute and shinobue flute for the more lyrical parts of the dance, like the fan dance. And while it's no new thing for Americans to join in the Bon Odori dances, this is the first year ever for Bon Odori dancers to be invited to dance Awa Odori with the JMSDF's Chidori-ren (ren means dancers). That meant two-hour practices three times a week to learn and get comfortable with the steps. So while the CO, XO and CMC have been invited to dance with them since 2002, this year marks the very first time spouses have participated in the festivities. The Chidori-ren have been performing at the Yamato Awa Odori Festival for 32 years, since the second annual festival, and have become quite well-known. They also performed at Hirashi-rinkan Awa Odori on August 1-2 and Ayase Iki-iki Matsuri on August 22-23.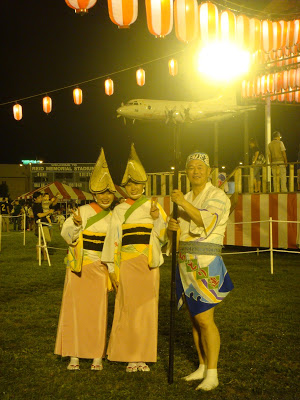 Japanese people are happy to see Americans trying to learn Japanese culture, said Sumie Maruyama, Community Relations Specialist at NAF Atsugi. Several members of the Yamato Min-yo Kyokai Association thanked her for bringing so many Americans to the traditional festival and commented to her that they were surprised at how well everyone danced.
"I hope that the local people understand you are normal American people," Maruyama said. "Some people have strong feelings against the US military in Japan, but US military personnel are normal Americans who are trying to learn Japanese culture and enjoy life in Japan."
One of the Americans Maruyama recruited for the dancing was Deidre Myers, who danced Bon Odori last year. This year she's dancing both Bon Odori and Awa Odori and said getting to dance Awa Odori helped her deepen friendships with other Americans as wells as create new friendships with the JMSDF Chidori-ren Group.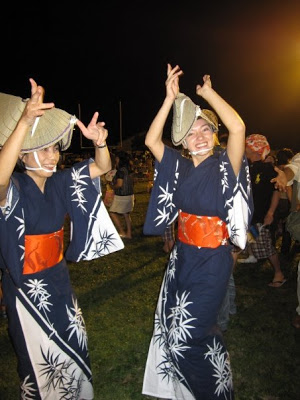 "But the most amazing aspect of the experience was the reaction of the Japanese who saw us perform," Myers said. "They were thrilled to see us participating in an honored part of their culture. I may have ended up with sore and blistered feet, as well as a creaky knee, but it was definitely worth it and I hope to participate again next year." And as I was sitting on my feet Japanese-style in the middle of a clapping, enraptured crowd, I felt the summer breeze begin to blow, carrying smells of grilled meat and roasted sweet potato. I realized this was one of those moments in Japan I will remember the rest of my life. So why not make some memories of your own by joining us August 15 for some fun and dances? Like the famous Awa Odori lyrics say, you might as well dance!" (END OF ARTICLE)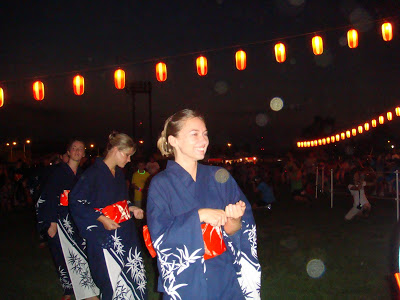 End Notes: Sumie, bless her heart, made a great effort to get some good pictures of me dancing Bon Odori but it wasn't meant to be! Thanks for trying, Sumie! Here we're dancing "Dig Dig," which has a real name probably, but the story behind this very traditional and well-known dance is that we're digging and mining for coal. To help us remember, we: "Dig right, dig left, Sling pick right, sling pick left, wipe brow, wipe brow, push the cart, push the cart, home safe! clap!" Clearly in the picture we're digging. Clearly. By the end of two hours of Bon Odori the festival drawing toward a natural end, but as soon as the bell and shamisen started up everyone tuned in the last performance of the evening: Awa Odori! I don't think I'll ever get tired of watching the Chidori-ren (JMSDF Awa Odori dance group) perform. They are just wonderful–spinning and dancing as the music escalates and the taiko drums beat faster and faster! Our taco hats (really called Amigasa) were a big hit. Japanese people wanted to take pictures with me in my hat, followed by mutual bowing to each other. This was the final dance for Awa Odori 2009 so I'll flatten and put away my hat until next year. But that's not the end of Bon Odori dancing! We'll participate in the Yokohama International Bon Odori Festival in September….Stay Tuned!!