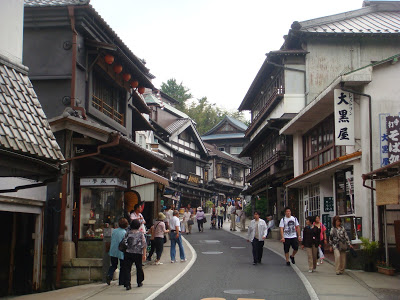 So you know how when you're driving to Narita Airport you pass that pagoda in the distance surrounded by trees and rice paddies? That would be the Naritasan Great Pagoda of Peace. We went there. But first we got lunch in Narita City.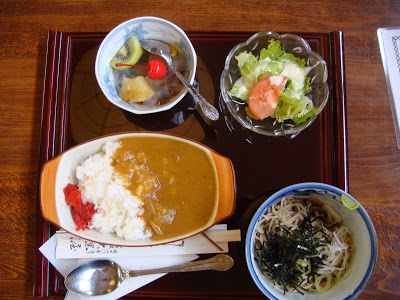 Chris was really hungry. We both had the curry rice lunch set-o for Y1,000 (each).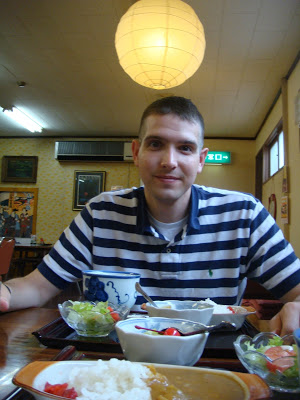 I may have mentioned we have a temple book we carry around everywhere for each temple we visit to artfully sign in elegant calligraphy and stamps. Naritasan temple complex houses enough temples, shrines and pagodas to warrant
five different
calligraphies. Excellent.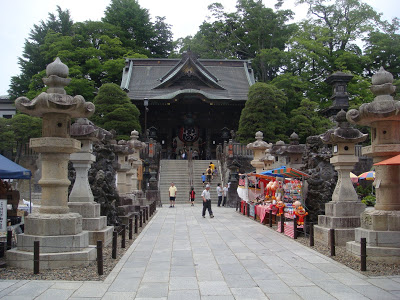 We entered the main gate to Korinakaku Hall and proceeded through the temple market to the Niomon Gate, over a bridge, past a turtle-shaped island covered in real turtles, up a long flight of stone steps and into the huge courtyard of the Great Main Hall and three-storied pagoda. This is not the pagoda you can see on the way to the airport.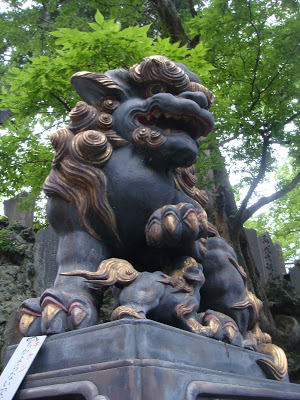 So we continued to Shakado Hall, then up another sloping stone staircase to Shusse Inari Shrine.
Inari
means fox, a lucky spiritual symbol in Japan, and there were tiny stone and porcelain foxes everywhere.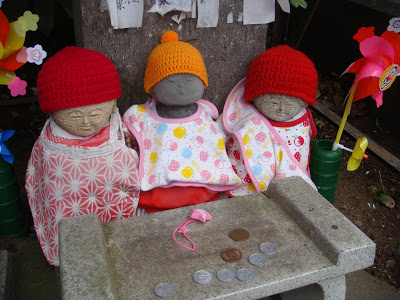 Komyodo Hall completed our fourth calligraphy page. We could see the Great Pagoda of Peace now peeking up through the treetops.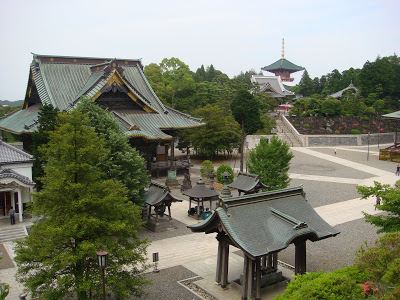 A few hundred years ago a guy carved an image and put it in a temple in Kyoto. Then, during a revolt in 939, a monk named Kancho carried the image from Kyoto to Narita City in utmost secrecy on the orders of Emperor Suzaku. The monk prayed for peace for 21 days, and in early 940 the revolt was suppressed. The monk tried to return the image to Kyoto, but it had suddenly become too heavy to move. The image wanted to stay there for continued peace promotion, and Naritasan was founded around it and given the name Shinshoji.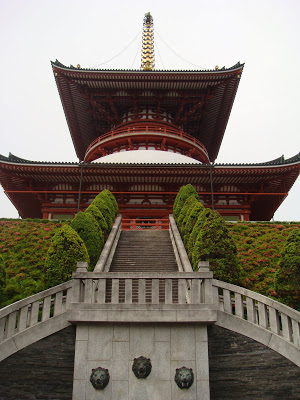 But while the temple complex is old, this Great Pagoda of Peace is new—younger than me, in fact. It was built in 1984.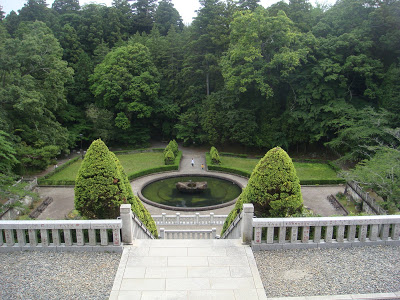 Just below the Pagoda of Peace is 1920s-era Naritasan Park, which begins as a slightly overgrown English-style garden and turns into a stone path along a waterfall, stream and lakes through the forest.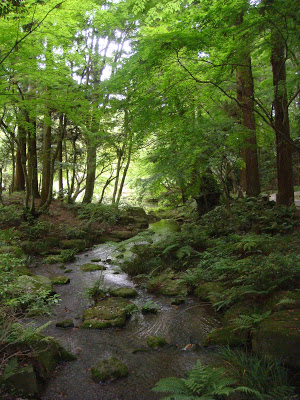 Next time I take the base shuttle to the airport and have eight hours to kill (like last year en route to Australia, when Chrissy, Alexis and I spent the day in a different part of the city) I will spend some more time in this gorgeous park! It even has a calligraphy museum and a
Suikinkutsu,
which is "a unique facility for the enjoyment of listening to sounds of falling water," according to the brochure. Sounds great, so long as there's a restroom nearby!