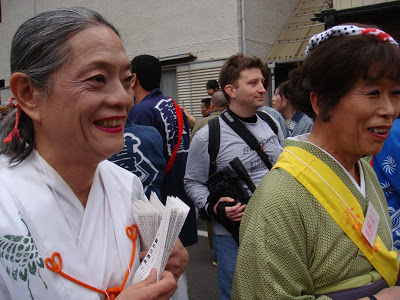 Ah, spring. A time of flowers and sunshine. Or for "ladies of the night" in ancient Edo, it meant time to harvest sprouting shoots of bamboo and greenery, parade a giant phallus through the city of Kawasaki, picnic in the courtyard of the Kanamara Shrine and pray for protection from syphilis. The enthroned phalli are still paraded through the city at the annual Kawasaki Fertility Festival, but these days they're more likely to be carried by drag queens, those requesting protection from HIV/AIDS, and general merrymakers.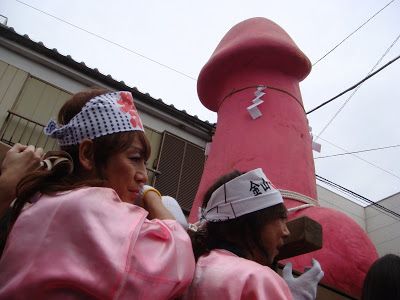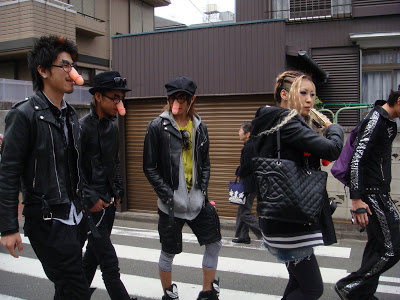 Yuk! Who likes radishes!? No one. That's probably how somebody came up with the idea to carve them into shapes. Radishes not your thing? Well hey, for everyone out there who hates Peeps, maybe one of these pink marshmallows will help you see the light.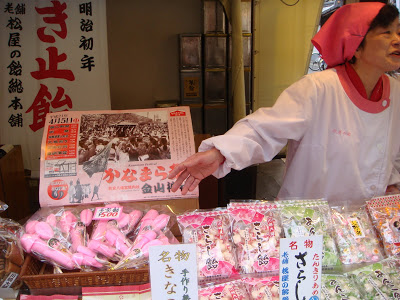 Say cheee-su!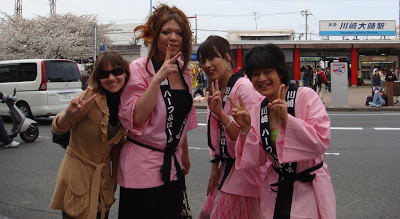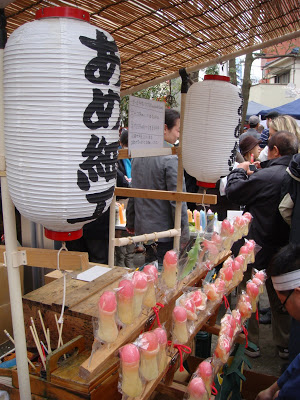 I'm not sure who thinks it's funny to stack their kids in front of them on top of a giant cannon….? but maybe it's a culture difference I don't understand.
There festival centers around the shrine, where the parade begins and concludes. I thought, "Woo hoo! Parade!" but all it consisted of was three shrines. Still entertaining, but I guess I was hoping Austin Powers would be leading it, complete with music and stuff. It had that air, but maybe a little darker. There crowd consisted of: the locals, the tourists, the curious, the jolly, the creepy, the old, the young, the uninhibited, the more inhibited. My friend Kristin and I agreed we were glad to have seen it….once.
After the parade we had lots of time before our bus would take us home so we explored and found the huge Heiken-ji Temple Kawasaki Daishi, founded in the 1100s and said to protect against misfortunes. You can buy a stick and they'll burn your name into it and some other stuff, then the priest will burn it and cremate any misfortune associated therein. I have some video of the monks I may post tomorrow. I was looking at the photos of this temple when I thought, "Haven't I seen that before?" and found it strangely similar to…Disney World.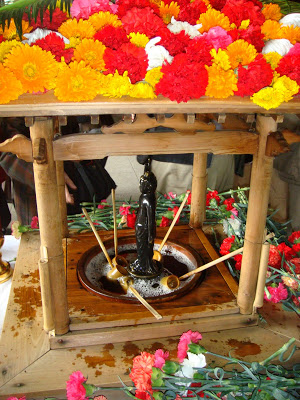 It's good luck for children to spoon this sweet tea over the above statue.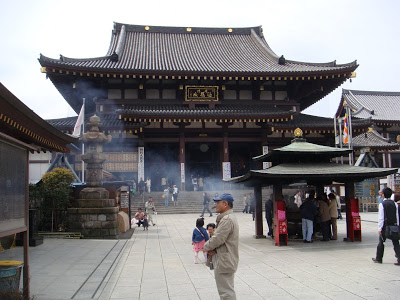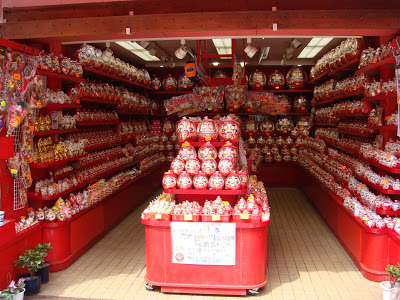 All in all…weird day! But I did get three new pages of caligraphy in my book!