"I'm pretty good at staying entertained. Mostly, I like to hang out at a bar I know conveniently located in my backyard."
— Under the Tuscan Sun
So Chris is deployed, for anyone who didn't know. I, like many others before me, am practicing a specific skill set in his absence: bartending! When we were in Beijing this winter I bought some lychee (or litchi) tea. It's round and fruity, very pleasant with a little rose tea, too.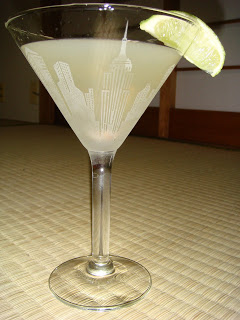 Back home I bought some lychee juice to try out. That brings me to tonight. I'm listening to 40s music, jazz and other ancient, romantic music fed through the internet on Jacksonville's
Jones College Radio
("A Touch of Elegance"). I love this station for the same reason I love "Casablanca" — it puts a rosy tinge over living overseas and having Chris deployed. Suddenly I feel like some exotic, adventurous film siren in my Asian tatami-mat dressing room. Or a smoky lounge in a Tokyo high-rise. James Bond could walk through the door at any moment. I suppose he and other visiting stars would be offered a
Jade Cocktail
. It all fits.
.
Anywho, this excellent lychee-based cocktail is named for the variant of the fruit called Jade Purse Lychee. Lychee berries are a bit larger than a grape and grow on an evergreen whose leaves start off coppery and grow emerald in China and other Southeast Asian countries. The thick, inedible reddish skin peels off to reveal a white, fleshy fruit around a mahogany-colored seed. It's very sweet and makes an excellent Jade Cocktail…very exotic.
Mostly fill a martini glass with lychee juice, squeeze in the juice of 1/3 of a lime, splash in some coconut rum and garnish with a lime wedge! Kampai! (that's Japanese for cheers!)