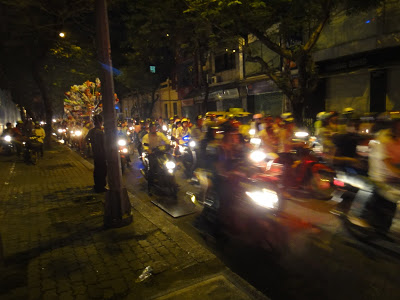 Night fell over Saigon as we walked through streets lined with stalls popping up for the night market. The city center buzzed with motorbikes and traffic jams. We dodged them on sidewalks and at intersections. A crisp blue banner announced, "Welcome the first international tourists to Ho Chi Minh City in 2011" over a crowded street corner on our way to Nha Hang Ngon (160 Pasteur St) for a late Vietnamese New Year's Eve dinner.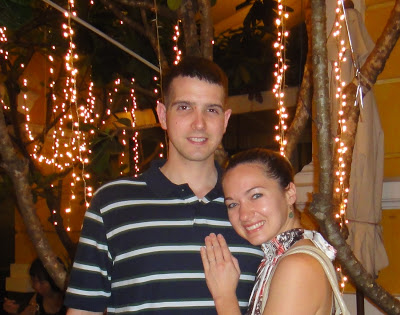 We both ordered a Saigon Special beer and—finally—had our first meal in Vietnam. About 20 minutes after we ordered the waiter brought our first dishes: spring rolls with salad and rice noodles; braised beef with bread. The spring rolls were delicious; the beef was suspicious. In fact, it was mostly bone and tendon boiled in water. The waiter then informed us the other dishes we'd ordered were finished for the night. Fortunately, the spring rolls tided us over until the fried rice in a clay pot arrived. It was really good—yummy mushrooms and spices, and crispy around the edges where the pot keeps it cooking. Yum! We called for the dessert menu. Chris ordered baked banana cake with ice cream and I had the mochi with ginger in coconut milk. We left very satisfied! The twinkle lights dangling in the courtyard outside were like champagne bubbles in the cooling night air. The open windows let in a steady breeze, and the older German couple at the table next to us reappeared New Year's Day in Cambodia on the tarmac. What are the odds?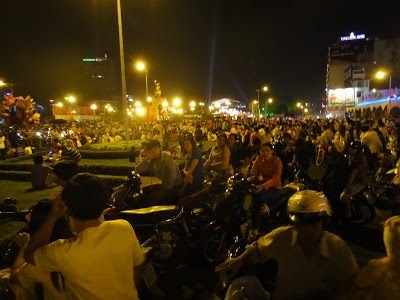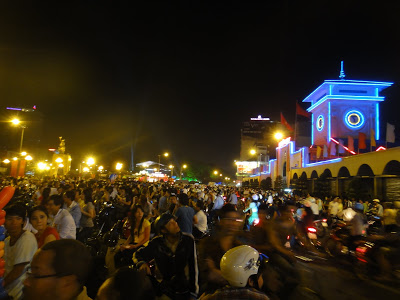 Downtown Saigon was a gridlock of merry-makers parked for the brief remainder of the year. We wove our way through throngs of scooters in the middle of the street. I bought an embroidered silk wallet to hold Vietnamese dong and a lacquer thank-you present for the kind family watching Mouse and Pounce back at home. Families strolled the medians, buying street food and character balloons. Friends gathered around motorbikes, sitting on or around them and calling to other friends. The constant din of honking ebbed and flowed but never stopped, finally waxing triumphant at midnight as thousands tooted their horns in unison to welcome 2011. Happy New Year!