Dusk and our enthusiasm settled softly over Fushimi Inari Shrine. We were only halfway up the mountain, the mosquitoes were buzzing around our tasty baby, and it was getting darker by the minute. We turned around. Lanterns flickered on as the sunlight faded, fanning shadows through the legs of the thousands of torii gates that make the shrine famous.
Looking ahead, the gates made a cocooning tunnel, but looking side to side felt more caged.
Visiting the shrine late in the day may have cut our time short, but seeing the crimson gates glowing in yellow lantern light felt otherworldly. I don't think I'd ever been to a shrine at night. It got very quiet and a little spooky, especially with stone fox statues peering out over rocks in every clearing.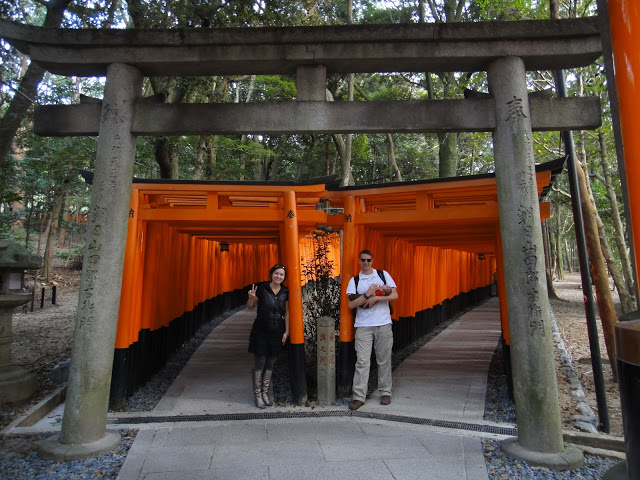 Our Christmas 2011 family picture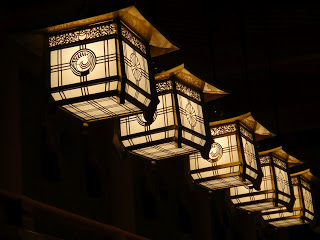 Our two Must See items for the trip were the Kyoto Imperial Palace and this shrine.


Memoirs of a Geisha is such a beautiful movie, and we were enchanted by the scene where main character, Chiyo, races through these torii gates in her clacking geta to make a wish.
We told a Japanese friend that we loved the movie's idealized picture of the geisha's 'floating world' and she laughed, "Japanese also think this movie is beautiful. Eh? I want to go there! Where is this? It is not Japan!"
But for the evening, at least, our fantasy of idealized Japan was intact…until we got back down to the train station and found the next train didn't leave for three hours = $20 cab ride back to the hotel. Ah, that's more realistic.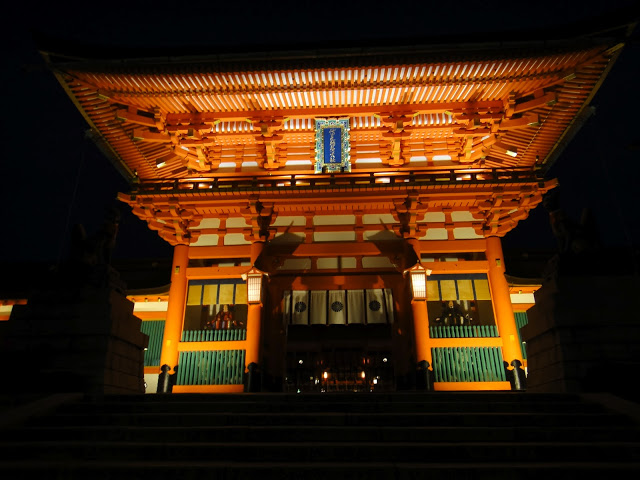 Main gate of Fushimi Inari Shrine