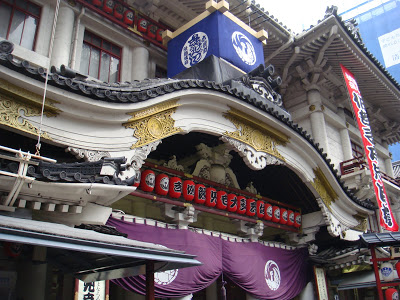 It is good to have the translation headphones when attending kabuki performances at Kabukiza. This provides not only a dialogue translation but also commentary on what the heck is going on. All this month the matinee performance is "Kanadehon Chushingura—The Treasure of 47 Loyal Retainers," part of the special Sayounara Performances playing until April 2010 when Kabukiza will be torn down because of its unstable, cracked foundation. Chris and I came also here together last Presidents Day.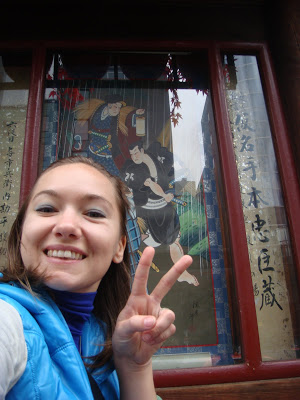 The sets were gorgeous mock ups of Kamakura's Tsurugaoka Hachimangu Shrine—only about the prettiest area this side of Tokyo! My favorite! So what happens is all the lords are gathering for an important ceremony honoring the shogun's younger brother and trying to unite the people by honoring the shogun's recently defeated rival by dedicating his samurai helmet to this shrine. Well how do we even know which is the real helmet? Asks a naysayer. Enter someone's beautiful wife with a "face like a jewel," even though she's played by a more stone-like dude (as are all kabuki women). An important guy falls in love with her and dramatically crosses his arms over his lap during her speech, at which point I expected the very full audience to chuckle but heard not even the crack of a smile.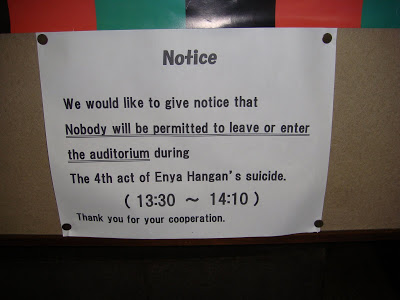 The important guy goes on to write her a love letter, which she refuses. Then her husband comes back onto the scene, correctly suspects what's going, gets yelled at by the important guy, and decides to kill him. That's the act I saw. The rest of the five-hour play is how the husband tries to kill the important guy, fails, is commanded to commit suicide, and how his household is disbanded but then rebands to kill the important guy in the end. It has nice symmetry because there were 47 helmets of defeated bad guys to sift through to find the helmet they want in the beginning, and in the end the important guy (not the shogun or his bro, just an official) is attacked by 47 of the husband's men. Beautiful.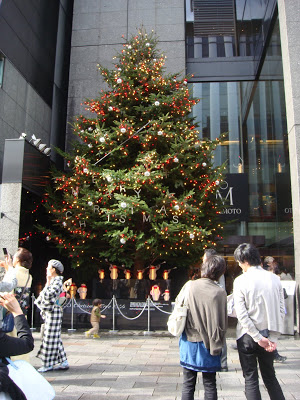 I like Ginza. What had been a very rainy morning cleared into a beautiful, clear afternoon with Chuo Street turned into a huge pedestrian thoroughfare and already lined with Christmas trees. A man was working his way down the street wrapping the pines in lights, and crowds were already gathering around the famous Mikimoto tree (look at that plaid kimono in front!).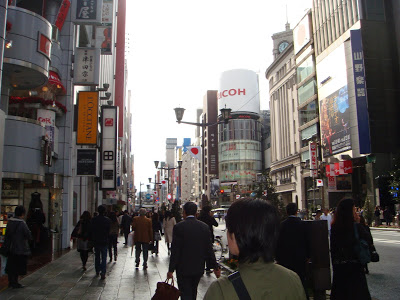 It's weird, because it feels like fall, and there are leaves changing color everywhere, but Japan doesn't really have Thanksgiving to check the start of Christmas cheer.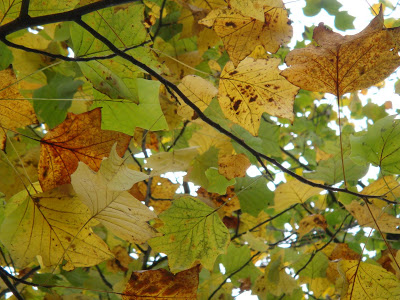 I say it doesn't really have a Thanksgiving, but my English students told me today they get November 23 off for Labour Thanksgiving Day, which was taken from American Thanksgiving and gives them the day off to thank gods for the fall harvest.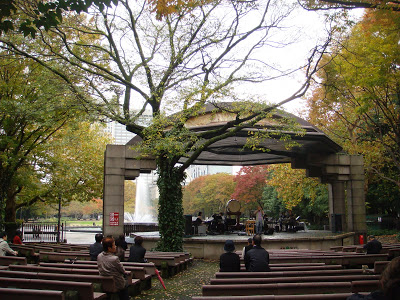 I kind of feel like Christmas should be in late January so Christmas season can be December and January, and that way Thanksgiving has plenty of time to be smack in the middle of fall. This also works because Chinese New Year is usually in early February, so the only conflict would be the Superbowl. And that can shift to mid December. There! All solved. Except my January siblings (one in particular) would whine about birthday takeover. Oh well, can't please everyone.