baby stink eye evolved into baby wink eye
Chris is holding Isaac in front of him, studiously frowning slightly.
Me: "Uh…what's up?"
Chris: "Objectively speaking, I mean, being completely objective, he really is the cutest baby in the world."
Me: (snort) "Objectively speaking?"
Chris: "Yeah! He is the cutest. Objectively speaking."
Me: "Objectively speaking."
Chris: "Yeah. What?"
Me: (Grin, shrug, grow serious) "Well, yeah. I agree."
Chris: (shrug) "Objectively speaking."

Isaac never slept more than two or three hours until a few days before Thanksgiving. I polled the folks and the in-laws and it turns out Chris and I both survived sleeping on our tummies as babies. Hitherto, Chris refused to let me put Isaac down on his stomach, but after three or four days of him waking up every 90 minutes, we were desperate. I laid him carefully on my side of the bed and he immediately zonked out cold. I was so desperate for sleep that I slept on the floor so we wouldn't have to move him. In Chris' defense, he tried to get me to sleep on his side so he could sleep on the floor, but I was too tired to move. Isaac slept FIVE HOURS. He's slept on his tummy ever since (and has not suffocated yet). Surprise, as soon as he started sleeping in slightly longer stretches my incision stopped burning, I stopped taking pain medicine, and I no longer want to kill everybody all the time! It's a Christmas miracle.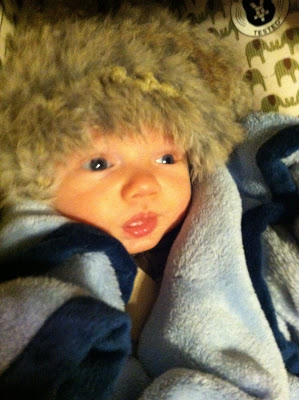 baby it's cold outside
At church a few weeks ago Isaac slept sweetly in my lap, then woke up and smiled quietly at me the rest of the service, grabbing my finger tightly in his chubby hand. "Now this is how I dreamed babies would be!" I thought, recognizing that it will never actually happen again. "A warm, cuddly, socially acceptable pet!"
Dec 3, two months old
This week he's waking up every two to three hours, and last night he spit up all over me, peed and pooped on me. All at different times. But every time I'd change his diaper he'd break into a huge grin, giggle and coo at me.
Babies: masters of brainwashing techniques: sleep deprivation, repetition, dehumanizing of individuals by keeping them (me) in filth, inculcation of guilt, sensory deprivation, group social pressure, etc. So even at 12:30am…and 3:30am…and 6am…and 8am… who could resent this little guy? He's kind of the cutest. Ever. You know, objectively speaking.