The one radio station we understand around here said there was an antique fair in Yokohama this weekend AND a Chinese New Year parade in Chinatown! Woo-hoo! I am so down for BOTH of those adventures!
Chris and I found Yokohama's Red Brick Warehouse with minimal arguing. It was freezing, there was a damp breeze off the water, and everyone was smiling, ice skating and shopping. There was some kind of neat stuff at the antique fair, but we didn't get anything (even though Chris brought his huge backpack just in case). We saw obi (kimono belts), European tea cups and beer steins, lots of expensive ivory carvings, samurai claws/gloves and face masks complete with human hair mustaches, a Beatles record, painted scrolls, fur coats, clocks, all sizes of iron tea kettles and tea trays. You know. Antiques. We like poking around old stuff and bargaining down the price. Chris wants a temple bell and a suit of samurai armor. I want a bargain. This weekend we found neither.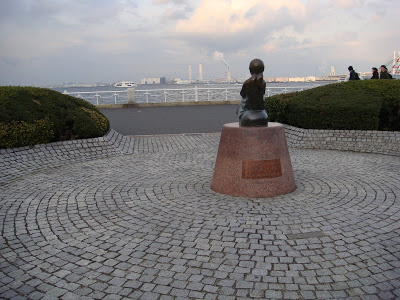 This statue, "The little girl with red shoes on," is in the park between the warehouse and Chinatown (the biggest Chinatown in the world outside China, and hundreds of years old). Our real motive for not buying crap–I mean, 'collecting'–was that we ordered a granite name plate for our house and it ended up costing more than $100! Sheesh! But it's necessary for neighbors, friends, even the postman to know where you live. And it looks cool with our name in English AND of course, Japanese characters! Katakana, that is!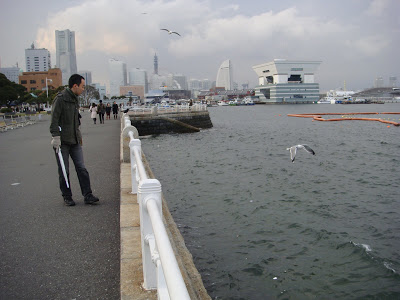 Chris likes Chinese food better than Japanese food. I am not ready to make that kind of commitment to Chinese food when I live in Japan…but let's just saw we were both really excited about dinner in Chinatown. First of all, I told Chris the parade started at 4 p.m. The streets were crowded, but I didn't hear any music or anything, so we stopped into the Chinatown tourist information office. Travel Genius Rick Steves, who gave Hannie and me great tips for Spain and who found the perfect hotel for Chris and me in Germany, and whose book we left in a restaurant there, swears by these info booths and I've taken to looking for them in train stations. They are indeed a wealth of…information. Right. So the helpful lady gave me a map of Chinatown and outlined the parade route. Except that the parade isn't until February 8. So obvious—Chinese New Year starts February 4. I felt dumb, but Chris was like, great! Let's get some dinner!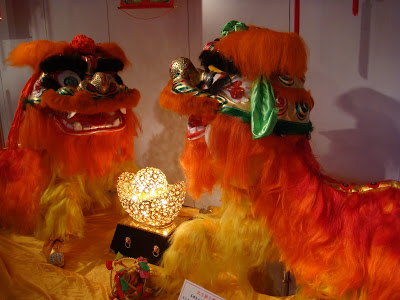 Lot's of people were snapping pictures of these dragons as we get geared up for Chinese New Year! Woo hoo! Street vendors were hawking fried bread dumplings stuffed with who knows what. Delicious at two for Y200. And one of the (more aggressive) roasted chestnut vendors let us try those for the first time. Delicious for free! We found a restaurant with a special and a lady herded us into the empty dining area. Bad sign. We couldn't find what we wanted in our price range. We finally ordered the special. The waiter spoke to Chris very loudly: "This is the ONE PEOPLE PRICE! Not two people price. This is the ONE PEOPLE PRICE!" At nearly $20 per person it no longer seemed very special. We looked at each other, collected our hats, scarves, coats, enormous backpack we'd just peeled off, bowed, and left.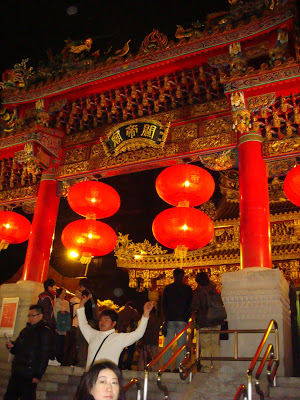 Just around the corner, off the main drag, we found heaven: jasmine tea, soup, fried gyoza dumplings, rice and sweet and sour something for me, fried rice with crab for Chris, mango pudding dessert for Chris and ?? pudding with fruit on top for me. We were stuffed, the place was bustling but not crowded, the ladies running the place were cracking up and having a great time in the back the whole time, and our total was less than $20 for the both of us. NOW who wants to come visit?!?! It was so authentic the business cards didn't even have the name in English. Not to fret–I memorized the location.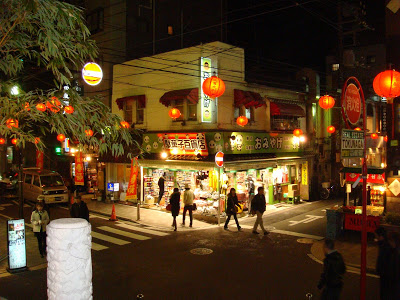 We walked around the block and found two enormous temples and countless shops selling panda bear everything: mittens, earmuffs, baby bibs, slippers, tee shirts, purses, wallets, hats, towels. Excellent. We also found tons of shops selling jewelry, fabric, furniture and everything else I love from Indonesia, Bali, Nepal, India, Tibet and other parts of Asia. The whole block smelled like incense and it felt like I'd walked into the supply stores for World Market and Anthropologie, my two favorite stores in the States!! That's totally not what I expected when I suggested an afternoon parade, but what a delight. 🙂 And on the walk home from the train station: snow flurries!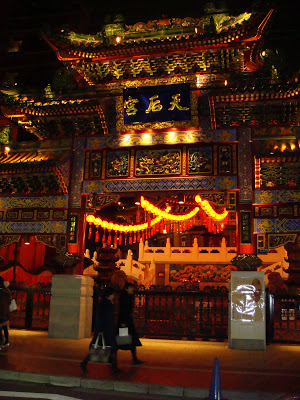 And Friday night we had the perfect local date: we climbed the hidden staircase on our street that leads up to the street above and had dinner at the seats-seven local noodle shop. One of these, I said in Japanese, pointing for a photo of who-knows-what. Last time I thought I was ordering chicken at a Japanese restaurant I ended up with fried beef fat. Yuck. What I got was chicken curry—MY FAVORITE!!! With an appetiser of some kind of pink root, a bowl of rice and a beer, my meal was about $10. Chris had a bowl of noodles and a smaller bowl of rice with chicken curry, the roots and a beer. Our total was just over $20. The owner/chef lady was super nice with our "Please feed us even though we're not even sure what we're ordering" routine. Somehow we communicated this: "Do you live around here?" "Why yes, we just moved in down the street!" "Oh, you're the new Americans!" "Yes!" "Welcome, nice to meet you!" "Nice to meet you! Thank you."
So that's our new favorite spot. Chinatown too. Hopefully she wasn't also thinking, "Oh, you're the new Americans…who sometimes cut behind my house and use my secret staircase! Knock it off!!
We took the long way home and walked around the block. The rain had let up after three days of drizzling and the flowers along the stream bank smelled wonderful.