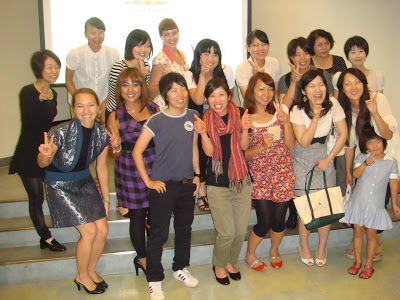 "Otsukaresama deshita!" "Otsukaresama deshita!" "Otsukaresama deshita!" After each Awa Odori performance the words rang through the night as everyone ended the night's work by calling out, "Job well done!" Tonight we had a Job Well Done Dinner where we stood for a formal toast, everyone said, "Kanpai!" and we all clinked glasses. Boys came running over to the girls' table to clink glasses before running back. We loaded up plates with cucumber and grilled eel sushi rolls, fried chicken, yakisoba and fresh Japanese grapes, then sat back to watch the compilation video of practices and performances. I featured prominently right in the beginning…at the first practice we tried dancing in our taco hats…at the moment when I turned quickly and my hat slid over my eyes and I fell over. Awesome. Glad to have that be my legacy.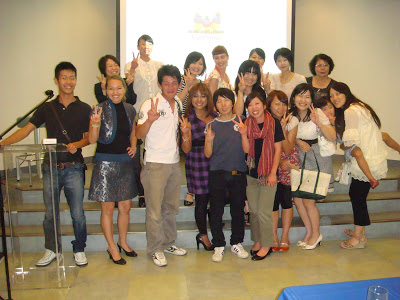 The Japanese man in charge called the three Americans to the front. We looked at each other in mild panic. Then he said the magic words: "We have a present for you." Ok, still panicking, but getting out of my seat. That's worth standing in front of a room of people while someone talks about you in a language you don't understand.
The Japanese dancing Awa Odori were all Japanese Maritime Self Defense Force members taking time off from their regular jobs at the direction of their bosses. This is viewed as paid training. So even though we felt like we pulled a fast one getting admitted to the dance group (see hat-sliding-over-eyes, above), they thanked us for participating and presented each of us with one of the beautiful black lacquer-and-paper fans we danced with—brand new! Amazing! We'd asked if we could buy/keep the fans but they were special-ordered from Tokushima (Japan's smallest main island, where Awa Odori originated). What a happy surprise! My mom asked the other day what my favorite Japan memento is, and I wasn't sure. NOW I know: my Awa fan and geta shoes!! Arigatogozaimasu!! THANK YOU! For the fans, the fun, the friendship…and the awesome experience of transforming into a Japanese festival dancer!!