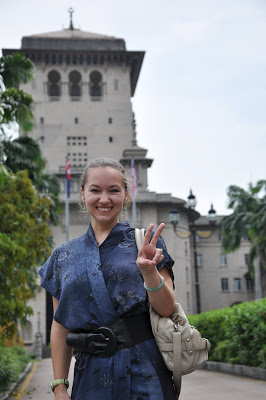 My grandparents used to send me 15 $1 bills every year for my birthday. My mom likes to tell the story of my three-year-old self forgetting about it in the birthday excitement but asking for the money a few days later. She wondered what a three-year-old was going to do with a wad of cash and poked her head into my room a little while later to find me pushing the bills around saying, "Money money money money money money money money!"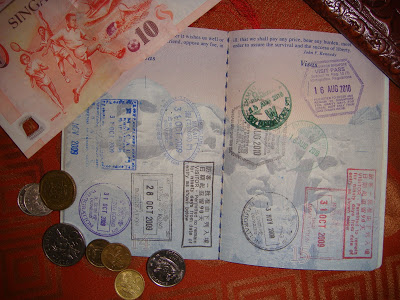 So of course years later when my dad brought home stacks of multicolored bills and foreign coins from business trips I couldn't resist.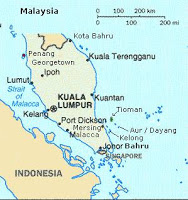 And along with the exotic currencies I'd also find his passport. I LOVE looking through my dad's passport! He has so many stamps he had to get extra pages! Flipping through pages with stamps of all shapes and colors inspired my very first desire to see the world, and none more so than the pink and purple triangular Malaysian stamps. "Wow," thought my high school self, "if I ever end up with a triangular pink passport stamp that would just be the coolest!"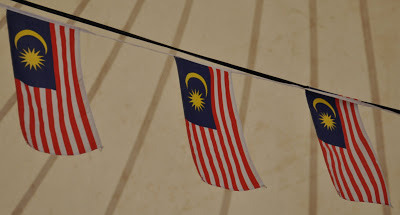 Fast-forward to earlier this month. My friend Nicole and I were poring over Singaporean maps and brochures one evening when I told her I'd hoped to go to Malaysia last year but it was off limits to the boat. "But we could go to Malaysia for lunch or something on our extra day after the ship pulls out!" I joked. Nicole answered, "I don't see any reason why we
wouldn't!
" And a plan was hatched!
Our friends Kelly and Mike also joined us. We met up the morning the ship left, hailed a cab and said, "We'd like to go to Malaysia, please!" And off we went. Cab cost: $15 S (about $11 US). We arrived at the causeway, got our departure stamps and set out to walk across the Johor Straits. We walked halfway down the causeway only to find an unmanned guard shack and a locked gate. We could have dashed into traffic to run around the gate, but there was a huge nasty puddle of water covering the road, plus we didn't want some machine gun-toting guard or crazy headhunter to chase us down, so we turned back.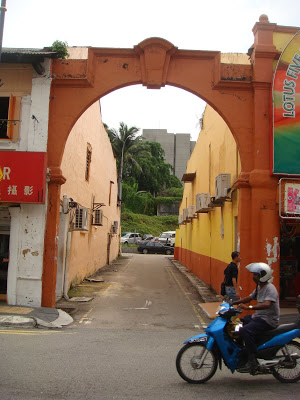 "How do we get to the bus going to Malaysia?" we asked the woman monitoring people entering Singapore. First she asked why we didn't run around the locked gate, then she told us to go back through Singapore immigration, out again, then take the bus. The woman at the immigration counter rifled through my passport trying to find an exit stamp from somewhere besides the one I'd gotten 15 minutes before leaving Singapore. I explained what happened. She made a phone call and repeated what I'd said, paused, said, "American," hung up, shrugged, stamped my passport and waved me through. Interesting.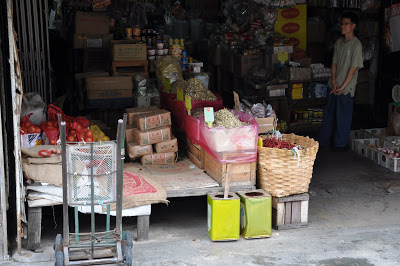 Then we left Singapore again and bought $1.20 bus tickets to Malaysia. The lumbering bus passed the foul-smelling Straights of Johor (Malaysia might call it Selat Tebrau), an old steamboat listing to one side halfway washed up on a palm tree-lined strip of sand, banana lorries, the towering Sultan Ibrahim Building, and–suddenly–a lot of Arabic. I expected Malaysia to look pretty much like Singapore. It didn't. Immigration earned me a square purple stamp. Boo.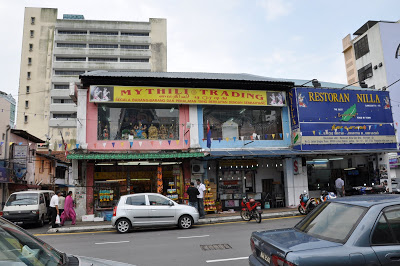 Mike found us a tourism office where we collected some maps and a Johor Bahru guidebook. The tourism guy tried to direct us to a mall. We looked at each other and asked for palaces, temples or mosques within walking distance. But our first destination would be lunch! I think figuring out how to eat in a different country can be difficult at first—do you sit or wait to be seated? How do you order? WHAT do you order? How do you even spot a good restaurant? What's the appropriate way to call over a waiter or get your check? Do they allow foreigners? Kelly took charge on this one and led us into Restauran Nilla, where everyone looked at the four foreigners in surprise but quickly led us to a table and spouted off a list of lunch options.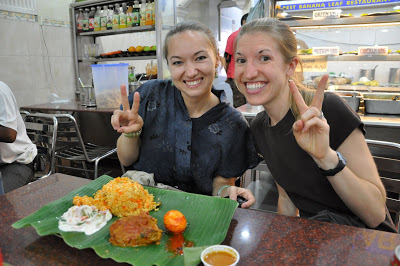 Um…I didn't understand any of that. Now Nicole took the lead: "Nasi biryani? Chicken!" she smiled, holding up four fingers. The man hurried off. I stared at her. "How did you understand what he was offering us?" I asked in amazement. "I took a Malaysian cooking class," Nicole said nonchalantly. "I wonder if they'll bring us spoons since we're foreigners. Everyone else is eating with their hands." That's Nicole for you—always a surprise! We were soon outfitted with four banana leaves bearing nasi biryani (rice cooked with cinnamon sticks, bay leaves, garlic, ginger, cumin, etc.), some chicken, a spicy red hard-boiled egg, a vegetable yogurt dish and curry sauce to pour over everything. Way to go, Nicole! It was delicious!! They did in fact bring us spoons, and everyone else was eating with their right hand. Eating something I've never heard of off a banana leaf during Ramadan in Malaysia?! We are earning that passport stamp!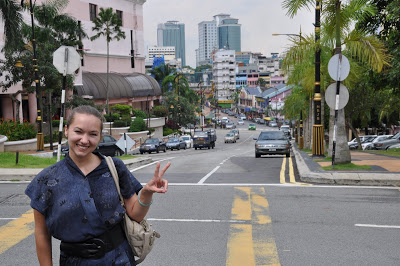 We'd all changed money at immigration. I changed $10 (US) and 1,000 Japanese yen and got about 60 Malaysian ringgit. Lunch was 12 ringgit, or about $4 US, including our drinks (I had lychee juice and chrysanthemum tea). The restaurant wasn't too crowded because the city's Muslim population don't eat until sundown during Ramadan, which began August 11. We were there August 16.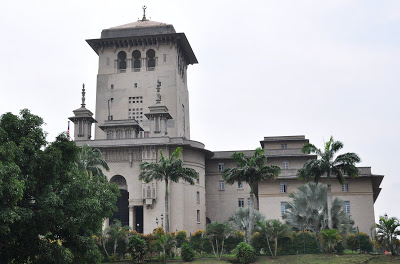 We walked up Bukit Timbalan hill to find the Sultan Ibrahim Building we'd seen from the bus. The late Sultan Ibrahim ordered it built in the 1930s to house all the government offices and, "to signify THE GLORY OF THE JOHOR GOVERNMENT AT THAT TIME." The architects purposefully included elements of local Johor Malay art, Islamic design and colonial architecture. The Japanese used it as a fortress when they attacked Singapore during WWII. I asked the guard if we could tour the building. He handed me a brochure on Johor's beaches. I'll take that as a no.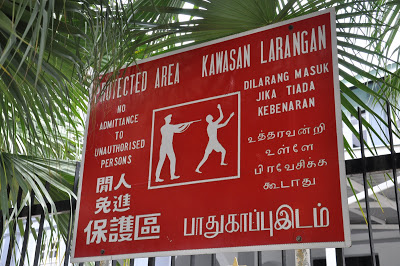 Of course there was no way I'd push my luck with this sign hanging nearby. If
the one near the rain forest
was surprising, this one is downright alarming. That poor drawing is getting shot in the back of the head! I guess I shouldn't be surprised—headhunting in Malaysia is documented as recently as 1965 and suspected of still continuing into the last couple of decades.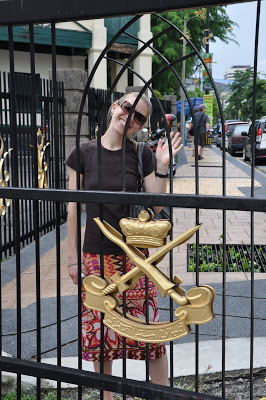 So there we were, walking along a street in Malaysia remarking on the fact that we were…you know…in Malaysia and wondering what to do next, when we looked up to see Kelly has hailed a cab. As we piled in she asked, "Can you drive us around the city?" This excited the driver a lot. The next thing we knew he was zooming down a road as monkeys ran along rooftops and jumped into the trees.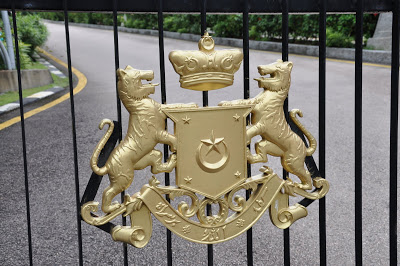 The industrial Johor Bahru wasn't even an official city until 1994. Apparently until recently open sewers ran through the middle of the city—yuk! Interestingly, you can't drive into Johor Bahru from Singapore unless your gas tank is at least 3/4 full to keep people from going there just to fill up on cheap petrol.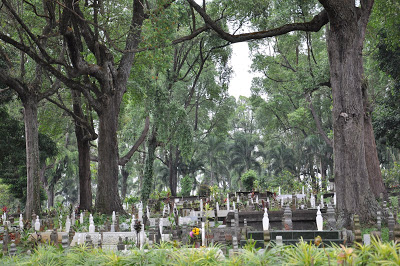 Anyway, our first stop was a graveyard and mausoleum our driver Zainol said housed bodies of the sultans. It reminded me of a cross between
Savannah
and
Alexandria
.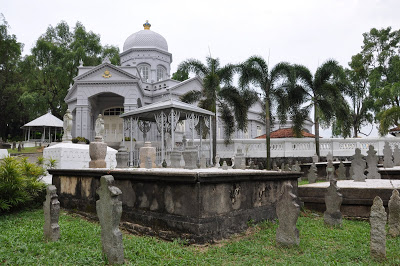 Before we got back in the car I took a picture of the license plate just in case this turned out to be a bad idea and we ended up in the middle of nowhere being traded to headhunters or–worse–threatened with, "Your flight leave tomorrow! You pay now or no go home!" I'm not sure how having the picture would help, but I was just trying to be proactive.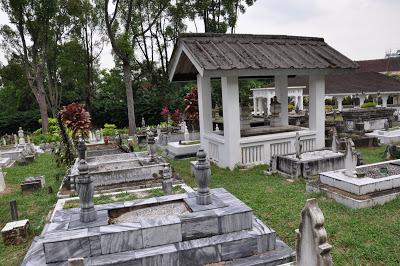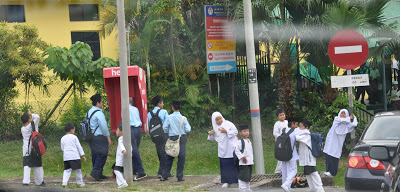 It was fun racing through the city past school kids in crazy uniforms, chickens scratching the earth beneath banana trees, a million feral cats and crumbling homes that must have been beautiful a few decades ago.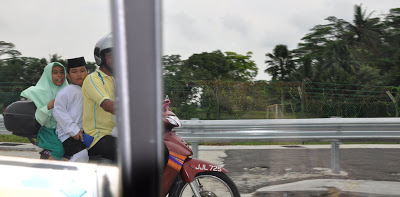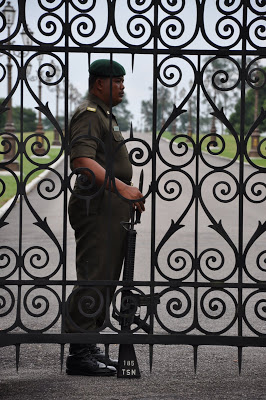 Zainol paused in front of the gates to the sultan's palace but advised us not to get out. Good call. Next stop:
Teluk Danga
, or Danga Bay. The rundown cafes and shops looked extra depressing with the daytime Ramadan dearth of people. I hoped to see fishing boats full of people in funny hats; instead we saw homeless people of all ages and lots of trash.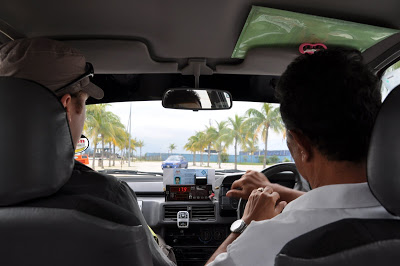 That was a little depressing. Anyway, next we stopped at the Sultan Abu Bakar State Mosque, which was completed in 1900 after eight years of construction. We walked around the four-minaret mosque, took in the view of the Straits of Johor and listened to the call to prayer while Zainol ran inside to pray. This guy was excellent. He cracked jokes and cackled with laughter without even waiting for a response, elbowed Mike to make sure he got it even though no one did, and answered all our questions. Yes, he's married with one son. He's 65 years old. He does not have chickens, but he does have cats. He's never seen monkeys running across rooftops until he met us. And so on.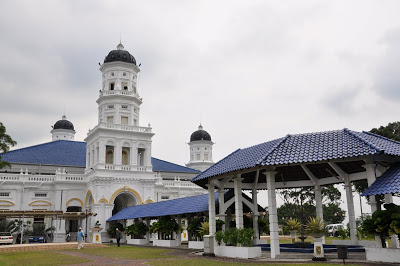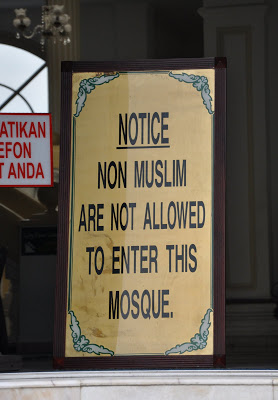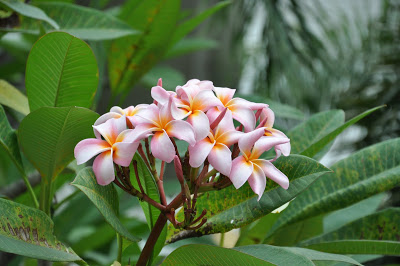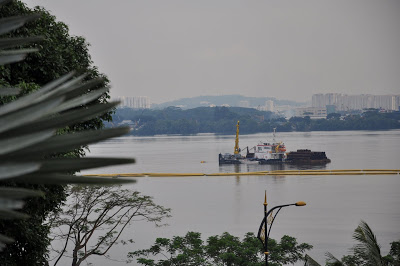 I'm sure Zainol could have run the meter indefinitely, but we'd seen about all there was to see in our time frame so he dropped us off at the Roufo Old Chinese Taoist Temple and said yes, we could certainly recommend his services to our friends. Total cost for more than an hour of sightseeing for four people: 30 ringgit on the meter and a 10 ringgit tip (about $13 US).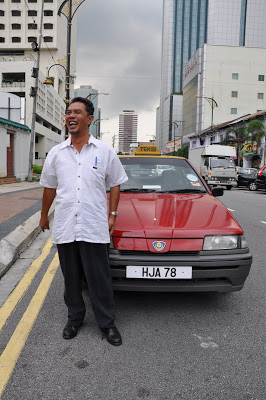 Zainol
the cabdriver
8 JCN Permawan
KG Mecabu Mazidee
Johor Bahru, Malaysia
07-3352154 or 019 7023992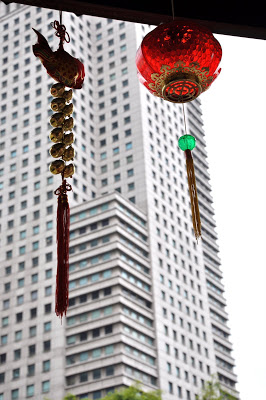 The temple was beautiful and was a little different from Chinese temples I've seen in Japan or China. Two life-sized masks in robes glared across the temple at each other alarmingly. Cracks in the plaster pulled apart delicate paintings. Several old men invited us in and promptly forgot about us.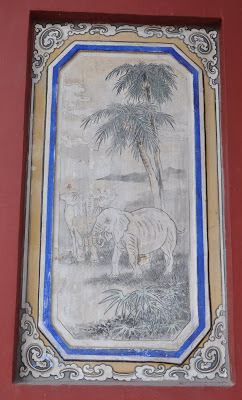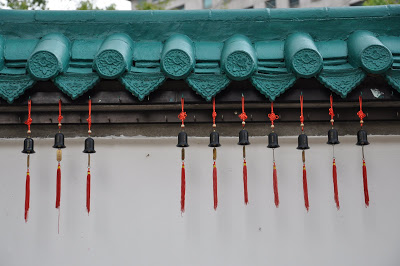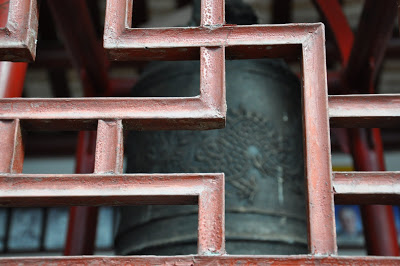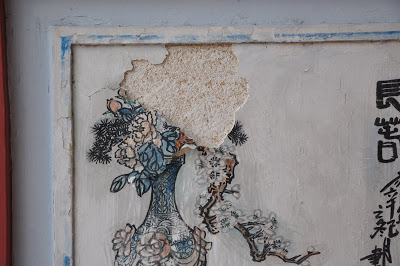 We crossed the street and headed back toward the departure terminal. Everything looked so Southeast Asian—especially this fruit stand with dragon fruit, star fruit, papaya, durian, lychee and almost every tropical fruit you can imagine. Some stores had signs that said no dogs, no cats, no roller blading, no durian, etc.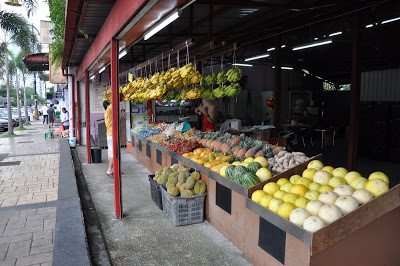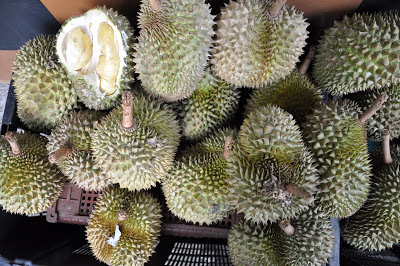 We passed colorful tiles, stalls selling heaping baskets of spices, the Sri Raja Mariamman Hindu Temple under renovation (one guy sat halfway under a blue tarp hand-painting the facade), fake designer bags, shops selling Indian shoes and clothes, women covering their heads, women in spaghetti strap shirts and shorts, flower garlands, limes, stray cats, one huge rat, signs scribbled in Arabic and Sanskrit—plus Chinese temples, Hindu temples, Indian mosques, Christian churches…it was all a little disorienting!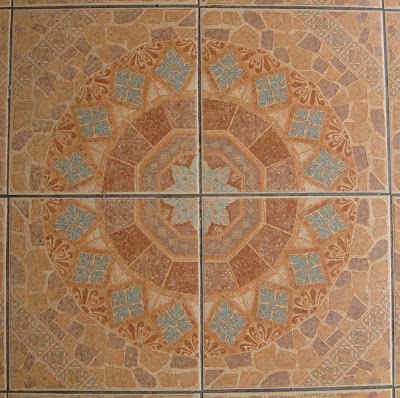 The maze-like mall that leads to immigration took us by a shop selling my favorite: bubble tea, which they called a blog (even better!). Impossible to resist that combination! Nicole and I both had Mango Cool Blogs which we had to slurp-and-chew quickly before departing the country.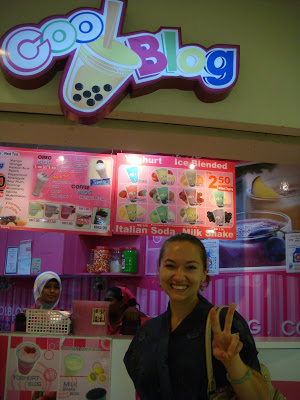 Now came the moment we'd all been waiting for: would we succeed in getting a triangular stamp? What color would it be? Kelly went through the line first. Stamp! Stamp! As she proceeded through the gate she turned and showed us her passport in victory. Triangular pink stamp: ACHIEVED!
Terima kasih!
Thank you (in Malay)!