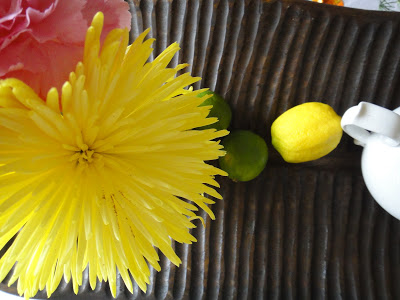 It's summertime! You know what that means…cute nautical STUFF everywhere we go! And all over the internet if we don't go anywhere! I love it! It makes me happy to be in Florida, happy to live near the water, happy to be a Navy family, happy to have hot weather! Those are good reasons to spend the money we're trying to save on random extra stuffs, right? Right?? Don't answer! 🙂
So instead of trotting off to World Market to ooo and aaah over the displays, I decided to shop the Empress Cabinet instead. We actually got the Empress Cabinet at World Market when we first got married. Now it's in the dining room stuffed full of placemats, table runners, napkins and tablecloths from all over the world. My very own personally edited and curated world market!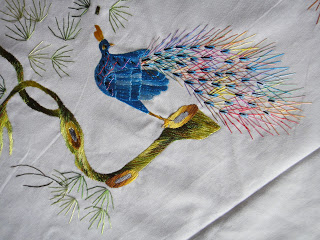 I am so delighted. This tablecloth from Hoi An, Vietnam is covered in hand-stitched peacocks and came with 12 coordinating peacock napkins in six different colors. Ooo la la! I almost justified going shopping for a tablecloth big enough for our dining room table when I realized this one might be just the ticket. It fits perfectly. I'm a little afraid to actually eat on it because we failed to ask the girls who stitched it for washing instructions. It's cotton, but what about the peacocks?? Any ideas?
The dragonfly tea set is perfect for summer. I love the wavy edge of the saucers—perfect on the similarly wavy-edged jungle-y Anthropologie plates underneath. The tea set is Chinese, but I bought it at a Japanese resale shop with a coupon for such a low price you wouldn't believe it. The yellow vase is Chinese, from our first ever shrine sale, and Chris bought the teak banana leaf in the Philippines. The flowers are what's left of my long-lasting Mother's Day bouquet. I even made Pineapple Sage Pound Cake with pineapple sage from my herb garden for a tropical tea party, but Chris and I ended up eating it on the back porch. Here's the recipe anyway.
Pineapple Sage Pound Cake
Cream together a cup each of butter and sugar. Beat in a tablespoon of honey, then five eggs, one at a time. Add a couple handfuls of chopped or crushed pineapple sage, including the flowers if you want, and the peel of one lemon. Use the lemon juice too, if you feel like it, and stir in about a half cup of crushed pineapple with the juice squeezed out. Finally, stir in a teaspoon baking powder and two cups of flour. I poured it into three of these ramekins and a large muffin tin and baked at 350 degrees for about 20 minutes. Serve with fresh fruit and pineapple sage tisane.