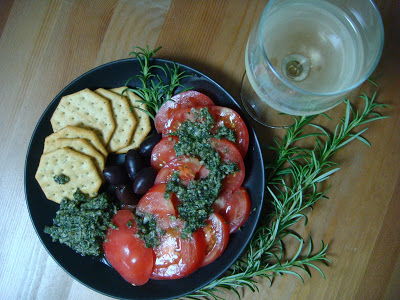 In these uncertain and trying times of Navy ridiculousness there's one thing I can count on to remain constant: this time of year, no matter how many handfuls of mint I pull out of the garden, it looks completely regrown every morning. Yes, "They are new every morning. Great is your faithfulness" (Lamentations 3:23).
Last year I returned form three weeks in the States to find my basil so huge it had toppled over. It never really recovered after that, and anyway I left it to see Chris in Hong Kong, and the rest of the winter I thought, "sheesh, I wish I'd pesto-ed all that delicious basil. Now I have nothing." So this summer I've learned my lesson. My basil is still sedate, but the mint I pinched off a bush on my route home from the train station last year and subsequently sprouted and planted has completely taken over everything but the enormous rosemary bush. I found a solution:
Rosemary Mint Pesto
2 oz chopped fresh rosemary
several huge stalks of mint, chopped
five cloves of garlic
a small package of pinenuts
5 oz asiago cheese
olive oil
Put it all in a food processor (nuts and garlic first; olive oil last). I used it to garnish local tomatoes with calamata olives and crackers, accompanied by a chilled white wine for a simple summer dinner for one (2008 Menage a Trois by Folie a Deux—California—I'm a new world wine girl); I stirred it into veggies for a pasta sauce tonight for Chris. I froze a bin and I know I'll make and freeze loads more before the summer is done so we can have tasty garden pesto all winter!