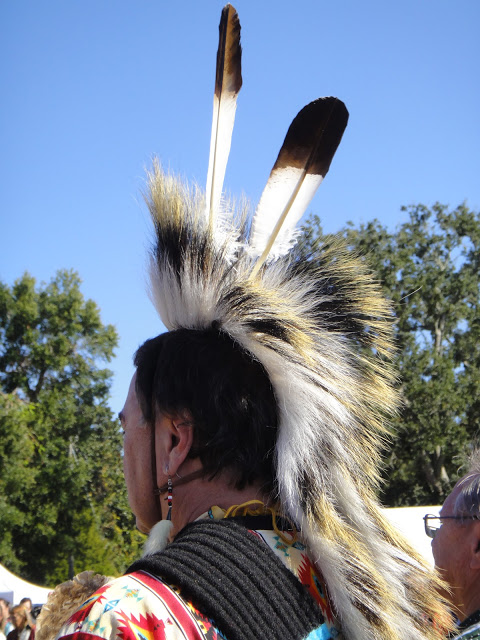 Creek Indian Tribe Annual Pow Wow, 2012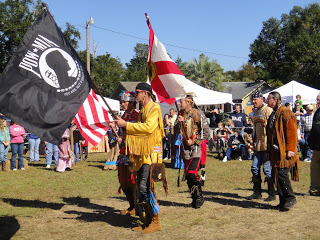 The name Pensacola comes from a common Apalachee Indian surname, "Pansacola," which meant, "hair people." Now isn't that interesting? The local native Americans attacked Cabeza de Vaca in 1528 in the middle of the night after first appearing somewhat friendly. De Vaca reported they lived in permanent houses and were "of large stature and well-formed." A decade later Hernando de Soto's men kidnapped some Indians for interrogation. The Spanish fought and traded with the locals until the late 1600s. Then the Spanish returned to Pensacola Bay, hoping to trade with the Indians for food, only to find they'd been mostly wiped out by the Mobile Indians. Or maybe they just moved elsewhere. Only a few tribes of Chacato Indians remained near the bay.
Baby, Baaaaaaby Crockett! King of the wild frontier!
Family lore says I'm related on my mom's side to the great American explorer and frontiersman Daniel Boone, whose parents were part of William Penn's colony (about five decades too late to be a pilgrim, but close enough for this blog post title). We decided to honor this part of our heritage and begin our Thanksgiving celebration this weekend by attending the Creek Indian Tribe Annual Pow Wow Celebration just 10 minutes from home at the bay-front Floridatown Park.
When I told Chris about it he said, "Wait, is this going to be lame?"
"Just so we're clear, I have every expectation that it will be lame, but it's only 10 minutes away," I said.
"Oh, ok," Chris said gamely.
We parked and followed the booming of drums to a center ring filled with dancing Indians in full regalia. Captain Goodbaby was absolutely mesmerized and watched from his koala perch in Chris' arms. Chris leaned over and said, "This is actually NOT lame."
However, even though it was interesting and not lame, Chris still declined the request for veterans and servicemen to join the celebrants within the ceremony ring. A sad day for the Sunshine State Diaries Photographic Division.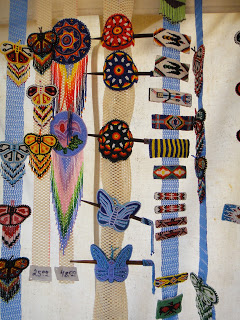 Circling the center ring were booths selling gator toes and teeth, dream catchers, Native American beaded jewelry, feathered hair clips, rubber tomahawks, long bows, dried herbs, carved bone everything, leather pouches, fringed jackets, etc etc.
A smiling, rather chubby lady complimented Captain Goodbaby and asked to hold him. I handed him over, then thought, "Wait, what?! I just handed my baby to a stranger! What's wrong with me?!" The good Captain looked at her uncertainly, looked to me for reassurance, then reached for me. She waved bye-bye and wandered off, no harm done obviously.
What is baby etiquette in situations like that?! I'm sure Miss Manners would have kindly said, "I'm afraid he doesn't know you," or something like that. But if he wasn't my baby, I'd want to hold him too, so I can't really find fault with anyone wanting a baby snuggle.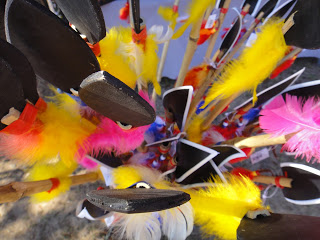 We got some Indian fry bread (kind of like a funnel cake), which the Goodbaby found delicious. They also had roasted corn, hot dogs and hamburgers (all-American food! ha ha).
The announcer said a lot of the people in regalia (not costumes) travel the country from pow wow to pow wow. …why? I wanted to ask someone, but a wooden lute player came over the loud speaker and made normal-volume communication difficult, plus the Goodbaby became Captain Sleepypants, so we bought him a coonskin cap (of course) and headed out.
When we lived in Pensacola before, I interviewed Chief George "White Antelope" of the First Nations Intertribal Association about his relief work taking Christmas supplies to a Chitimacha-Choctaw tribe that had been decimated by Hurricane Katrina. I was not able to figure out this weekend whether the Creek Indian Tribe hosting the Pow Wow was connected with Chief George in any way, and that's my only previous interaction with local native tribes.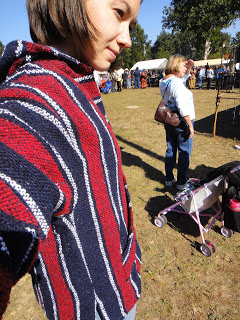 I kind of wanted to buy this but didn't…dang fast.
Something that continually strikes me about modern Native American tribes is how patriotic they are. It's very much a group of people (who mostly look pretty white) enjoying their heritage while honoring the USA. I support that. The ceremony opened with a prayer to the Great Spirit asking for guidance and setting aside our own plans and wants, which I found interesting because was the opposite of the Babylonian theme, "I am, and there is no other." Then, between dance performances, they put on a CD of tribal music that said, "God is calling the indigenous peoples of the world back to himself, to his honor and glory. Praise the name of Jesus Christ!" That got my full attention because it seems to echo what I read recently in Isaiah:
" 'Do not be afraid, for I am with you; I will bring your children from the east and gather you from the west. I will say to the north, "Give them up!" and to the south, "Do not hold them back." Bring my sons from afar and my daughters from the ends of the earth—everyone who is called by my name, whom I created for my glory, whom I formed and made.'… 'You are my witnesses,' declares the Lord, 'and my servant whom I have chosen, so that you may know and believe me and understand that I am he. Before me no god was formed, nor will there be one after me. I, even I, am the Lord, and apart from me there is no savior. I have revealed and saved and proclaimed—I, and not some foreign god among you. You are my witnesses,' declares the Lord, 'that I am God. Yes, and from ancient days I am he. No one can deliver out of my hand. When I act, who can reverse it?' …. 'Forget the former things; do not dwell on the past. See, I am doing a new thing! Now it springs up; do you not perceive it? I am making a way in the wilderness and streams in the wasteland. The wild animals honor me, the jackals and the owls, because I provide water in the wilderness and streams in the wasteland, to give drink to my people, my chosen, the people I formed for myself that they may proclaim my praise.' " (Isaiah 43:5-7,10-13, 18-21)
But we ran out of baby happy time for following up any of these interesting leads that afternoon. Happy Thanksgiving!