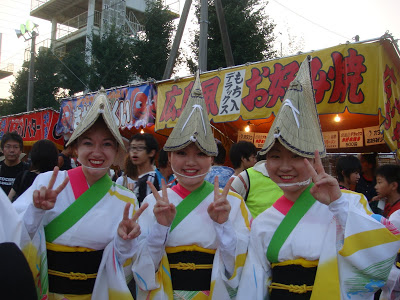 Please, no, not another post about Awa Odori! Yes, that's exactly what this is. Why? Because after a satisfying Awa finale I had to dance yet again in the costume that bruises my ribcage and chews up my feet.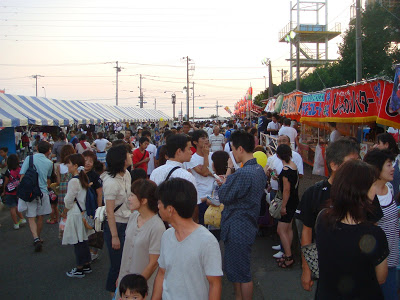 The day I discovered I'd have this privilege I'd woken up at 3:30am in Singapore, flown to Tokyo on the 5:45am flight, gone through immigration and customs for the eighth time in 24 hours (ha ha, Singapore–Malaysia), collected my luggage, boarded the YCAT bus for Yokohama, drug my suitcase (complete with rosewood table) through Yokohama Station and onto the Sotetsu Line, into the back of my friend's car, into my car, picked up two yowling cats and had just stopped at the mini mart to get them some kitty litter around 5pm when I bump into a friend who says, "So I hear you guys are dancing Awa Odori one more time this weekend?" I was tired. I had two unhappy cats in the hot car. I already was planning work for Ichiban this weekend. Poor Ichiban, which I neglected all summer to fulfill my Awa Odori commitment, which I completed before jetting off to Singapore and now…and now…ugh. Yes, Awa Odori will probably be my favorite memory from Japan, but at this point–given the time commitment–I was ready for it to be just that: a memory!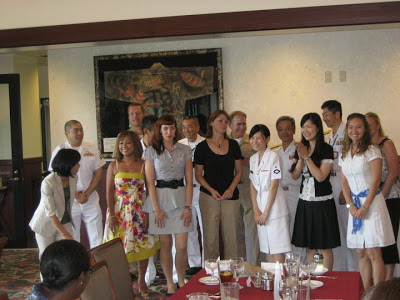 Overwhelmed, I must admit, I kind of had a bad attitude about it. But I went anyway. And I'm so glad I did! It was fun to see everyone all dressed up one more time and go through the routine again. I've never performed something to the point where it became muscle memory. I wasn't even sure what 'muscle memory' meant exactly until in the middle of one performance I thought, "Oh my gosh! I was not paying attention! I have NO IDEA where we are or what to do next!" but then some drums boomed and my feet danced the steps with a mind of their own. Oh! Um…great! At the end of the evening, back in the building where we change and get dressed, we had a perfect view of the fireworks bursting over the festival we'd just left. Smiley faces, stars, my favorite gold ones that look like palm trees…it's actually the first time I've seen hanabi—fire flowers—in Japan! All over Japan fireworks explode every August, but somehow I've always missed the displays until that evening.
The Bon Odori Appreciation Luncheon a few days later was a nice affair. We sat at the Awa Odori table with a couple of our dance instructors and clapped for our friends as they accepted their Bon Odori certificates. We received dance certificates as well, plus NAF Atsugi Host Nation Relations Office kokeshi dolls. Yay! I put mine in the entryway alcove next to my Atsugi, Japan friendship flag kokeshi. 🙂 That afternoon I turned in my Awa Odori costume (minus the geta shoes which we get to keep), so I think I can safely say now…IT'S OVER! Cheers to a summer well-danced!