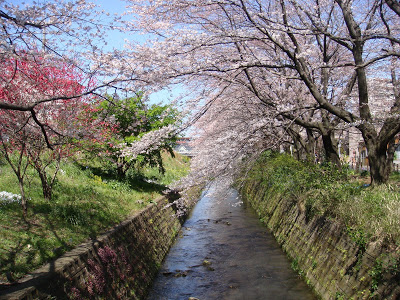 Mid-50s, sunny 🙂

So! I got my Lupicia tea delivery first thing this morning!! My teacups were so excited they formed a receiving line. It's the limited edition spring Sakura black tea—that's black tea with cherry blossoms. How perfect is that??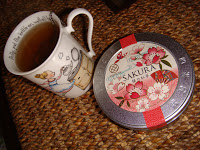 I just had my first cup (left) and it smells floral and faintly sweet with a delicate taste. Yum! I also ordered some lavender black tea to recreate a delicious lavender tea latte I had at the Ginza Starbucks around Christmas. Can't wait to work on that! Tea party, anyone? You can use whichever teacup you like: the one on the left I bought with Hannie last summer in London from Whittards of Chelsea, the top ones are (left to right) butterfly teacup from my mom, bamboo pattern that Chris' dad bought in Japan back in the day during Vietnam, Windsor Castle teacup Hannie and both have, an anchor-sakura teacup I bought in Sasebo last month (that's the same symbol on Japanese Imperial Navy China…or is it the Self Defense Force…I forget).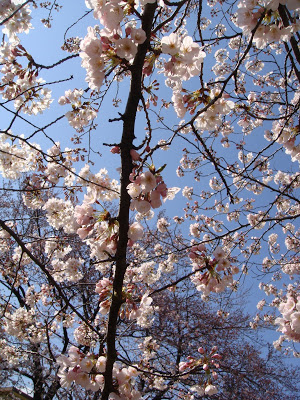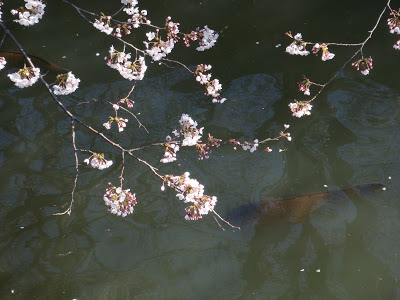 All the trees look softened and full with petals, but further observation revealed they're only about one-third bloomed. Most of the buds are still unopened. Lots more people were out wandering today and picnicking near the pedestrian bridge. I looked at the roasted corn, potatoes and chicken and thought, "Mmmmm, I want some strawberries!" Just ahead on the corner there's a tiny veggie stand I've stopped to look in, so I headed over.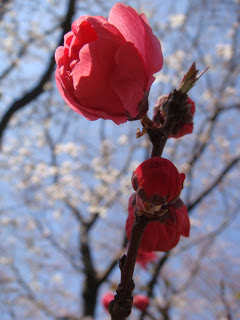 There in the back was a shelf of strawberries, shining red and ripe. About $3 bought me 24 clean strawberries in neat rows. I walked down to where the trees run out and the river continues flanked by road and found a nice patch of grass in the sun next to some other people and started munching on my strawberries. I thought about how on one of our road trips through Florida Chris and I stopped in Tallahassee and bought a pint of strawberries, tossing the little green crowns out the window as we zipped along I-10. I watched the koi nibble on sakura petals floating down the stream. A tiny arch of moon hung high in the afternoon sky over the tops of the cherry trees. The group across the stream, framed in cherry blossoms, ate grilled meats and veggies off the hotplate they had set up on a table on the riverbank. Ok, I'm about full of strawberries, I thought, looking down to see how many I had left…one. Oops. I couldn't let that one sit there all by its lonesome, so I ate it too. Strawberries and cherry blossoms—just the ticket for a warm-ish spring afternoon!