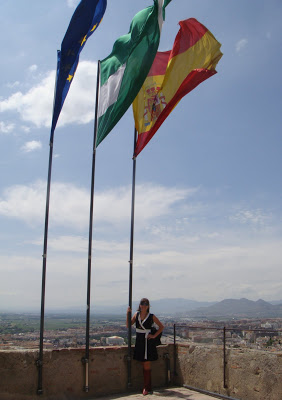 22 May 2008 — When Hannie and I arrived in Granada, we ate in a restaurant all lit up with small torches by the fountain in Plaza Nueve. Afterwards we strolled around and bought ice cream. We love Granada! It's clean and smells like orange blossoms and jasmine and people are friendly and there's lots to do! If we didn't have a plane to catch, we'd stay longer.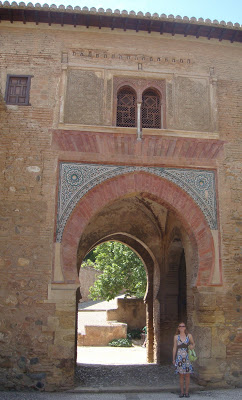 23 May 2008 — Breakfast: Mild coffee, fresh orange juice and soft, toasted rolls with mantequilla y marmalada. And the best people-watching in Spain! Near Plaza Nueva waves of cute dresses and nice shoes rolled past, but the clincher was a girl in white pants, white espadrilles and white puffed-sleeve shirt with an emerald belt and matched cardigan. Her purple, green and aqua scarf made the outfit.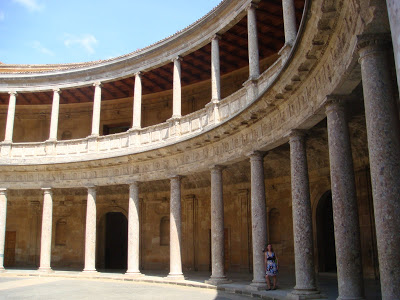 We shopped, a past time that made us feel relaxed and right at home, and I bought a new change purse, a t-shirt for Chris and mini fan for nieces Carsen and Joy. Then it was time for Alhambra!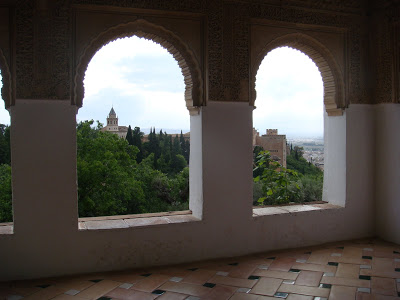 The palace itself was pretty cool, but I was most impressed by he views from the fortress walls. The entire city spread out below–the cathedral, palacio de justice, cafes–all in dusty emerald, ochre and white. Then some storm clouds rolled in and the mountains in the background, from which the last fleeing Moorish king looked back on his conquered palace (only to have his mom say, "Weep like a woman for what you could not defend like a man!" at his tears…yikes!). I can't imagine Tuscany could be any prettier.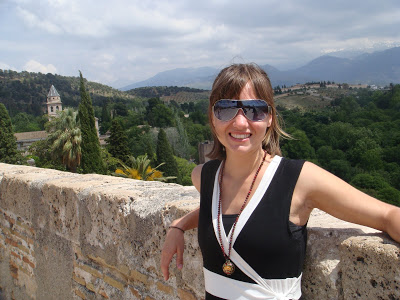 And in the gardens, water everywhere! I'd take that as a summer palace any time. I like seeing huge groups of Japanese tourists. They make me feel at home. The Fountain of Lions was closed for repairs, but it was a beautiful day with lots of walking.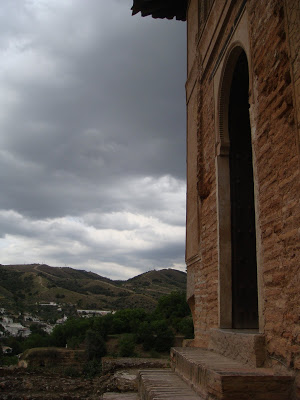 We had a two-hour dinner at Bodega de Castanedas–wine, olives, a cheese and pate plate, bread…yum! Then strolling and shopping. I bought Moroccan tea cups and a beautiful bracelet I admired yesterday. Then we happened on a flamenco performance. They were really good! More hip-shaking than the Sevilla show, and more like what I'd expect from a Spanish dance. Probably our best day yet!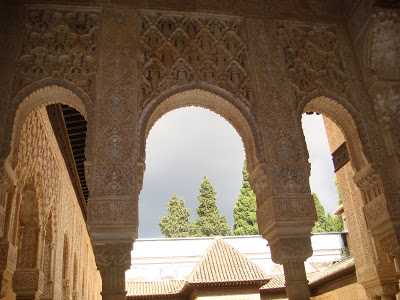 Excerpted from the Yellow Journal of the Great Sister Trip of 2008