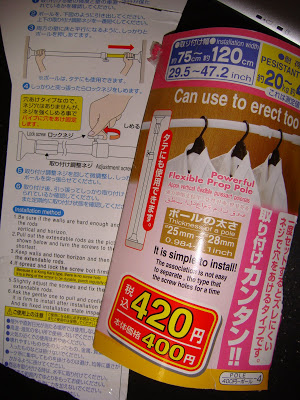 So I bought a super-powerful tension rod to hang my heavy winter wear (well, maybe super-powerful…it was less than $5). Now I'm trying to install it and I'm kind of at a loss.
"Please install concrete walls between pillars in a place to own enough strength," it says, apparently using the same nonsensical translation program my landlord uses. It continues: "Pesistant Weight 20kg – 40 kg. It is a goal on the whole completely that it is overweight to be able to bear load. The width of pole waits with the state of Ann form wall. Ways are different sometimes." "The association is not easy to separate, the type that the screw holes for a time." "Thickness of a pole." "Can use to erect too." …? Is this appropriate for children??
Then comes the step-by-step:
"Installation method:
1. Be sure if the walls are hard enough and keep the rods vertical and horizon.
2. Pull out the extendable rods as the picture shown below and turn the screws to the shortest.
3. Keep walls and floor horizon and then install the extendable rods.
4. If spread and lock the screw bolt firmly. Because it is Kong Kai's type, there is no screw hole. It is a thing of the screw to be durable, punch regularly on the tube.
5. Slightly adjust the screws and fix the extendable rods.
6. Ask the gentle one to pull and confirm that it is firm to install after installation finishes. And do fixed installation state inspection."
Oh, gentle one of 'pesistant' weight who waits with the state of Ann! …whoever that might be—I need your help!